Fifth Street Finance: All Time Low
BACKGROUND: After the IVQ 2016 earnings release, and an announced cut to the distribution Fifth Street Finance's (FSC) stock price tanked, as the BDC Reporter noted on the day. On February 10, 2017 intra-day, the stock has dropped further to an all time low.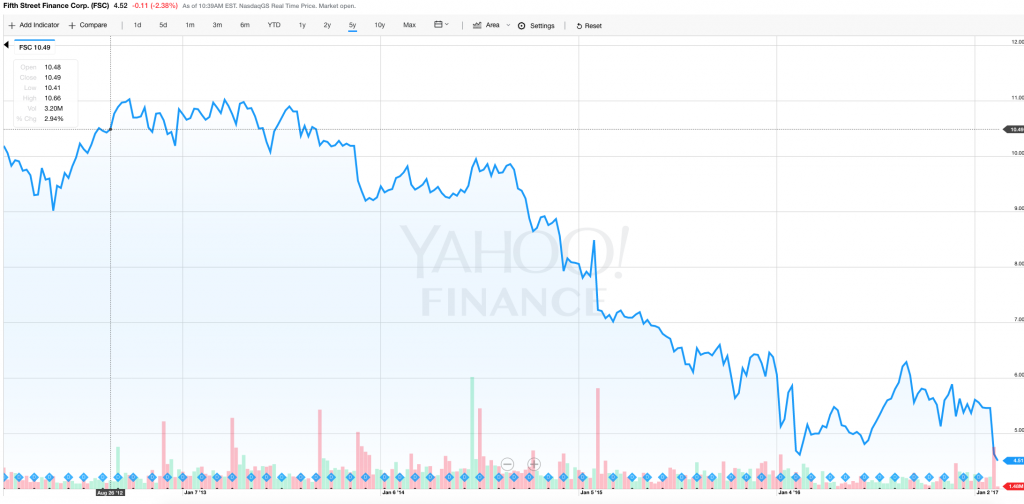 Patrick Dalton, the new CEO of the BDC, who was appointed just a few weeks ago, courageously headed the Company's quarterly Conference Call and listed out many of the challenges facing the BDC, and discussed some of the key changes deemed necessary to turn around the $2bn BDC. Less courageously, the Company decided not to take questions from anyone, and asked analysts to call them directly. Everybody else should contact Investor Relations:
"Since we have covered a lot of material, we have chosen not to host a live Q&A for this conference call. So I have reached out to schedule time with all of our analysts and we encourage investors that have questions to call Investor Relations at 203-681-3720 or email Investor Relations at ir@fifthstreetfinance.com."
To help readers still in shock at the huge drop in the stock price, the switch from a monthly back to a quarterly distribution after a several month delay and the absence of further public guidance, we've decided to discuss what WE believe is the key challenge facing the Company and the new CEO. This may help existing shareholders trying to decide whether to "hold or fold", or investors looking in trying to decide whether there's enough "blood in the streets" to buy in at the new level. (There's already a Seeking Alpha article suggesting that's a good idea).
CREDIT IS JOB 1
Whatever else Mr Dalton has to do at FSC, getting a grip on credit has to rank as the biggest priority, and that showed up both in the Company's results and in the speeches made on the Conference Call.  Regarding the former, we can't help guessing that there is a connection between a new CEO joining the BDC, with a fresh set of eyes and armed with a broom, and the sudden doubling of loans placed on non-accrual. FSC now has 11 borrowers on non-accrual from 5 in the prior period. Given the Company has 123 total borrowers in the portfolio that's a very high proportion of non-performers.
HISTORY LESSON
Of course, every BDC will have loans "go bad" from time to time. Like late night buses, they are not necessarily going to be neatly spaced apart but often all come together at the same time. However, Fifth Street's credit credibility has been in question for many years, and problems run deep. We refer readers to page 54 of the recent 10-K as of September 2016, which shows a 5 year history of selected financial data. In every year between Fiscal 2012 and Fiscal 2016, FSC managed to record net losses between the combination of Unrealized and Realized investment valuations. In four of five years FSC has had net Realized Losses:  ($244mn) in aggregate.  Another ($23mn) was added this quarter. Since going public in 2008, total Realized Losses amount to ($329mn). Given that we've gone this far, we might as well point out that if the current Unrealized Depreciation of the remaining portfolio is correct, aggregate losses will exceed ($500mn). That will mean one dollar out of three raised over the years from investors will have been lost to poor credit decisions.
AMAZING
It's not unfair to say that the level of credit losses at Fifth Street is astounding in the midst of one of the lowest loan default periods in recent memory since the end of the Great Recession, and points to a systematic problem at the BDC and at Fifth Street Asset Management, which is the External Manager. There will be much discussion elsewhere about the fee structure at FSC needing to change (which we've discussed ad nauseam over the years), but that pales in importance compared to the issue of credit quality.
MAJOR SHAKE-UP COMING
For better or worse, the new CEO appears to be very much aware of the problem. From what we heard on the Conference Call, his diagnosis of what ails FSC is very broad and will require a complete revamp of the BDC's investment strategy, portfolio and economics. Here are a few examples:
Mr Dalton suggests one of the problems is that FSC has over-concentrated in a couple of key industries: Healthcare and Technology, which he specifically called out.  These have been long term favorites of FSAM and Mr Tannenbaum, its Chairman and controlling owner. At December 2016 a whopping one third of all investment assets at cost are in those two categories.
The new CEO hopes to reduce the proportion of the portfolio in those two sectors. This will mean moving a lot of assets around, by dint of sales or repayments. If these two sectors are reduced to 10% of the portfolio over time (we are using cost basis for this analysis) that's half a billion in dollars of existing loans out of $700mn plus that will have to go somewhere else.
TURN AROUND
Then there's the work-out necessary to turn around the existing list of non performing and under performing loans already on the books.  It's not just the loans on on accrual, but many others which are headed in that direction that will each need a plan of action. This does not happen overnight and there is no guarantee of success. Mr Dalton's comments on the subject are very broad, but bear repeating:
We will continue to work diligently with the private equity sponsors and management teams at our stressed investments. As we seek ways to exit, restructure or improve underlying business performance to maximize recovery for our shareholders. We believe that resolving the assets on non-accrual in a timely manner and rotating these proceeds into traditional, performing senior secured loans is important to our overall portfolio repositioning.
The BDC Reporter has not yet done it's deep-dive into the 10-Q to ascertain how many borrowers are on the Credit Watch List. Last quarter we were at 18, but the number may have substantially increased.   It may be that one borrower in five may need a Plan of Action.
DOWNSIZING
There's more. Mr Dalton has identified large loans on the books-regardless of industry or credit performance-as another risk area. He wants FSC to avoid large single company exposure and credits which are shared with Fifth Street Floating Rate. Again, that's going to require a pro-active policy of selling a large number of investments.
By the way, we don't know why FSC wants to roll back co-investing with its sister BDC Fifth Street Senior Floating Rate (FSFR). The BDC Reporter has been a lone voice in the wilderness against the seemingly ineluctable trend of asset management companies getting SEC waivers of rules that forbid co-investing in loans. We are concerned that what might be convenient for the asset managers (bigger dollars out the door and so more fees) but may often result in the funds which they manage getting stuck with investments that are not appropriate for them. Essentially, this is a concern that the tail will wag the dog and with the boards of BDCs being (let's be honest here) so ineffective there's a strong possibility that shareholders in the BDCs involved getting stuck over time with duplicative and inappropriate deals.
In this case, FSC might suddenly have come round to the same view. More likely there's other factors at work. Perhaps there's a longer term plan to merge FSC and FSFR and to avoid having concentration problems down the road, FSAM is encouraging this change of strategy ? We shall see.
WHO'S GOING TO DO THE WORK ?
From the Conference Call, it was clear that Mr Dalton believes there's a need for major personnel shifts to achieve this turnaround and re-positioning of the FSC portfolio. He's out looking for a Chief Credit Officer, clearly a very important role to fill when so much depends on getting underwriting and restructuring right. Also being recruited is a new number two in the financial department, to support the CFO.
FSC also needs new foot soldiers: lending officers to identify and book new loans, as well as new personnel in operations.  Here's what Mr Dalton said on the Conference Call:
Lastly I would like to discuss our plans to strengthen our infrastructure and further align in full interest with those of our shareholders. As I discussed earlier, I believe we've made solid – we have a solid team in place today and I'm grateful for the contributions and commitment to our long term plan.

…

We are currently recruiting key hires in the few core areas that will add additional value to FSC. In the few weeks since I joined we have already added resources in portfolio management and operations to strengthen those divisions. Additionally, we have identified certain senior roles that we believe are necessary to help us achieve our goals.

We are also looking for candidates to enhance our originations and underwriting teams. Furthermore, we plan to optimize the internal team structure in an effort to operate as efficiently and effectively as possible.
That's all very well and good (albeit a little depressing given that FSC is supposedly benefiting from having the resources of the Fifth Street Asset Management at its disposal). Still, adding further complexity to the situation, the senior managers and the rank and file officers are going to have to contend with a new compensation structure aimed at tying pay more closely with shareholder returns. That sounds great on paper (shouldn't that always be the case ?) but may or may not add personnel turmoil to the mix at this critical time. Lending is in a very "hot" phase at the moment and attracting/retaining and motivating the top producers is no easy task and takes time to play out.
WHERE DO WE GO FROM HERE
Far less clear than the diagnosis of FSC's problems was Mr Dalton's explanation of its ultimate direction. On the Conference Call, he appeared to suggest the number of loans on the books would increase to make the portfolio more granular and more diversified by industry. We got the impression FSC would be adding lower risk-lower yielding loan assets (as a number of BDCs have chosen to do after much milder credit shocks than FSC has faced). Moreover, Mr Dalton-probably with an eye on the credit rating agencies-has promised to reduce leverage, which has been nearing the BDC regulatory limit, even after SBIC borrowings are excluded from the calculation. (Yet another boost from the SEC that we consider unwarranted and dangerous to shareholders in the Next Recession, but-as we've said-nobody's listening). We're sure anyone with a good spreadsheet can make some reasonable assumptions about portfolio yield, leverage levels and the cost of debt (we're guessing-by the way-that some of the long dated Baby Bonds might be redeemed to reduce borrowing costs). However, it's not as easy as it seems, as the new CEO has added a new and vague category of investment to the mix:
Here is what Mr Dalton said:
To expedite the portfolio repositioning, we may proactively seek ways to rotate out of the portion of our portfolio. Additionally, we plan on investing 85% to 95% of our portfolio and traditional senior secured loans in 10% to 15% and diversified set of opportunistic and/or special situations where we have a core competency and believe our platform provide us with an investing advantage.

Importantly, we believe this opportunistic bucket should offset expected losses in the core portfolio that may occur over credit cycle. We believe that this strategy will enable us to be even more selective enduring more consistent results for our investors.
We have no idea what is meant by "opportunistic" or "special situation" investments. We don't understand how gains from the "opportunistic bucket" could offset "expected losses in the ore portfolio". Usually "opportunistic" investments tend to be the more speculative and higher paying kind, and typically result in higher credit losses than what might occur in the "core portfolio". Maybe FSC is intending to make equity oriented investments in this new category of investing. That's not an unreasonable strategy if properly implemented, but the result in the short run might be even lower recurring investment income and Net Investment Income.
If we had a spreadsheet for FSC (and we don't) that would leave us guessing about the potential earnings power, and form, of several hundred million dollars of portfolio assets.