NEWS
On September 4, 2018 WhiteHorse Finance (WHF)  issued a press release about a block sale of shares by an insider group to an institutional investor, which occurred in the prior week.
Here is the key language:
"On August 29, 2018, the Bayside Funds agreed to sell in a block trade an aggregate of 972,622 shares of common stock at a price of $13.88 per share to a large institutional investor.  WhiteHorse Finance expects the Bayside Funds, who collectively have held a majority position in WhiteHorse Finance since its IPO in 2012, to gradually reduce their ownership positions in the Company. Following the block trade, those positions comprise 52.5 percent of all shares outstanding in the Company.

Due to their control of the general partner of each of the Bayside Funds, Sami Mnaymneh and Anthony Tamer may each be deemed to be beneficial owners of common stock in WhiteHorse Finance. Messrs. Mnaymneh and Tamer disclaim beneficial ownership of shares of common stock held by the Bayside Funds (except to the extent of their pecuniary interest therein), and have not sold WHF common stock personally owned."
See the full press release attached.
ANALYSIS
Here is the insider ownership table reprinted from WHF's latest Proxy: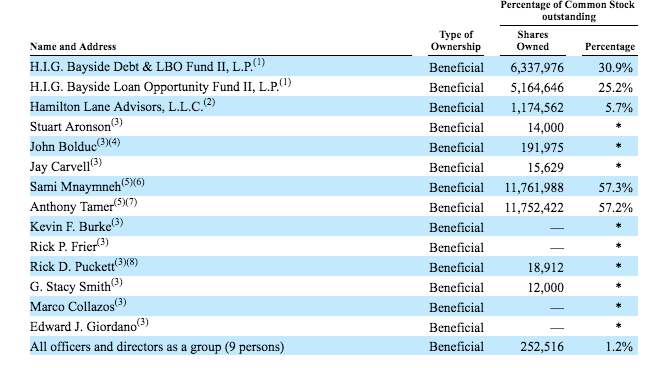 The chart shows the shares owned by the Bayside Funds and Messrs Mnaymneh and Tamer, who control the entities, but are not necessarily the only  beneficiaries.
The press release indicates that neither individual has sold any WHF stock "personally owned".
We calculate from the information in the BDC's recent Proxy that Mr Mnaymneh owns  no shares in his own name.
His position in WHF – outside of the Bayside Funds – is held through an entity entitled Mnaymneh H.I.G. Management, L.P..
Mr Mnaymneh is the Manager and G.P of the entity. See Note 6 of the Proxy.
Mr Tamer also controls shares through a management company : Tamer H.I.G. Management, L.P.  See Note 7 of The Proxy.
This entity owns 244,346 shares of the shares ascribed to Mr Tamer not ascribed to the Bayside Funds, suggesting a personal holding of 5,444 shares.
Should only the Bayside Funds positions be sold in full they will represent 97%-98% of the beneficial interest of the two key insiders.
---
VIEWS
Memories
Any major sale by an insider group is noteworthy.
The BDC Reporter remembers a similar major insider stock sale at Alcentra Capital (ABDC) in May 2017, which we covered in an article on May 23, 2017.
At the time ABDC was flying high from a performance standpoint.
Here's what we wrote :
Readers do not need the BDC Reporter to point out that it's always a little chilling to hear that the groups involved in the launch and management of the BDC have grabbed their parachutes and jumped out, just as more passengers are being let on. Moreover – as we pointed out in the prior article – it's that more disturbing given this disposition is happening just as a new CEO has been appointed and several senior management changes are occurring.
Like A Greek Tragedy
As ABDC investors will know, the BDC shortly after posted terrible results as bad debts soared; management was replaced or departed and the entire strategy of the BDC recast.
ABDC's stock price dropped from $13.46 at May 23, 2017 to $6.19 as of August 31, 2018.
That's a 54% drop.
Comparisons Can Be Odious
Of course, past is not prologue.
Moreover , WHF – unlike ABDC – has provided some heads up background information in the form of this press release to other shareholders.
Furthermore, the BDC Reporter's portfolio analysis of WHF does not suggest any incipient credit issues that were present at ABDC and caused its subsequent price slide and dividend reduction.
The decision by the Bayside Funds to seek an exit might be motivated by internal or technical reasons that do not reflect on the insiders views of the BDC's future outlook.
Timing 
However, we do note that the sale of this major position – which does not sound like it will be the last – is occurring just after the BDC decided to adopt the higher leverage allowed under the Small Business Credit Availability Act.
That the insiders are – at least partially – bailing out before a projected substantial increase in WHF's assets is a little chilling to the BDC Reporter.
Is this a matter of "selling the news" ?
Knock Knock
A more optimistic viewpoint is that these big block sales – and the uncertainty involved – might temporarily and artificially depress WHF's stock price, and create a buying opportunity for those who dare.
Just a few weeks ago the stock hit a high of $15.8.
The block sale, though, was conducted at a less generous price of $13.88, substantially below the latest book value per share of $14.87.
Based on the BDC Reporter's 2018 Net Investment Income Per Share projection of $1.42, WHF was valued at a reasonable (but not bargain basement) 9.8x multiple.
The yield is 10.4%.
Uncommitted
We have no position in WHF currently and no strong view as to whether this is a warning signal or opportunity calling.
We are sure readers will have their own views.
If ours solidifies one way or another we will report back.
Already a Member? Log In
Register for the BDC Reporter
The BDC Reporter has been writing about the changing Business Development Company landscape for a decade. We've become the leading publication on the BDC industry, with several thousand readers every month. We offer a broad range of free articles like this one, brought to you by an industry veteran and professional investor with 30 years of leveraged finance experience. All you have to do is register, so we can learn a little more about you and your interests. Registration will take only a few seconds.