With so much uncertainty in the world, Main Street Capital (MAIN) shareholders will be pleased to see that the popular BDC has announced as of 11/3/23020 unchanged monthly dividends of $0.205 for each of January, February and March 2021.
See the attached press release.
That's an annual "regular" dividend pace of $2.46.
The analyst consensus for Net Investment Income Per Share at MAIN in 2021 is $2.17.
Those two sets of numbers might go some way to explain the BDC's declining stock price in recent weeks.
Here's the 1 month price chart: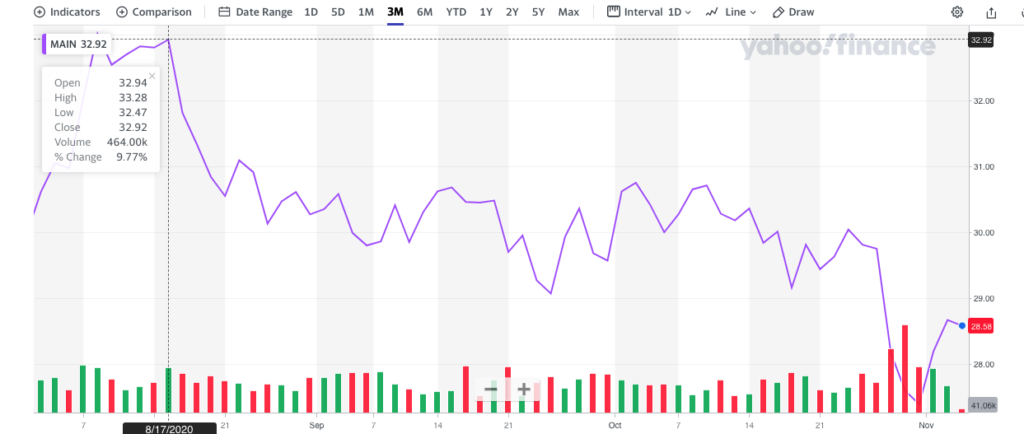 Still, MAIN is trading at a higher-than-most 13.1x projected future earnings but (37%) below its 52 week high.
We imagine investors everywhere are trying to decide if MAIN will return both to its high flying earning ways and to its valuation heights.
Once the BDC reports IIIQ 2020 results we'll be tackling that ticklish subject.
Already a Member? Log In
Register for the BDC Reporter
The BDC Reporter has been writing about the changing Business Development Company landscape for a decade. We've become the leading publication on the BDC industry, with several thousand readers every month. We offer a broad range of free articles like this one, brought to you by an industry veteran and professional investor with 30 years of leveraged finance experience. All you have to do is register, so we can learn a little more about you and your interests. Registration will take only a few seconds.