On The Docket
Since we last wrote on Friday morning August 9, 2021 there's been a smattering of new developments.
Multiple BDC Scheduling Earnings Releases:  We're constantly adding new BDC earnings release and conference call dates and times to the BDC Earnings Calendar. We count 18 listed so far, starting late in April but most heavily in May. We already dread Wednesday May 5, when 7 BDCs are reporting.
Monroe Capital (MRCC) Files Proxy: The next MRCC shareholder meeting is set for June 16,2021. On the agenda is the election of two "class III" directors and the now-standard proposal allowing management and Board to issue shares below book value, if deemed necessary. At the moment MRCC is trading just (3%) below book.
As always, the Proxy is interesting principally as a once-a-year snapshot of how much shareholder interests are aligned with the top BDC managers and directors, as shown in the number of shares "beneficially owned" by the latter. These numbers vary widely from BDC to BDC and between the individuals involved. The chart below highlights that insider ownership of MRCC is relatively modest and mostly held by Founder/CEO Theodore Koenig.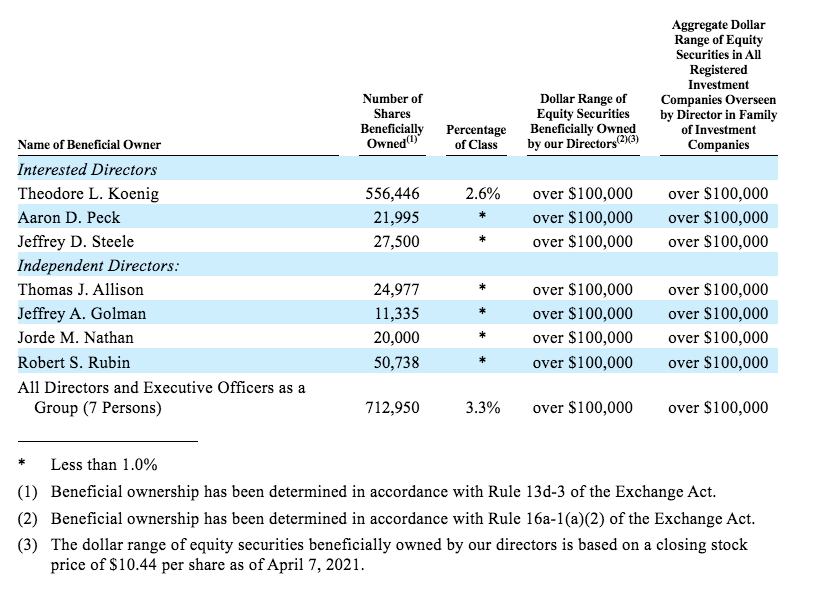 By the way, Seeking Alpha gives the 1 year performance of MRCC's stock as 55%, but the 3 year number as -15%, reflecting the recent come-back in the price after some hard times and a (29%) dividend cut in 2020.
Here's a 3 three stock chart: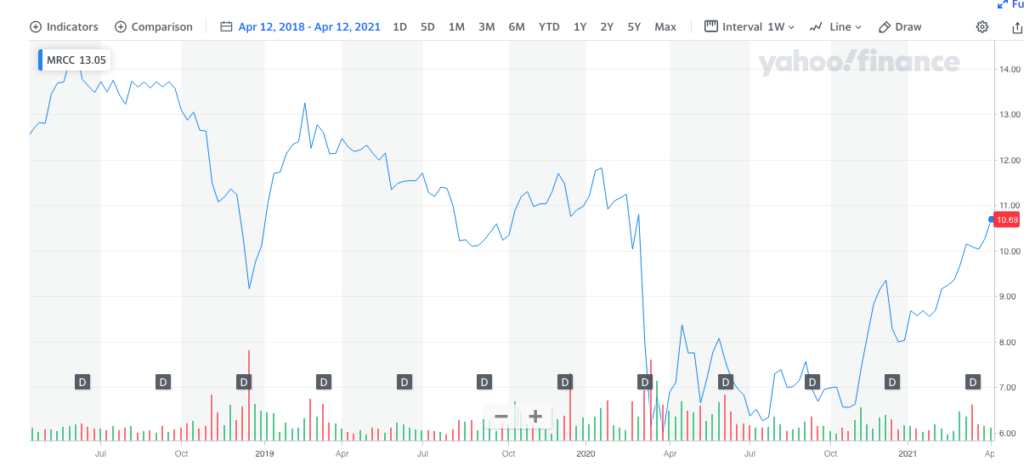 3. PennantPark Investment (PNNT) Schedules Fixed Income Investor Calls: The BDC is preparing to issue new unsecured debt in form, amount and pricing unknown. This subject was much discussed over the week-end in the BDC Reporter's Fixed Income Market Recap so we won't repeat ourselves here.
Credit Review
We are making good progress on our review of Ares Capital's (ARCC) IVQ 2020 portfolio. We've half finished a table of all the underperforming companies that we've identified. As we trawl through each company in turn (heavily loaded so far in healthcare, footwear and energy), the impression we're getting is pretty good, with many businesses that have been written down and/or on non accrual seemingly poised for a rebound, if the economy continues to re-open. Nonetheless, there are a few hotspots that could yet result in further capital or income losses and no small amount of pay-in-kind income to contend with. We're also posting – where appropriate – write-ups on individual companies to the BDC Credit Reporter. Here's are links to articles about ADG, LLC (dental business) and Instituto De Banca Y Comercio (trade school). These are both large positions for the BDC, but with different back stories and outlooks.
Already a Member? Log In
Register for the BDC Reporter
The BDC Reporter has been writing about the changing Business Development Company landscape for a decade. We've become the leading publication on the BDC industry, with several thousand readers every month. We offer a broad range of free articles like this one, brought to you by an industry veteran and professional investor with 30 years of leveraged finance experience. All you have to do is register, so we can learn a little more about you and your interests. Registration will take only a few seconds.