On The Docket
The new week began with an above average number of BDC developments – although none are very important – and a new sector price record, which we discuss below.
The UBS BDC-focused Exchange Traded Note With The Ticker BDCZ Reaches New High: Intra-day day on Monday BDCZ reached $19.12, which is the new 52 week high and closed at $19.09, setting a new end of day high for the past year. (see the two year chart below for a useful illustration). Admittedly, BDCZ is about to announce a quarterly dividend. Last quarter, the ETN paid out $0.434. Thanks to a number of recent special distributions by component BDCs, this quarter's payout could be materially higher. $0.460 ? At this point BDCZ is only (6.4%) behind the closing price on February 16, 2020, just before BDC prices fell off the proverbial cliff. Keep in mind that between 2019 and 2020 we calculate that BDC sector dividends dropped (7.6%) and even more if you annualize the last three quarters of the year whose results were pandemic affected. As a result, we'd argue that the BDC sector is trading at or above its pre-pandemic level on a fundamental basis. That's certainly the case on a "total return" basis. We checked the S&P BDC index for the corresponding period and the BDC sector is up up 6.7% over that time. As we couldn't help sharing in a Tweet on Monday, all 43 public BDCs are up in price in 2021, 15 are trading above book and 30 are priced within 5% of their 52 week highs. This is what a long toothed rally looks like. We'll have more to say about these new heights the BDC sector has reached in our weekly Market Recap over the week-end.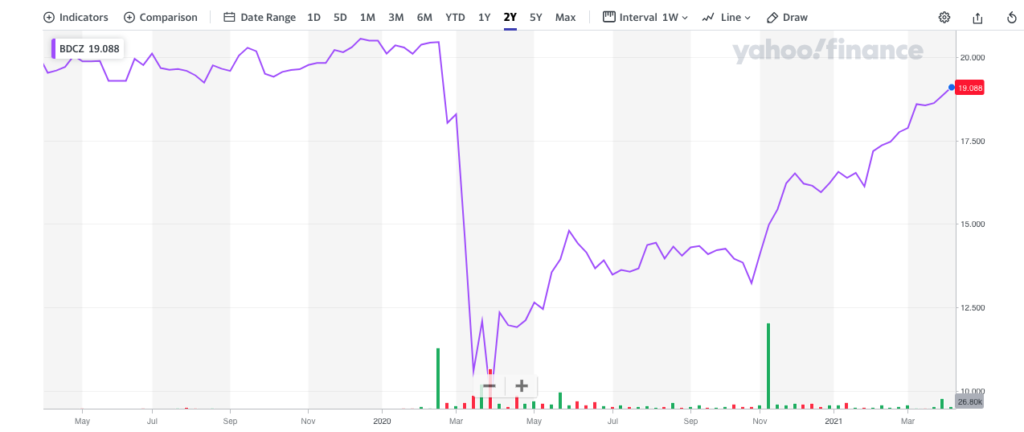 2. Triple Point Venture Growth (TPVG) Officially Cancels Baby Bond (TPVY): In a filing, TPVG formally announced the redemption of its only public Baby Bond (TPVY), refinanced with a privately placed unsecured note, as covered on these pages for premium subscribers. We amended the BDC Fixed Income Table accordingly, dropping the total number of public unsecured debt issues to 31 and the number of BDC issuers to 19. We're still waiting for Horizon Technology Finance's (HRZN) new public Baby Bond with the ticker HTFB to begin trading before we add the issue to our table.
3. Prospect Capital (PSEC) Issues New Round of Inter Notes: PSEC once again published a prospectus  regarding a new round of unsecured InterNotes. As usual, the amounts raised were modest (about $3.6mn) and in varying maturities.
4. PennantPark Floating Rate (PFLT) Announces Distribution For April 2021: Not unexpectedly PFLT announced a distribution for April 2021 of $0.095, unchanged for twenty five quarters and one month. The dividend is unchanged and annualizes at $1.14 a year. The 2021 and 2022 Net Investment Income Per Share analyst consensus  is $1.08 and $1.12 respectively. Neither projected EPS will "cover" the dividend, causing PFLT to use up any surplus taxable income or pay a return of capital or – cut the distribution. We lean towards using up surplus taxable income but this will be a recurring challenge for the BDC which did not cut its payout when LIBOR dropped in early 2020 and has been behind in terms of earnings vs dividend ever since. Management has explicitly promised to maintain the $0.095 payment, which is probably a guarantee for the rest of 2020 (with only 8 more months to go). How EPS look like in the IIQ and IIIQ 2021 will tell us much about whether 2022 sees the dividend cut.
5. Main Street Capital (MAIN) Announces New Investment: At the open, the lower-middle market (LMM) focused BDC announced the closing of a new portfolio company financing. The business involved is Colonial Electric. As always, MAIN did not share many key pertinent details such as the breakdown of the $32.9mn invested – even though they will be part of the public record shortly – or its "co-investor" (alongside management). On the surface, though, this seems like a standard MAIN LMM transaction, involving the provision of both debt and equity in a smaller sized business. We doubt this is the only new transaction MAIN has booked, but the BDC seems to highlight some deals and not others.
6. SLR Senior Investment Corp (SUNS) Announces Distribution for April 2021: The recently renamed BDC ( previously Solar Senior Capital) has been paying the same $0.10 monthly distribution since cutting its payout by (15%) due to lower LIBOR in the middle of the pandemic. The 3 analysts covering SUNS project 2021 and 2022 Net Investment Income Per Share (NIIPS) will be $1.20. That's just enough to "cover" the dividend, with no room to spare.  Like with PFLT discussed above, this will be a close run thing and may involve much in the way of fee waivers by the external manager, notwithstanding that payout cut. Some 18% of the BDC's Net Investment Income in 2020 came from the external manager waiving some of its compensation.
7. OFS Capital Files Proxy For Annual Shareholders Meeting: The meeting is scheduled for June 1, 2021 and includes a vote on allowing the Board and manager to issue new shares at a discount to book value. The BDC is currently trading at a (22%) discount to book value. We wonder which BDC – if any – will actually act on any approval to sell discounted stock. We're not taking any bets, but whichever BDC does so is likely to cause a commotion amongst its shareholders.
8. Owl Rock Capital (ORCC) Announces IQ 2021 Earnings Release Schedule: We refer our readers to the BDC Earnings Calendar where we're making a valiant effort to list every public BDC's announced earnings release date and subsequent conference call. Where possible, we're also adding questions worth asking.
Credit Review
We continue to work on the Ares Capital's (ARCC) credit review. We were diverted yesterday bringing readers up to date on what might – or might not – be a major credit problem at publicly traded Sequential Brands.
Already a Member? Log In
Register for the BDC Reporter
The BDC Reporter has been writing about the changing Business Development Company landscape for a decade. We've become the leading publication on the BDC industry, with several thousand readers every month. We offer a broad range of free articles like this one, brought to you by an industry veteran and professional investor with 30 years of leveraged finance experience. All you have to do is register, so we can learn a little more about you and your interests. Registration will take only a few seconds.