On The Docket
Tuesday was not much different than Monday with a smattering of new developments – principally in the realm of corporate governance – and new price records being set in the BDC markets.
BDCZ And The S&P BDC Index At New 52 Week Highs: We noted yesterday that BDCZ – the UBS Exchange Traded Note with holds most of the components of the BDC sector –  reached an intra-day 52 week high and a day end closing high on Monday. New records were set on Tuesday of $19.42 and $19.23 respectively, up from $19.12 and $19.09. Moreover, volume was high at 115,400 shares trading hands versus an average of less than 10,000. Over at the S&P BDC index, the same thing occurred. The total return index was at 285.26, up 121% over 12 months and an all-time high. See the 10 year chart below.

2. Stellus Capital (SCM) 2021 Proxy:  Like many of its peers SCM is scheduling its annual shareholder meeting. Also like many of its peers – and discussed on these pages previously – the BDC is seeking permission to sell shares below book value in the year ahead to June 2022, if deemed necessary. Currently SCM trades at a (7%) discount to its net book value per share of $14.03, and very close to a 52 week high. As always in these situations, the likelihood of SCM actually taking advantage of any such approval is low but not nil. We expect the request to be approved.
Also on the agenda is the routine re-election of two directors- one "interested" and one "independent" to the Board. Details of who is involved is in the proxy. We also note that the  Proxy tells us that share ownership of SCM varies very widely amongst the directors. The "independent" directors – especially – have ownership that ranges between 10,000 shares and 165,022. These individuals receive over $100K a year and have done so for many years but – in some cases – have chosen to invest very little in the BDC that they are in charge of. We will let readers draw their own conclusions because there is no clear correlation that we know of in BDC investing between director ownership and share performance. Time for someone to undertake a Phd thesis on the subject…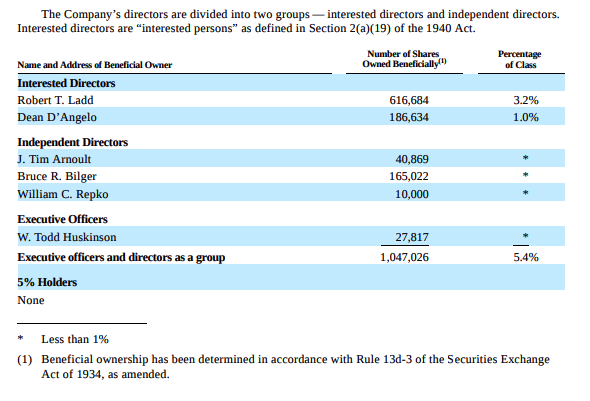 3. Portman Ridge Finance (PTMN) 2021 Proxy: The ever enlarging BDC is having its shareholder meeting on June 7, 2021. Unlike SCM above, PTMN is not asking permission to sell stock below book value. Here are the matters being voted upon:
"At the Annual Meeting, in addition to transacting such other business as may properly come before the meeting and any postponements or adjournments thereof, the stockholders of the Company will consider and vote on the following proposals: (1) The election of three directors, who will each serve until the 2024 Annual Meeting of Stockholders and until his successor is duly elected and qualifies; (2) To ratify the appointment of Deloitte & Touche LLP as the independent registered public accounting firm for the Company for the fiscal year ending December 31, 2021; (3) To grant discretionary authority to the Board of Directors of the Company to amend Company's Certificate of Incorporation to effect a reverse stock split of its common stock within the range of 1-5 to 1-15, the exact ratio (the "Reverse Stock Split Ratio"), if any, to be determined by the Board of Directors, but not later than one year after stockholder approval thereof (the "Reverse Stock Split"); and (4) To approve an amendment to the Company's Certificate of Incorporation to decrease, concurrent with and conditioned upon the effectiveness of the Reverse Stock Split, the number of authorized shares of common stock by one half of the Reverse Stock Split Ratio ("Reduction in Shares Ratio")".
The most interesting item – though not controversial – for investors is that PTMN – like PhenixFin; Apollo Investment and others – is seeking a reverse stock split. The BDC is currently trading at $2.30. Many investors are barred from investing in companies with a share price under $5 and others are put off. Not unreasonably, this provision will correct that problem and may even boost the BDC's stock. (Again, somebody needs to analyze whether reverse stock splits increase a BDC's popularity, everything else equal).
Otherwise, up for re-election "each of Messrs. Duka, Lacovara and Goldthorpe has been nominated for re-election to the Board of PTMN, for a three-year term expiring at the 2024 annual meeting of stockholders of the Company". To be fair- having spelt out who does – and does not – own shares at SCM, here are the holdings at PTMN: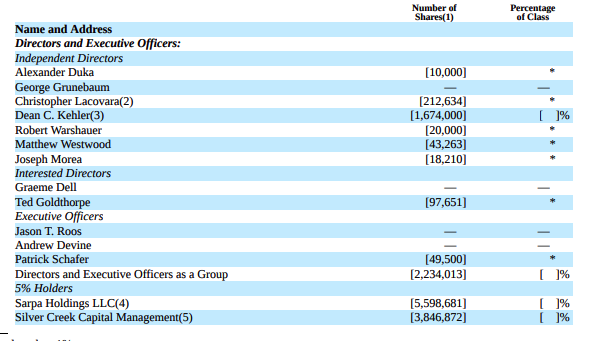 For anyone very interested in this subject, we recommend reading the accompanying footnotes in the Proxy.
4. Bain Capital (BCSF) and Capitala Finance (CPTA) Announce IQ 2021 Earnings Release Dates: We will be adding the information about earnings and conference calls for both BDCs in the BDC Earnings Calendar. We're especially interested in finding out what progress CPTA is making towards its accelerated repayment of its SBIC debt and towards re-instating the dividend, now unpaid for a year even as the external manager was paid $6.4mn in 2020.  This BDC needs a clearer cut plan and that may be forthcoming shortly. At the moment, CPTA trades at a (60%) discount to book value, the worst of any public BDC.
5. Main Street Capital (MAIN) Announces New Investment: For the second time this week MAIN has issued a press release about a new lower-middle market (LMM) company investment. This time the company is "Grand Flower Growers, LLC and its related entities (together, "GFG" or the "Company"), a leading grower and distributor of a variety of plants and premium flowers, including annuals, mums, poinsettias, perennials and various other floral arrangements in the midwestern United States". In its standard format of providing both debt and equity, MAIN has advanced $20.6mn. As with the prior investment, MAIN mentions but does not name a "co-investor". We wonder if on both occasions that's HMS Capital, the non-traded BDC which MAIN is the external manager for or Capital Southwest (CSWC), with whom MAIN frequently collaborates. We'll know when the IQ or IIQ 2021 results are published.
Credit Review
The BDC Reporter is on the road – or more accurately in the air – overnight to London. It will be an excellent opportunity to review every company in the Ares Capital (ARCC) portfolio and complete the credit review we've promised.
Already a Member? Log In
Register for the BDC Reporter
The BDC Reporter has been writing about the changing Business Development Company landscape for a decade. We've become the leading publication on the BDC industry, with several thousand readers every month. We offer a broad range of free articles like this one, brought to you by an industry veteran and professional investor with 30 years of leveraged finance experience. All you have to do is register, so we can learn a little more about you and your interests. Registration will take only a few seconds.