BDC COMMON STOCKS
Week Thirty Nine
In a week that included both the end of the month and the quarter, BDC prices oscillated throughout.
At the end, the BDC sector – as measured by the price of BDCZ, the UBS Exchange Traded Note which owns most of the stocks – was up 0.87%.
That's a second week in a row that BDCZ has been up.
(The Wilshire BDC Index total return was up 0.82%).
As we reported in the BDC Daily Update on Thursday , BDCZ was up just $0.01 – or 0.1% – on the month and for the quarter was down (0.3%).
For all of 2021, BDCZ is up 22.1% and stands (2.3%) below the 52 week high.
Little Changed
Turning to other metrics, we note that BDC stocks across the board traded in a narrow range.
For the first time all year, no individual BDC stock increased or decreased by 3.0% or more.
The biggest gainer percentage-wise was BlackRock TCP Capital (TCPC), up 2.79%.
The biggest loss percentage-wise was TCG BDC (CGBD), off (2.38%).
We suggest this absence of much price volatility suggests BDC investors are just happy to sit still right now, even as the major markets are having trouble clambering over their wall of worry.
Small Slump
September will be remembered as the first month that the S&P 500 did not increase in price from the month before.
As of Friday, the S&P 500 is (4.2%) below its own 52 week high.
Status Assessment
So with three months mto go in the year, the BDC sector is looking pretty strong all considered.
The number of BDCs trading at or above book is at 15 and 29 stocks are trading within 10% of their 52 week highs.
37 BDCs are trading at a price above their 200 day moving average.
Here are the 4 exceptions, as copied from a Seeking Alpha data table:

On a YTD basis, 39 of 41 BDCs are up in price over these first 9 months and one day.
Tops
This week, we had one BDC reach a new 52 week high and all-time high, and this was no minnow.
The record breaker was the market leader Ares Capital (ARCC) that reached a new apex intra-day on both Thursday and Friday of $20.68.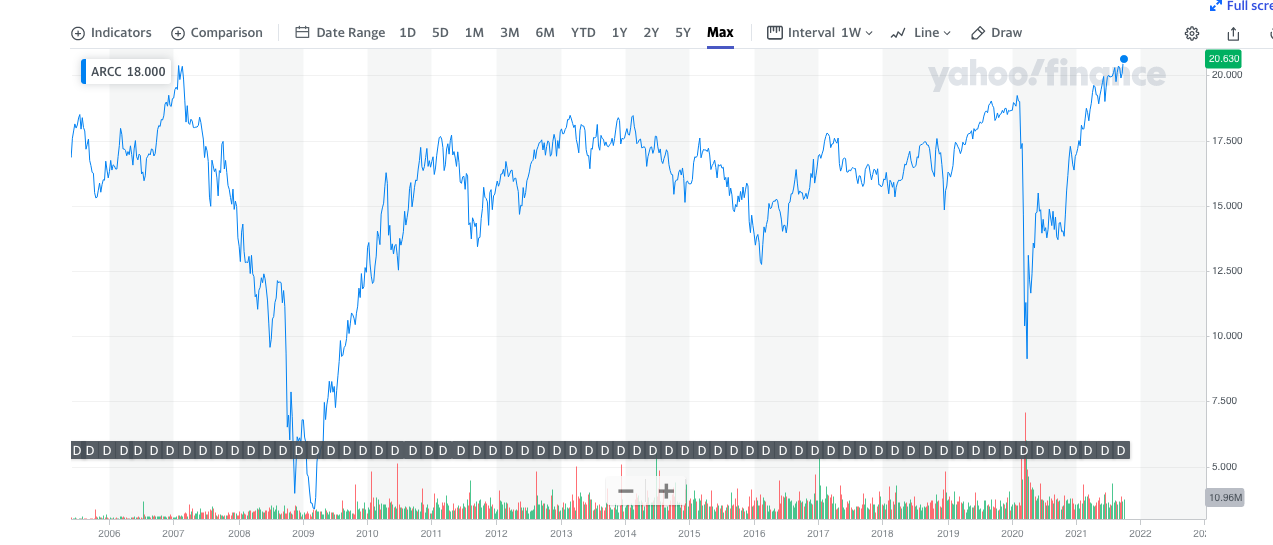 Making A Point
At that price, ARCC traded at a 14% premium to net book value per share and 12.6x the current dividend annualized.
As a multiple of projected 2022 Net Investment Income ARCC was at 11.4x.
We understand that investors, pundits and everyone else is worried that prices for stocks, real estate and everything else are exceptionally high.
The average PE multiple for the S&P 500 is about 34.6x, twice its historic average.
Of course, that's an average and some high fliers are trading at even loftier multiples.
However – as the numbers for ARCC show – the BDC sector's prices – while high –  are not at untenable levels.
Optimistic View
We continue to believe that the sector will break through to a new 52 week high in the next 12 weeks and we will have better metrics than those reported in mid-June to discuss on these pages.
IIIQ 2021 earnings season looms large in this prediction.
A few BDCs are already announcing earnings release dates for late in October and early November.
If we get a strong performance where NAV Per Share; EPS and dividends are concerned – and if credit conditions continue to improve as we believe they will – that's likely to be the upward price catalyst.
However, we'll be interested to see what happens to individual BDC prices in the days before earnings are released.
Will optimistic investors seeking to get ahead of the pack push prices to higher highs or are we going to have a "wait and see" situation ?
We'll be noting any interesting price movements in the BDC Reporter's Daily Update.
Already a Member? Log In
Register for the BDC Reporter
The BDC Reporter has been writing about the changing Business Development Company landscape for a decade. We've become the leading publication on the BDC industry, with several thousand readers every month. We offer a broad range of free articles like this one, brought to you by an industry veteran and professional investor with 30 years of leveraged finance experience. All you have to do is register, so we can learn a little more about you and your interests. Registration will take only a few seconds.