MARKETS

As the numbers above demonstrate, all the angst of September seems to be forgotten by investors, and all the indices are in the green/black on Tuesday. According to the journalists at Yahoo Finance, the reason for the higher price level is better than expected earnings:
That's a good enough explanation as far as we're concerned.
In any case, the BDC sector – which has been moving upward in price all the month to date – joined in on the general sense of enthusiasm. BDCZ – the UBS Exchange Traded Note which owns most BDC stocks and which we use as a guide to price sentiment – closed at $19.98, or 0.4% higher than the day before.
BIZD – the Van Eck Exchange Traded Fund for BDC stocks – closed at $17.50 a share, an increase of 0.4%. Now just 1.3% away from matching its 52 week high, BIZD seems the most likely to set a new high first of the two vehicles.
31 BDCs moved up in price, 2 were unchanged and 9 were in the red. Even more than before, though, the range of daily price moves was very modest. The worst performing stock from a percentage price change perspective was Newtek Business (NEWT), off only (0.91%). In the past, we've been accustomed to moves of (3%), (5%) or even (20%) on a very bad day from individual BDC stocks, so the type of downward move NEWT experienced seems negligible. For the record, the top gainer was New Mountain Finance (NMFC), up only 1.39%.
NMFC pipped OFS Capital (OFS) – which as we'll see – released encouraging preliminary IIIQ 2021 metrics relating to NAV Per Share and – to a lesser degree – Net Investment Income Per Share. OFS moved up 1.38% at the close, but did reach a new 52 week high of $11.11, before ending the day at $11.04.
Also reaching a new 52 week today was the afore mentioned NMFC and TriplePoint Venture Growth (TPVG).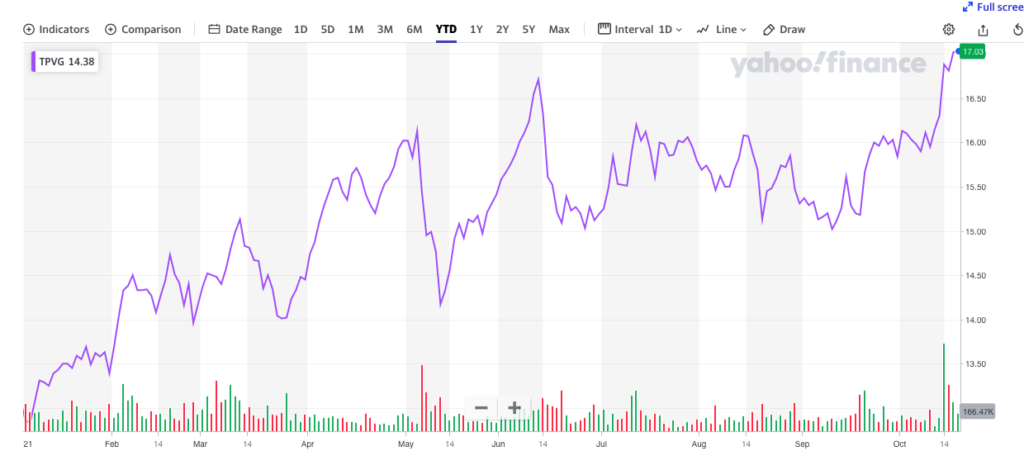 Since September 10, TPVG's stock price has increased by nearly 15%. If you're looking for reasons in the public record, there are none. The venture-debt BDC – admittedly a very "hot" sector – has not posted any new information since mid-August.
With just two days of this week gone, we've had 4 BDCs (the above plus Ares Capital – ARCC) reaching new 52 week price heights. All this suggests the sector remains on course to reach higher levels yet.
NEWS
As mentioned, OFS published a press release with "certain preliminary estimates of its IIQ 2021 results".
PRELIMINARY ESTIMATES OF CERTAIN FINANCIAL HIGHLIGHTS
Net asset value per share was estimated to be between $14.11 and $14.21 per common share at September 30, 2021. This compares to a net asset value per common share of $13.42 at June 30, 2021.
Net investment income was estimated to be between $0.23 and $0.25 per common share for the quarter ended September 30, 2021. This compares to net investment income of $0.24 per common share for the quarter ended June 30, 2021.
Adjusted net investment income(1) was estimated to be between $0.24 and $0.26 per common share for the quarter ended September 30, 2021.
No additional loans were placed on non-accrual status in the quarter.
Our first reaction is that the increase in NAV Per Share is substantial at 5.5% (using the mid-point estimate). Earlier in the month – and closing their books a month earlier – Saratoga Investment (SAR) increased NAV Per Share by less than 1%. Still, in the IIQ 2021 NAV Per Share increased by 12.2% over the IQ level.
Recurring earnings, though, appear to be as expected, based on what the 2 person analyst consensus we've seen on Yahoo Finance.
OFS is providing this preview of its IIIQ 2021 results because the BDC is presently in the capital markets raising new unsecured debt. The two remaining public Baby Bonds the BDC has issued are getting redeemed shortly and – presumably – new funds are being raised to bolster the balance sheet and push out debt maturities. Today and tomorrow the management of OFS are meeting – telephonically – with interested fixed income investors.
At the moment – based on projected NIIPS of $1.02 and a closing price of $11.04, OFS is trading at 10.8x projected recurring earnings and yields 8.7%.
Main Street Capital (MAIN) continued its questionable tradition of providing advance information about new investment activity in one of its three "portfolios" : so called "private loans".
What investors or shareholders do with this information, which also lacks any details on terms and pricing, is not clear. MAIN's stock price – already very high – moved up to $43.43, close to its 52 week high, but we doubt the press release made much difference. Despite MAIN no longer paying two supplementary distributions annually, which has greatly reduced the BDC's total payout to shareholders, the stock price is closing in on the all-time high achieved in February 2020 of $45.10, just before Covid reared its ugly head. In any case, as of Tuesday's close, MAIN was just (0.3%) below its 52 week high.
MAIN trades at an amazing 17.5x multiple of its 2021 distributions and at an 85% premium to book. Investors – and the BDC Reporter – are clearly expecting that the BDC's many equity stakes in portfolio companies will continue to grow in value in the current environment where the value of most private businesses is on the rise.
WEBSITE PROBLEMS
Unfortunately, the problems we've been experiencing with the website continue. Premium content being generated cannot be accessed by our Premium subscribers. For the moment we've come up with a work around: making every article we publish free. That seems to work. We're meeting with an outside website consultant on Wednesday, and hope we can rapidly return to normal. Again, we apologize for the difficulties.
Already a Member? Log In
Register for the BDC Reporter
The BDC Reporter has been writing about the changing Business Development Company landscape for a decade. We've become the leading publication on the BDC industry, with several thousand readers every month. We offer a broad range of free articles like this one, brought to you by an industry veteran and professional investor with 30 years of leveraged finance experience. All you have to do is register, so we can learn a little more about you and your interests. Registration will take only a few seconds.