MARKETS

Inevitably, the markets took a breather after days and days of unrelenting price gains. All the indices were in the red, as shown above. However, there was no catalyst that would – by itself – suggest that this is anything but the pause that refreshes, rather than the end of this long winded post-Covid rally.
The BDC sector – which had been disengaged from the major indices when everything was going up – followed the S&P and the rest when matters turned down. BIZD – the Van Eck exchange traded fund which owns most BDC stocks – and which reached a new 52 week high on Monday – fell (0.8%), closing at $17.58. BDCZ – sponsored by UBS but formed as an exchange traded note, but also holding most BDC stocks – dropped (0.7%) to $20.11.
31 BDCs dropped in price, 1 was unchanged and only 10 increased, reflecting the pullback. Most notable was the huge drop in Newtek Business (NEWT), which fell (11.6%) on the day. Apparently, investors were not happy with the BDC's IIIQ 2021 results, which came out yesterday after the close and immediately caused red ink to appear. (More on NEWT below). Otherwise, though, all the other BDCs down in price did not go very far. The biggest percentage drop in price was (1.95%) by BlackRock TCP Capital (TCPC).
The only material gainer was Investcorp Credit Management BDC (ICMB), which went up 5.2%. In this case – as opposed to NEWT – investors were pleased by what they saw in the earnings release. That was in great contrast to the quarter before when ICMB had the greatest percentage loss of NAV Per Share of any BDC in the period: (12.7%). Investors were relieved that lightning did not strike twice, as NAV Per Share moved up 1.2%. Furthermore, management announced an unchanged $0.15 quarterly distribution. ICMB closed at $5.68, well off its 52 week high of $6.58, but above the low of $3.46.
Only 1 BDC managed to reach a new 52 week high in this inauspicious environment – impressive under the conditions. Stellus Capital (SCM) got to $14.72, from a prior high of $14.46. Still, SCM's price is still slightly below the pre-pandemic high of $14.90.
NEWS
BDC earnings season is coming to a close, but earnings releases keep on coming in. WhiteHorse Finance (WHF) – like most of its peers that have already published IIIQ numbers – performed much as expected, based on a first look. "Core Net Investment Income Per Share" was up 10% over the prior period and, at $0.372 in the quarter, "covered" the long-standing (36 consecutive quarters !) $0.355 distribution. NAV Per Share edged upwards to $15.46, from $15.42. Still, WHF is in a minority of BDCs (19 of 42) that can boast of having NAV Per share higher than before the pandemic.
Admittedly, WHF's stock price has not yet recovered from recently undertaking a secondary at a $15.81 strike price. As of Tuesday's close, the BDC was at $15.21, nearly (10%) below a 52 week high of $16.72 and at a slight discount to this latest net book value level.
After the close, Barings BDC (BBDC) reported its results. There NAV Per Share increased by only $0.01 per share as forex losses dampened gains. Nonetheless, Net Investment Income and NIIPS were both higher this quarter over last. The $0.23 in NIIPS is in line with the analyst consensus.
Shareholders will be most pleased with the increase in the BDC's dividend for the IVQ 2021 to $0.22, from $0.21 in the IIIQ 2021: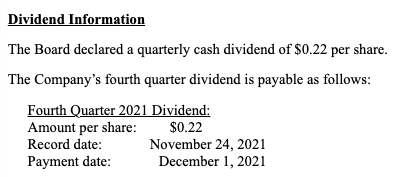 The stock price of BBDC has been moving up in recent days, so this development might not move the price needle as much as one might otherwise have expected when the markets reopen Wednesday morning. BBDC closed at $11.41, just off a 52 week high of $11.45 set earlier in the day. The current yield is 7.7%, and BBDC trades at just 1 cent above book. The analyst consensus for 2022 is for further growth in EPS to $0.95. The price to expected earnings is 12.0X.
WEBSITE PROBLEMS
We are on the cusp of resolving our website difficulties after many, many hours of work by an outside consultant. Shortly we shall be able to distinguishing again between Free and Premium content and sending our articles straight to readers inbox. We are having some last minute – and temporary difficulties – which should be settled in the next 24 hours and allow normal activity to resume. Once again, we apologize for these problems out of our control.
Already a Member? Log In
Register for the BDC Reporter
The BDC Reporter has been writing about the changing Business Development Company landscape for a decade. We've become the leading publication on the BDC industry, with several thousand readers every month. We offer a broad range of free articles like this one, brought to you by an industry veteran and professional investor with 30 years of leveraged finance experience. All you have to do is register, so we can learn a little more about you and your interests. Registration will take only a few seconds.