BDC COMMON STOCKS
Week 49
Omi Who ?
The markets appear to have almost completely shrugged off concerns about the omicron variant.
All the indices were up most of the week, as we chronicled in the BDC Reporter's Daily Updates.
The BDC sector – after 3 weeks in the red – was back in the black as well.
Our two key indicators of BDC sector performance – BDCZ and the Wilshire BDC Index on a total return basis – were up.
BDCZ – the UBS exchange traded note which owns most BDC stocks – closed Friday at $19.84, up 1.17%.
The Wilshire BDC Index was up 1.16%, using a different mix of BDC stocks owned, but you get the picture.
Supportive
Most of the data we collect and review weekly supported the BDC sector's revival.
For example, 31 of the 45 BDCs we track (typically those which are public and are principally lenders) were up in price this week.
14, or less than a third, were down in price.
Now 14 BDCs closing price on Friday is within 5% of their 52 week high, better than 12 last week.
Overall, 32 BDCs are within 10% of those 52 week highs, up from 31 the week before.
At Variance
Nonetheless, we can't help notice that some data points contradict the BDC sector price revival story.
One inconsistency is that the number of BDCs trading over book value dropped this week from 19 to 18.
Also, and for a second week in a row, there was only 1 BDC reaching a new 52 week high level.
This was newer BDC Cion Investment Corporation (CION) , who topped out at $15.09 intra-week.
(The week before the only BDC in this newest 52 week high category was also CION).
By contrast, in the four weeks before (weeks 44-47 inclusive) there were 28 instances of one BDC or another hitting a new 52 week price record, sometimes multiple times.
Perspective
Although BDC sector prices have been down and up in recent weeks, the truth of the matter is that we've been in a narrow price channel for some time.
As this price chart of BDCZ for the last 6 month shows, there's been modest price volatility in the bigger scheme of things and we've ended up more or less where we've started: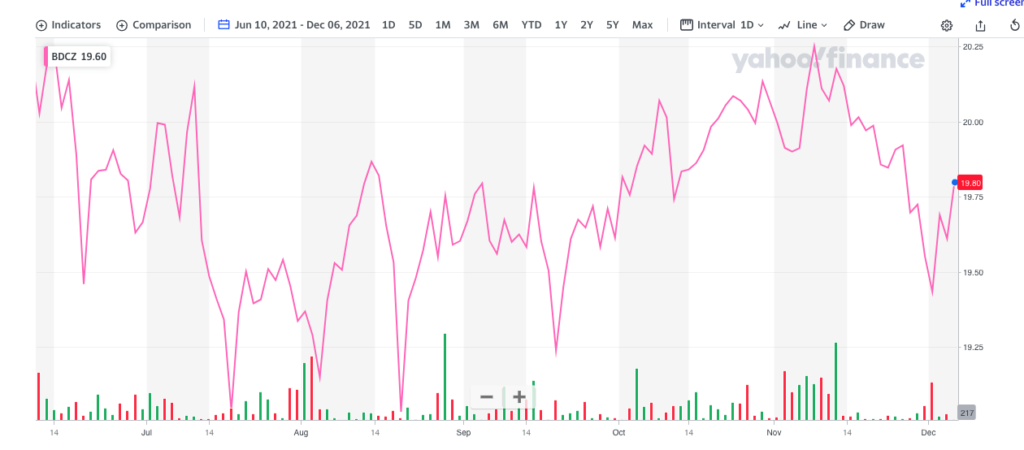 Unaffected
During these last 6 months we've had various "wall of worry" challenges to overcome, of which omicron is only the latest iteration, but the BDC sector has endured with nary a "regular" distribution cut.
There have been some weaker results than might have been expected by this BDC or that in the last 6 months and two quarterly earnings periods, but none of the occasional implosions the BDC sector has been prone to in the recent past.
Balance sheets – thanks to the Great Refinancing which is itself fueled by low interest rates and generous institutional unsecured debt lenders – just continue to get stronger and stronger and borrowing costs lower.
This week, mid-sized BDC WhiteHorse Finance (WHF) raised $25mn in 7 year debt for 4.25% not long after adding $75mn in 5 year notes at 4.00%, as we discussed in Monday's Daily Update.
As is the case elsewhere in the BDC sector for players of all sizes, WHF is relying ever more heavily on medium term, virtually covenant-free unsecured debt to finance itself, mitigating the risk during downturns of availability/liquidity drying up.
Along these same lines, Newtek Business (NEWT) this week finalized the early repayment of $40mn of public Baby Bonds (NEWTL) costing 5.75%. Management hinted that the rest of NEWTL and its other Baby Bond NEWTZ (yield 5.5%) are next in line for early repayment with less expensive borrowings of some sort.
Earnings Outlook
Also cause for encouragement, we updated the BDC analyst consensus for EPS in 2022 versus 2021.
(We keep track of the estimates in our database).
We found that 29 BDCs are expected to post better results next year than this year, 5 the same and 11 lower.
Cha-Ching
The BDC Reporter's own BDC-by-BDC projection for 2022 distributions (including both regular and specials) indicates roughly half (23) will increase their payout over the 2021 level and almost as many (except for those not paying any distribution) will remain unchanged.
There's hardly any reason we can see for any material loss of investor confidence overall as we enter the last few weeks of the year and peer apprehensively into 2022.
Where Things Stand
BDCZ is only (2.2%) off its 52 high point and up 1.5% on the month.
There are still many big dividend record dates to come in December which could prices to fluctuate, but the BDC sector seems poised to have its best year since the Great Recession.
Already a Member? Log In
Register for the BDC Reporter
The BDC Reporter has been writing about the changing Business Development Company landscape for a decade. We've become the leading publication on the BDC industry, with several thousand readers every month. We offer a broad range of free articles like this one, brought to you by an industry veteran and professional investor with 30 years of leveraged finance experience. All you have to do is register, so we can learn a little more about you and your interests. Registration will take only a few seconds.