BDC COMMON STOCKS
Week Fifty Two
Look ! We Have Come Through
Before the BDC Reporter's Christmas hiatus – which began after the December 17 Market Recap – market conditions were darkening for both the markets generally and the BDC sector in particular.
Now we are back two weeks later – and as DH Lawrence said in a different context – omicron or not, we have come through.
Admittedly, there was an initial weakening with BDCZ – the UBS Exchange Traded Note which owns most BDC stocks and which we use weekly to track sector price performance – falling to $18.91 on Monday December 20, from $19.17 at the close the prior Monday.
As this chart shows, though, thereafter investors decided that omicron and the Fed tightening were not worthy of too much worry and pushed BDCZ up in price – as well as the major indices.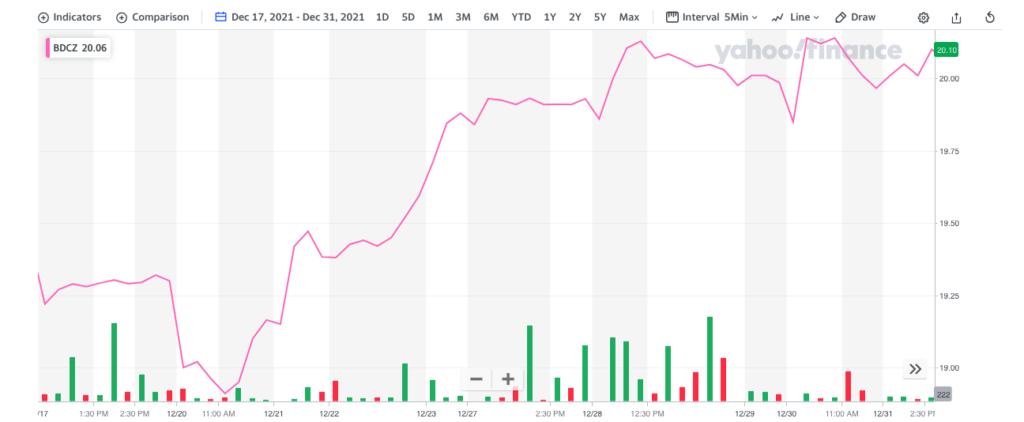 BDCZ closed at $20.06. That's a 4.1% increase in two weeks, 3.0% in the first week and 1.1% this latest period.
In this past week, 34 individual BDCs were up or flat in price percentage change and 11 were down.
For the record 3 BDCs were 3.0% or more up in price and 2 were down (3.0%) or more.
Tops
Maybe not surprisingly after having a very good year, Gladstone Capital (GLAD) was the biggest winner: up 3.95%.
The mid-sized BDC closed at $11.59, (8%) off its 52 week high set November 1, 2021.
Like many of its BDC peers, GLAD's stock price has moved around a lot in the last few weeks of the year.
To make our point, we offer below the 3 month stock price chart for GLAD: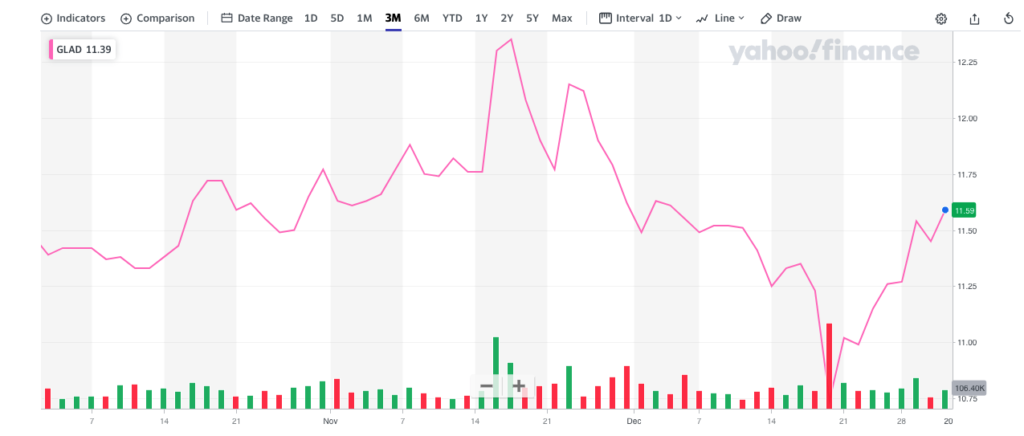 From high to low in a 6 week period GLAD managed to drop (14%). Profit taking anyone ?
As we write this, GLAD trades at a 25% premium to net book value and 14.7x projected earnings.
Also up in price by 3.91% was Trinity Capital Inc. (TRIN), now just (1.2%) off its highest level since going public in January 2021 at $15.00 a share.
TRIN is trading at a 20% premium to net book value.
Finally, just to round the 3.0% plus club GLAD's sister BDC Gladstone Investment (GAIN) was up 3.1%.
GAIN, too, has had a very good year with NAV Per Share up 19.4% and the BDC trades at a 29% premium to net book value.
Unfavored
Taking it on the chin for the last week – and discussed in our Daily Update on December 28, 2021 – was another newly public BDC – large cap Blackstone Secured Lending Fund (BXSL).
Since December 28 intra-day, BXSL has dropped (11.3%) !
If you remember, the finger of blame points to a Raymond James downgrade, which pointed out that the BDC's share lock-up will be ending in stages in the months ahead, making more investors eligible to trade out of their long held positions from when the BDC was privately held.
Still, BXSL's stock price may be deflating but it's a slow leak as its price remains 23% above the level when the stock went public back in October and ended the year 30% above net book value.
Year End Wrap Up
As our readers all know – and as the BDC Reporter has been saying for some time – 2021 was a very good for the BDC sector.
According to the UBS statistics on Yahoo Finance, BDCZ increased 23.60% in price and 33.31% on a total return basis.
For a different perspective, we looked at the Wilshire BDC Index, which uses a different methodology: up 25.58% in price and 38.10% by total return.
Intra-Year Trend
As this 12 month chart of BDCZ shows very clearly – and with the benefit of hindsight – the BDC sector's year can be readily divided into two section.
From January 1 to late May, BDC prices moved up very strongly, jumping nearly 25%.
Since then, the BDC sector has remained – despite many concerns that have come and gone – in a narrow, flat price range.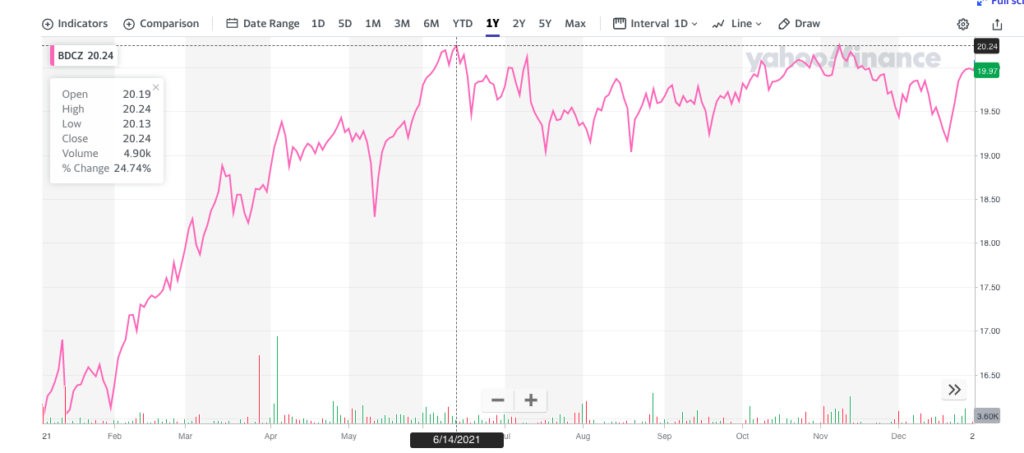 Getting Specific
According to Seeking Alpha – and remembering that 4 BDCs were not publicly traded throughout the year, 44 BDCs recorded an increase in price in 2021 and only 2 were in the red.
For the record, the BDCs which dropped in price were Great Elm (GECC) and SLR Senior Investment (SUNS), down (14.4%) and 3.2%) respectively.
Here is a nifty table with the percentage price gain (and other period data) for the top 10 percentage price gainers in 2021: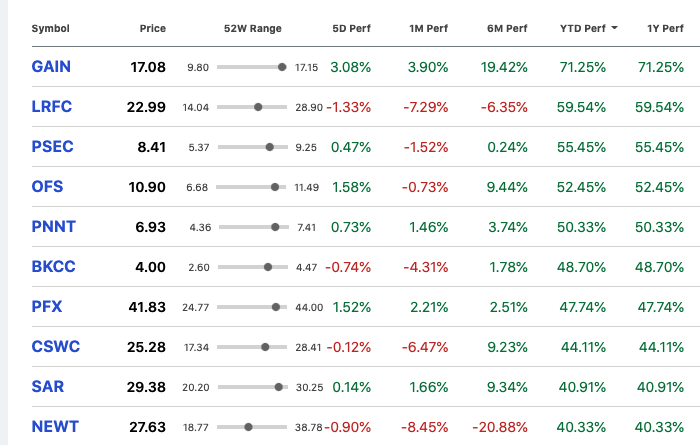 Left Out
We can't help noticing – but without drawing any conclusions – that none of the large cap, brand name BDCs run by huge asset managers are on this list.
With the exception of PSEC, all the big price gainers above have portfolios valued at less than $1.0bn.
There are 21 BDCs with AUM under a billion and 9 figure in the top ten price gain…
As we show in the constantly updated BDC NAV Change Table, 18 BDCs closed the year trading at or above net book value per share.
Historical Context
Obviously, this has been an excellent year in term of return for the BDC sector.
However, we were curious how 2021 – on a total return basis – compares with prior years.
Using the Wilshire BDC Index dating back to 2005 on (17 years), we can say this was the second best year on the books.
Leading the way is 2009, when the index was up 51.9%.
In third place is 2010, up 35.8%.
Interestingly, the index has never gone more than two consecutive years in a row in the black (or in the red for that matter).
In 2020, the BDC index was down (6.4%).
Also interesting is that the BDC sector dropped over (50%) in 2007-2008 combined.
That's a reminder how volatile BDC investing can be.
However…
Since the Great Recession – a period of 13 years – the BDC sector has not dropped more than (8.1%) and has not gone down for more than 1 year.
Looking Forward
Every year is interesting where the BDC sector is concerned and 2022 is unlikely to be an exception.
At the moment, BDCZ is trading only (1.1%) below its 52 week high and the sector – using the BDC Wilshire Index on a total return basis – is only (0.7%) off its 2021 all-time highest level set in November.
(By the way, the S&P 500 – also flying high all year – is just 0.9% off its 52 week and all time high).
There is no reason at the moment to foresee any material downturn in BDC prices or for the market generally, but we know all that can change in the twinkle of an eye.
BDC fundamentals continue to look good, with the analyst consensus showing 26 BDCs likely to increase earnings, 5 to be unchanged, 11 to decrease and 4 to be determined.
However, we've really had no material increase in BDC sector prices for 7 months.
Maybe 2022 is setting up to be more of the same: a coupon clipping year, but with no price gain.
That would result in BDCZ/Wilshire Index returning in the middle to high single digits.
The BDC Reporter is more optimistic and expects a total return in the mid-teens.
(On the other hand, our powers of prognostication – or anybody else's – should be taken with a bucket of salt.
We projected – if memory serves – the BDC sector would increase 14% in 2021).
This We Know
What you can be certain of in 2022 – and every other year ahead – that individual BDC stock prices will fluctuate much more than the sector.
Stock picking in this sector is vitally important.
Here is some instructive data from Seeking Alpha, which calculates medium and long term total returns for every BDC.
Over a 5 year period, if you invested only in the worst performer (PhenixFIN, formerly Medley Capital) the loss was (63%).
However, if you'd bought the best performer (GAIN, with a great turnaround story) the return was 202%, or over 40% per annum.
Happy New Year and pick wisely.
Already a Member? Log In
Register for the BDC Reporter
The BDC Reporter has been writing about the changing Business Development Company landscape for a decade. We've become the leading publication on the BDC industry, with several thousand readers every month. We offer a broad range of free articles like this one, brought to you by an industry veteran and professional investor with 30 years of leveraged finance experience. All you have to do is register, so we can learn a little more about you and your interests. Registration will take only a few seconds.