BDC COMMON STOCKS
Week 3
Memorable
The third week of 2022 will be one to remember for BDC investors, but not in a good way.
Measured by BDCZ – the UBS sponsored Exchange Traded Note which owns most BDC stocks – the sector was down (2.89%).
That's the biggest weekly drop since July 2021.
The BDC Wilshire Index – using the "total return" feature – was off (2.81%), just days after reaching an all-time high.
Not Good
Pretty much all the metrics we review weekly to take the temperature of the BDC sector indicated a patient doing poorly.
Of the 45 BDCs we track, 42 were in the red and only 3 squeezed out a positive return during the week.
Of the BDCs in the red, 19 fell more than (3.0%).
We'll discuss some of those large percentage losers in a minute.
Falling Back
Furthermore, this downdraft has taken the wind out of the sails of many BDCs that were trading up close to their 52 week highs.
Within 4 business days, the number of BDCs within 5% of their top price fell from 12 to 4.
Also, the number of BDCs trading above net book value per share fell as well; from 18 to 15.
See the BDC NAV Change Table, which we update regularly where this metric is concerned.
Where Are We ?
After a strong start to 2022, the BDC sector – as measured by the Wilshire BDC Index using the price calculation only – is down (0.81%).
BDCZ is (5.1%) off its 52 week high and that other favorite measuring stick of ours – the Van Eck exchange traded fund with the ticker BIZD – is off (2.2%) from its one year record price level.
Over the last month, 26 BDCs are up in price and 19 are down, according to Seeking Alpha data.
Using Our Words
All this can be summed up as follows: the BDC sector had a no-good, horrible week where prices were concerned which affected most every player and some quite significantly BUT there's no reason to panick. As yet.
As this chart of BIZD from May 31, 2021 to last Friday demonstrates, the sector's price level has remained within the same narrow range for nearly 8 months: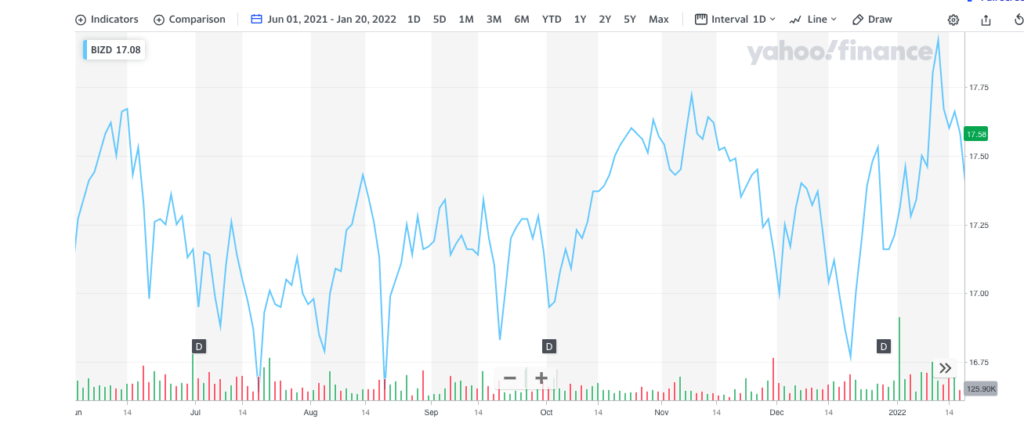 In fact, even after several days of unrelenting price losses, BIZD remains on the high end of this price channel.
Individual Casualties
The above will probably be cold comfort for the shareholders of some of the BDCs that took a price walloping this week.
We couldn't help noticing that Horizon Technology Finance (HRZN) was being especially punished by investors.
As this 1 year price chart for HRZN shows, the venture debt BDC – for reasons that we wondered about at the time – shot up in price in mid November 2021.

On Friday, HRZN closed at $14.41, (27%) below that brief peak price of a few weeks ago.
We never did quite understand the November 2021 enthusiasm for HRZN, when the price to projected earnings reached 14.3x, and a 70% premium to net book value.
The BDC has performed well in recent years but has not changed its regular distribution for 22 quarters in a row and the analyst consensus for 2022 earnings growth is just 0.7%.
The yield at HRZN's price height was only 6.1%.
Now the BDC trades at its April 2021 level, but remains at a 24% premium to net book value per share, one of the third of BDCs in that august category.
We can't point to anything obvious coming out of HRZN that would have caused this price retreat.
Last we heard from the BDC, it was on January 12 to discuss "another exceptional quarter" (admittedly management's own words) where IVQ 2021 investment originations were concerned.
Sometimes this BDC or that becomes a favorite of "momentum" investors, causing a surprising and – often – unjustified – accelerated price run-up.
These flights of fancy rarely last for long, as the HRZN experience seems to suggest.
Everyone Else
We don't have the space to discuss the back stories of all the BDCs that fell (3.0%) or more in price this week.
Instead, we'll just publish the list copied from Seeking Alpha.
As you'll see there are BDCs of all shapes and sizes, reflecting – more than anything else – how some investors "take money off the table" at the first signs of trouble in the markets.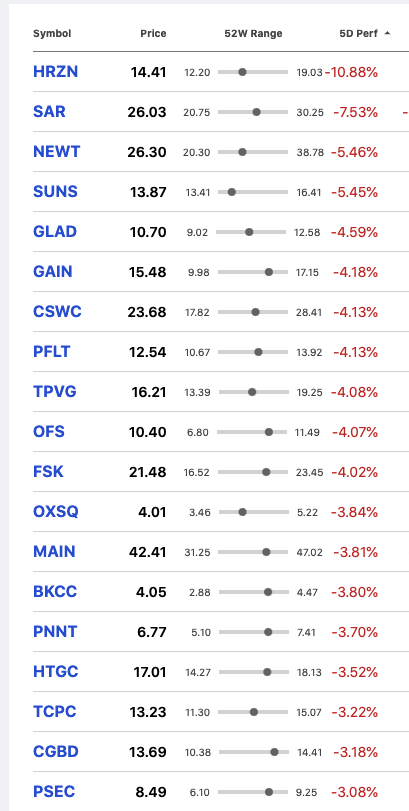 Where To ?
This not where the BDC Reporter expected we would be after the promising start to 2022 through January 12, 2022 when BIZD was up 4.1%.
However, it's clear that this reversal of fortune has little to do with BDC fundamentals or outlook.
All the BDC news we've seen fit to print this year has only confirmed that most of the players performed well in the IVQ 2021 and the prospects for the rest of the year remain encouraging.
Gravitational Forces
As always, the BDC sector's prices are being set by larger forces affecting all the markets.
After all, the major indices have just come off their worst week since 2020…
The NASDAQ – as every financial site has gleefully reported – is in "correction" territory and falling further.
The S&P 500 was down (5.7%) on the week – twice the level of BDCZ – and is off (7.3%) YTD.
Everything Relative
By those sort of comparisons, the BDC sector has outperformed the major indices in this relatively brief period.
Unfortunately – judging by prior experience – that's no guarantee this will continue if the markets continue to suffer in the weeks ahead.
Carrying On
Nonetheless – and we may being unduly obstinate – we remain sanguine about BDC sector prices once this current market fever breaks.
Shopping Time ?
In the interim, for those of our readers with money to spend, individual "buying opportunities" that seemed unthinkable just ten days ago might open up.
The BDC sector as a whole may be only modestly down and nowhere near "correction", let alone "bear market" range.
However, individual BDC stocks are typically much more volatile – especially where the smaller BDCs by market capitalization is concerned – and opportunity could knock.
For the record, 17 BDCs are trading more than 10% below their 52 week highs. That number could go even higher.
Will investors dare to buy back in next week or will most wait for BDC earnings season, which begins the week after and lasts through February ?
As always, greed and fear will be arm wrestling for dominance.
One More Reason To Subscribe
In the BDC's Daily Updates, we'll be covering in almost real-time the biggest BDC price movers – both upwards and downwards – in what could be a very interesting week for BDC investing.
Already a Member? Log In
Register for the BDC Reporter
The BDC Reporter has been writing about the changing Business Development Company landscape for a decade. We've become the leading publication on the BDC industry, with several thousand readers every month. We offer a broad range of free articles like this one, brought to you by an industry veteran and professional investor with 30 years of leveraged finance experience. All you have to do is register, so we can learn a little more about you and your interests. Registration will take only a few seconds.