BDC COMMON STOCKS
Week 4
Perspectives
Given that by the close on January 28, we had completed 4 weeks of the new year, with only one trading day to go in the month, let's look at both weekly and monthly performance.
Hard Times
As our readers – and everyone else in America – already knows, the markets have not been kind to all the major indices in 2022.
The S&P 500 is nearing correction territory and the NASDAQ has been in that unenviable state for several days, and is now (15%) off its 52 week high. Your grandfather's favorite index – the Dow Jones – helped by a price resurgence on Friday – is "only" off (6%) from its peak but the Russell 2000 is in "bear market" territory.
As Barron's reports, stocks are having their worst January since 2008.
Volatility – as this chart copied from Barron's who got the data from FactSet – has also sharply risen in January: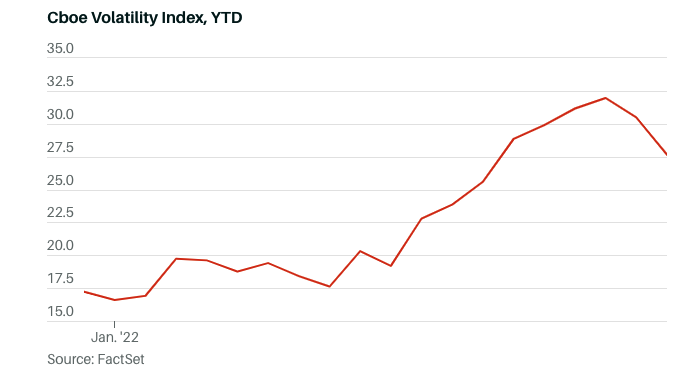 Exception To The Rule
Barron's, though, admits that "credit markets" have "held up much better" and that's a good segue into our discussion of the BDC sector.
Going by BDCZ – the UBS Exchange Traded Note which owns most BDC stocks – the sector was up 1.23% this week, nearly twice as much as the S&P 500 in this 5 day period.
A majority (24) of the 45 BDC stocks we track were up in price versus 21 that were down.
Like the week before, 15 BDCs (a third of the universe) were trading at or above book value).
Not a bad week for BDC investors after a fortnight of red ink that obviated a strong start to 2022, which lasted till January 12. (Coincidentally or otherwise, the price downturn began on the same day as the CBOE volatility index above began its inexorable climb on January 13).
Month To Date
More impressive in a way is how this segment of the "credit markets" over the entire month-to-date.
Using the Wilshire BDC Index by price only, the BDC sector is up 0.23% in January. On a total return calculation, the gain is 0.34%.
From the all-time "total return" high set on January 12, 2022, the Wilshire indicator is down only (3.4%).
Not Immune
We're not saying that the hurricane in the markets has not caused any damage.
After all, the number of BDCs trading within 5% of their 52 week highs has dropped from 12 to 7 and there used to be 18 BDCs trading at or above net book value.
YTD, there have been more BDCs whose price is in the red (29) than in the black (16).
The Most Resilient So Far
By the way, here are all the BDCs that managed to grind out a higher price during this difficult month for anyone interested: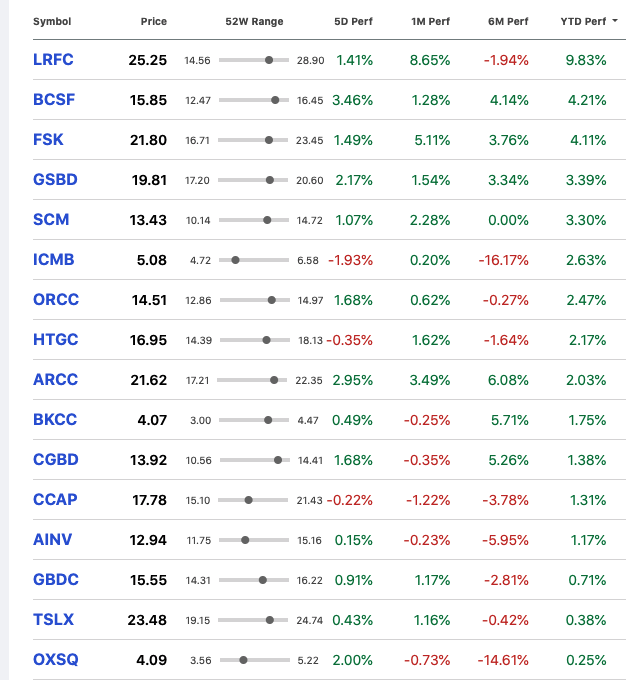 Back To Our Main Thread
However, the damage is relatively mild given the dire headlines about the markets.
We imagine – as we've been noting for some time – that investors are well aware that all the talk of multiple increases in short term rates will result in a benefit to floating-rate based lenders like BDCs.
In this chart below we've compared the YTD price of BIZD to the Invesco Senior Loan ETF (ticker BKLN) – which holds the largest leveraged loans, all of which are based off LIBOR – and the S&P 500.
The chart clearly shows both BKLN and BDCZ are performing much better than the S&P 500.
Two Words Of Warning
Although the BDC sector has held up well so far, there's no guarantee that will continue.
The BDC Reporter frets about the wild card of a possible European conflict – and all the many ways that could play out geopolitically and in the financial markets.
Then there's the medium term risk of all these stops and starts in the supply chain and the burst in inflation causing some leveraged companies to underperform, or even default.
An example of what we're talking about is BDC-portfolio company Dunn Paper Holdings, which is caught between the margin pressure brought on by high pulp costs that can't be passed on fully to its customers and a mountain of debt on its balance sheet. This is resulting in serious concerns about refuinancing debt coming due in 2022 and 2023.
See the BDC Credit Reporter article on the subject from January 25, 2022.
There could be more companies caught between a rock and a hard place in a similar manner, and this time there'll be no PPP grants to save the day.
The upcoming earnings season – and the valuation updates we'll be receiving on some 4,000 BDC financed private and public companies – will give us an inkling of whether this risk is real or hypothetical.
Most Likely Case
With all that said, though, the short term outlook for most BDCs remains favorable, as the next few weeks of IVQ 2021 results should confirm. The sector should benefit earnings-wise from a very busy period of leveraged finance; equity gains in a red hot M&A environment and ever lower borrowing costs.
Those fundamentals – plus the prospect of higher income from an increase in rates – should support BDC sector prices in the weeks and months ahead.
We also expect to see numerous BDCs increase their distribution levels in 2022 over 2021.
On The Agenda
First up is Capital Southwest (CSWC), which will be disclosing its calendar IVQ 2021 results Monday after the close.
For the BDC Reporter's BDC Earnings Calendar, click here.
Stay Tuned/Subscribed
The next few weeks are going to be very interesting.
Check out the BDC Reporter's Daily Updates at the close Monday-Thursday and select full length articles about the most material developments that occur, penned in almost real-time.
Already a Member? Log In
Register for the BDC Reporter
The BDC Reporter has been writing about the changing Business Development Company landscape for a decade. We've become the leading publication on the BDC industry, with several thousand readers every month. We offer a broad range of free articles like this one, brought to you by an industry veteran and professional investor with 30 years of leveraged finance experience. All you have to do is register, so we can learn a little more about you and your interests. Registration will take only a few seconds.