BDC COMMON STOCKS
Week 9
Unfazed
Despite horrific scenes of carnage unfolding in Ukraine, and the major indices in retreat, the BDC sector had a positive week where prices are concerned.
The S&P 500 was down (1.27%), while BDCZ – the UBS sponsored exchange traded note which owns most BDC stocks – moved up 1.05%.
BDCZ closed on Friday at $20.22.
(By the way, if anyone wonders why we use BDCZ on the week-ends to evaluate BDC sector performance and BIZD – the Van Eck sponsored exchange traded fund which holds mostly the same stocks – is that the former's data goes back further. On the other hand, BDCZ is more thinly traded than BIZD. At some point we'll consolidate on one of the funds).
About three quarters of the 46 BDC stocks we track were in the black or unchanged over the course of the week: 31.
Major Price Moves
Interestingly – and possibly tellingly – after weeks of modest BDC price volatility, many BDCs moved up and down materially in price as investors reset expectations .
9 BDCs – the largest number in 5 weeks – increased by 3.0% or more in price in the 5 days.
Here's the list by ticker and percentage change: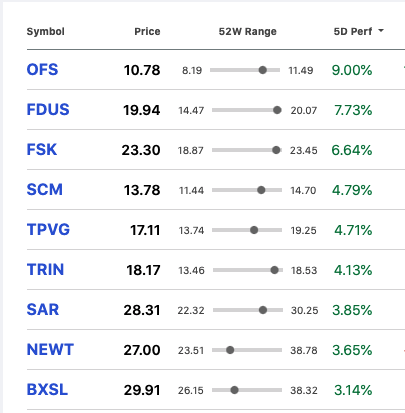 Not in any way coincidentally most of the major movers listed above reported IVQ 2021 results this week, and received a warm reception from the investor community.
The Reason Why
For example, OFS Capital (OFS) – which has been boosting its dividend quarter over quarter for nearly two years – still seems to have surprised the market with another 12% boost in its IQ 2022 distribution announcement.
Likewise, FDUS Investment (FDUS) reported a 9.0% increase in its NAV Per Share – the best of the 42 BDCs which have shared their year end results – which caused its 7.73% price increase.
The second largest BDC – FS KKR Capital (FSK) – saw its stock price climb steadily all week after reporting results on February 28.
NAV Per Share barely increased this quarter over last, but FSK "surprised to the upside" by reporting non-GAAP adjusted Net Investment Income Per Share higher than expected AND increasing its IQ 2022 distribution by just $0.01.
Since an intra-day low on February 23, FSK is up 13.3% as investors anxiously re-rated the valuation of the stock.
Not Left Out
Even Blackstone Secured Lending Fund (BXSL) caught a break as this lifetime chart of this newly public BDC shows: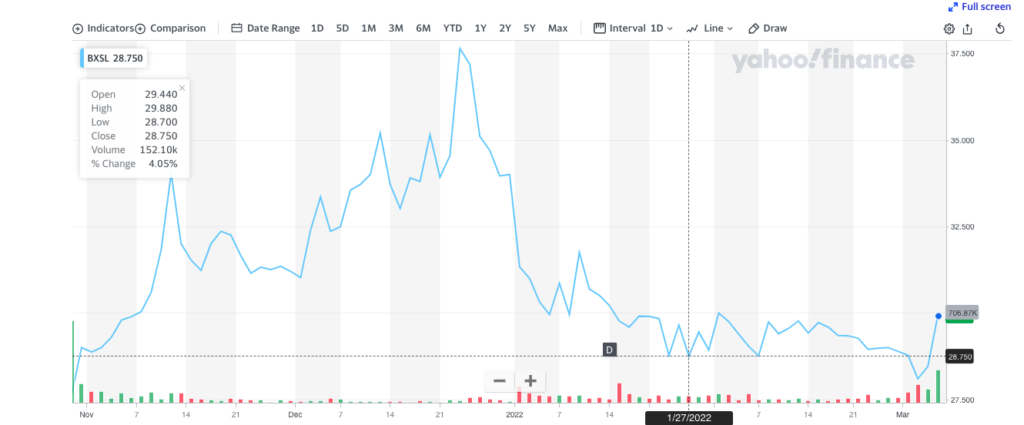 BXSL gained 3.14% this week after being regularly in the dumps for months and is 4.4% off a recent low. That's the uptick you see at the right end of the stock chart.
Worse Of The Worse
There were only two BDCs that dropped more than (3.0%) this week and only one deserves attention:
Great Elm Capital (GECC) – which has been trending downwards for months – imploded this week, despite undertaking a 6:1 reverse stock split.
GECC's stock price dropped (22%), closing at $13.95.
In one fell swoop, the BDC reported a (25.1%) drop in its NAV Per Share; saw its CEO resign effective immediately and new management arrive touting a new approach but looking for a Rights Offering from the much suffering shareholders of the BDC.
Clearly this is a BDC dumpster fire, and one that has been long in the making.
In case of everything old is new again, the reduction in net book value was largely attributed to a write-down of the BDC's investment in Avanti Communications.
The BDC Reporter and the BDC Credit Reporter have been writing for years about the incredibly high leverage and slim prospects of this satellite launcher and operator.
Now the chickens appear to have returned to roost and the consequences for GECC and its investors are drastic.
We'll be writing a full fledged review of what we know and what we don't in the next day or two.
More Of Same
Reverting back to overall sector metrics:
There were 3 BDCs reaching new 52 week high levels: FDUS, PennantPark Investment (PNNT) and TCG BDC (CGBD).
All three players have reported IVQ 2021 results and all are getting a more favorable look from investors.
On the other side, there was only 1 BDC at a new 52 week low – the already much discussed GECC.
Overall, 18 BDCs traded at or above net book value per share, a number unchanged over 3 weeks now.
Where We Stand
All this data, and the comparison of BDCZ's price performance to the S&P 500 and other major indices, paints a straightforward enough picture:
The BDC sector is seriously outperforming the major indices, and managing a small price gain in 2022.
In fact, BDCZ closed on Friday 0.8% for both the month of March and 2022 YTD.
(The BIZD numbers are even better: 0.8% for the month and 3.0% for the year.
The S&P 500 is (1.0%) behind in March and (9.2%) in 2022.
Of 45 BDCs that have been active through the year, 20 are up or flat in price and 25 down.
As of Friday, BDCZ traded only (1.8%) away from its 52 week high and BIZD (1.7%).
By contrast, the S&P 500 is trading (10.2%) below its own 52 week price high point.
Where We Go From Here
BDC earnings season is almost over. As you can see from reviewing the BDC NAV Change Table all but 4 BDCs have reported results
3 of the 4 are smaller BDCs whose results – whether positive or negative – are unlikely to move the sector price needle by much.
Newly public Cion Investment (CION) – with AUM of $1.7bn – will be reporting results as well, and that could result – as we've seen for FSK – a re-rating of the stock in the market's eyes and a possible shift in the stock price.
On The Horizon
Generally, though, BDC investors are already looking ahead.
There's a general consensus amongst a plurality of BDCs that IQ 2022 results might be "softer" than the red hot level in the last quarter of last year.
Both managers and investors, though, are really looking beyond to 2023 to estimate what the projected new interest rate environment might mean for future earnings.
Hard To Reconcile
We continue to notice the sharp discrepancy between what several major investment banks are projecting about the extent and pace of Fed rate increases and what that august institution is actually "signaling".
This uncertainty about where the Fed Funds rate – currently 0.25% – will be in the quarters ahead may keep a lid on investor sentiment.
Wind At The Back
Otherwise, though , and with only a few exceptions, BDC financial and credit performance remains strong as we march further into 2022, which should keep prices on the high side even if rates – and investment income – do not increase sharply.
We would not be surprised – especially if we get any sort of good news out of the Ukraine – if the BDC sector did not reach a new 52 week price record.
Just another 1.8% increase in BDCZ's price would result in a new 52 week high.
Stay Tuned For…
Earnings-wise we'll be hearing from CION and Portman Ridge (PTMN) this week.
We may also get more details out of GECC about its planned secondary offering.
Also, we'll see if the BDC sector can look through the ever increasing tension in Europe and uber high oil prices and move up in price for a second week in a row.
BIZD needs to move up only 1.8% to reach a new 52 week high.
Read our Daily Updates to follow along.
Already a Member? Log In
Register for the BDC Reporter
The BDC Reporter has been writing about the changing Business Development Company landscape for a decade. We've become the leading publication on the BDC industry, with several thousand readers every month. We offer a broad range of free articles like this one, brought to you by an industry veteran and professional investor with 30 years of leveraged finance experience. All you have to do is register, so we can learn a little more about you and your interests. Registration will take only a few seconds.