BDC COMMON STOCKS
Week 34
All Done
Nothing lasts forever, including BDC rallies.
After 4 weeks of BDCZ – the UBS sponsored Exchange Traded Note which owns most BDC stocks – increasing from Friday to Friday, we had a reversal.
BDCZ dropped (2.31%) in the week ended August 19, 2022.
Also lower was the S&P BDC Index – calculated on a "total return" basis – by (2.22%).
Greater Scheme
As readers will know, this did not happen in a vacuum: the S&P 500 was off (1.21%) and the NASDAQ (2.6%).
We've been in a sharp stock market recovery since mid-June across all the equity markets so a reversal was hardly a shocking surprise.
Not So Bad
Going by the price performance of the 43 individual BDCs we track, the snap-back was relatively mild.
Admittedly, 31 BDCs dropped in price, but 12 still eked out a positive price increase over the week.
Worse Off
The number of stocks in the red dropping by (3.0%) or more came to 8 – see below: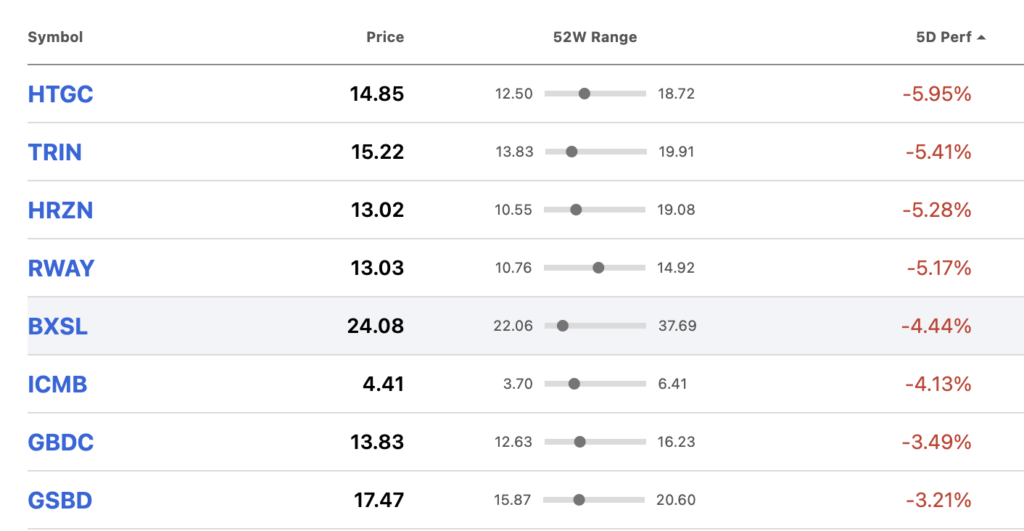 That list is interesting in that the top 4 losers are venture-debt lenders, including Trinity Capital (TRIN) which raised new equity this week.
Regarding TRIN – and with the benefit of hindsight – there was a lot of funny business where the price was concerned in advance of the offering.
TRIN reached $16.43 intra-day on August 15, only to announce and price the issuance of new shares for $15.33, and then closing out the week, as shown above, at $15.22.
More Of Less
Anyway, despite a relatively large drop in the sector price in percentage terms, most of the BDC metrics we track moved very little.
For example, the number of BDCs trading within 5% of their 52 week low remained at 2, as was the case the week before.
The number of BDCs trading within 5% of their 52 week high dropped from 5 to 2, but the number off 5%-10% remained at 9.
Also, the number of BDCs that are trading in the black on a 2022 YTD basis – curiously – increased from 8 in the week ended August 12 to 9 this week.
Where We Are
For the sector as a whole, BDCZ is left (7.4%) down in price on the year and the "total return" S&P BDC Index – dropped back into the red, but is only (1.8%) behind.
Where To ?
Naturally enough, one can't help feeling – given the ferocity of the recent rally and how markets tend to swing back and forth – that this week's weakness is just the beginning of another broad pullback.
Investors really do seem to swing from excitement to despair in a very brief moment.
Although the BDC sector has almost completed IIQ 2022 earnings season and posted encouraging results – and promised even better profits in the second half of 2022, the broader tide of investor sentiment is likely to dictate where BDCZ goes from here.
Or, put another way, if the S&P 500 index is materially down in price next week chances are very high so will the BDC sector even if earnings in many cases are likely to jump 10%-15% or more in the next couple of quarters.
Coming Up
Almost Done
There are just 2 BDCs out of 43 that have not yet reported IIQ 2022 results: Prospect Capital (PSEC) and Investcorp Credit Management (ICMB).
The former is scheduled for Wednesday and the latter has not yet offered an earnings release/conference call schedule.
In any case, we'll cover the highlights of the two BDCs performance in the BDC Daily News Feed as we've been doing through earnings season.
Deep Diving
We'll also continue our campaign to review, analyze and annotate every IIQ 2022 BDC conference call transcript.
Next up are Apollo Investment (AINV); Bain Capital Specialty Finance (BCSF); BlackRock TCP Capital (TCPC) and Crescent Capital (CCAP).
With those reviews completed, we'll be about halfway done with 19 such annotations completed.
Next Up
Once that stage is completed, the BDC Reporter will turn to undertaking a full fledged credit review of every BDC we track.
The preliminary data we've been getting from the BDC's own disclosures – captured in the BDC Credit Table – suggest no material credit deterioration is going on, but there are insights and early warnings to be gleaned from looking at each company in each BDC's portfolio and analyzing the underperformers.
Also Down
Over in the world of BDC Fixed Income, we've already updated the BDC Fixed Income Table for this past week, which shows the 20 Baby Bonds we cover also reverting to price loss making after several weeks in the black.
The 5 and 10 year risk-free rates moved up recently and it's reflected in slightly lower bond prices, although the individual number of bond issues up or down over the week is almost equal.
Known Unknown News
We're not expecting any public unsecured note issuance or other major development in the week ahead, but you never know.
Several BDCs have reached full leverage level AND are trading north of their net book value per share, so new secondary share issuances – like the 4 that have already happened – are also possibilities at any time.
Changing
We'll also be updating our database with the analyst earnings projections for the next couple of quarters and years, which we expect to reflect the prospect of materially higher earnings brought on by the Fed-engineered surge in the reference rate.
Additional Reading
The BDC Reporter also seeks to keep track of what is happening in the leveraged loan markets regarding a host of issues including the trend in prices; yields, new transaction volumes and much more.
We've been hearing that new loan activity has finally begun to slow down. Is that just the August doldrums or have the PE groups started to take a breather initiating buy-outs, add-ons and recapitalizations ? Is the surge in venture debt financing replacing new equity raises beginning to peter out in the venture markets ?
There's always something going on even when earnings season is over.
Already a Member? Log In
Register for the BDC Reporter
The BDC Reporter has been writing about the changing Business Development Company landscape for a decade. We've become the leading publication on the BDC industry, with several thousand readers every month. We offer a broad range of free articles like this one, brought to you by an industry veteran and professional investor with 30 years of leveraged finance experience. All you have to do is register, so we can learn a little more about you and your interests. Registration will take only a few seconds.