BDC COMMON STOCKS
Week 51
Peculiar
The week running up to the Christmas Day holiday tends to a little unusual, with so many investors busy hanging up mistletoe and such.
Still, in the past, we have experienced end of year rallies, but not in this miserable 2022.
The S&P 500 dropped (0.20%) – a third week in a row of red ink for this most famous index of all.
Not So Bad
BDC investors did a little better.
BDCZ – the UBS sponsored exchange traded note which owns most BDC stocks and which we use as a price guide for the sector – moved up 0.90% on the week thanks to a Friday price surge.
The S&P BDC Index – that other price measurement we use, but for a "total return" – increased 0.79%.
Of the 43 BDCs we track here, 24 were in the black this week and 19 were down.
Biggest Winners
Of the 24 up in price, 4 were up 3% or more:

Focus
As you can see, TRIN led this small pack as value buyers jumped into the stock only a few weeks after the venture-BDC reached an all-time low of $10.23 intra-day on December 7.
We published the first of two articles about TRIN this week, explaining how the newly public BDC managed to both pay out a record level of distributions and see its stock price plummet.
In Part II, we'll be sharing our sister publication's – the BDC Credit Reporter – deep dive into its 112 company portfolio.
After all, credit challenges are what has brought TRIN's stock price down.
Is the worst past and are investors right to clamber back into the stock as occurred this week ?
Curious
Carlyle Secured Lending (CGBD) was up 4.17%, capping an exception to the rule sort of year for the BDC, which is currently one of only 3 BDCs whose stock price has increased in 2022.
In fact, CGBD has overtaken Fidus Investment (FDUS) as the biggest price gainer in 2022 – 9.19% versus 8.62%.
Frankly, given the record realized gains and distribution increases at FDUS we understand its against-the-grain popularity in 2022, but are a little surprised by CGBD's performance.
The BDC's total payout increased 9% this year, but there are numerous other BDCs with higher dividend jumps whose stock price has remained stuck in the red.
Stranger Thing
Moving on to Goldman Sachs BDC (GSBD) …
On Monday, the brand name BDC reached a new 52 week low of $13.87.
By Friday, as we see, GSBD closed at $14.57 – up 5.0% from its nadir and 3.04% for the week.
The BDC's shareholders will be giving only two cheers, as GSBD – like so many other BDCs – has had a miserable 2022 where its stock price has concerned – this last surge notwithstanding: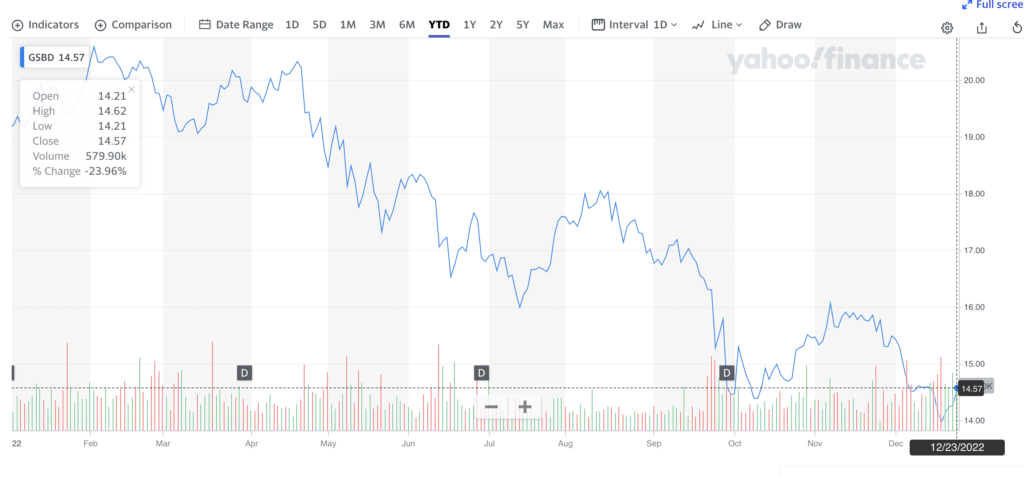 GSBD is down (24%) as of Friday, despite the BDC maintaining its long established pattern of paying out a $0.45/$1.80 quarterly/annual regular distribution.
The analyst consensus for earnings per share in 2023 is $1.94 – implying a modest price to earnings of 7.5x.
Flip Side
There were 3 BDCs that dropped (3.0%) or more in price, in relatively savage drops during this week of peace and best wishes for all mankind:

Guesswork
These are very different players from a strategic standpoint, but all have relatively small market capitalizations, which might explain the sharp price drops.
A loss of a major investor can move a stock price down measurably and this is the time of year that many institutions tend to make a move.
That's about the only explanation we can think of because there was no news this week – or last – about all three BDCs that might explain these drops.
By the way, HRZN, MRCC and ICMB are all down (25%-27%) in 2022 YTD.
MRCC and HRZN maintained an unchanged payout over 2021 and ICMB recorded a slight drop.
In a similar vein, both MRCC and HRZN are projected to grow their EPS in 2023 and ICMB to drop – but only by ($0.01) a share.
2022 Wrapping Up
With just one week left in the year, any hope BDC investors might have had of a rally that would cause BDCZ or – at the very least – the S&P BDC "total return" index to scratch its way into positive return has all but vanished.
BDCZ is down (16.1%) and the S&P Index off (8.9%).
Only 6 BDCs are trading above book value and we calculate the average price to book percentage for the sector is 85%.
Only 5 BDCs can boast – through the IIIQ 2022 – of having increased their NAV Per Share this year, compared with 33 last year.
Yet – according to our records (and still subject to change) – the BDC sector pumped out a 5.0% gain in total distributions this year over last, with 24 BDCs upping their payouts.
Credit metrics overall – if you take a glance at the BDC Credit Table – have barely deteriorated over the level of year-end 2021.
Forward Thinking
All eyes – and the reason for this divergence between dividend performance and stock price – are on economic and rate conditions in 2023.
We won't be telling you anything you don't know by saying that the consensus in the markets is that the economy goes down next year into some sort of recession and rates go up, to reach some sort of crescendo between 5%-7%.
The uncertainty that has hung over the markets all year – and which the Fed has deliberately fed in order to ratchet down economic spirits – continues even now.
Waiting Game
Till we get through the clouds – which means that we know the direction and pace of the economy and the likely shape of the interest rate curve – it's hard to imagine the BDC sector getting back into the black.
Till then BDC investors are likely to hang back, or be subject to short term fits of enthusiasm and despair regardless of fundamental earnings, dividend and net book value performance.
Not So Terrible
One could argue that given this very difficult year BDC investors have reacted sensibly enough, avoiding the panicked behavior that characterized the 2008-2009 and March 2020 periods and – to a lesser degree- the summer of 2011.
Although no BDC is currently trading even 10% within its 52 week high, only 4 are 5% off their 52 week low and 8 5%-10% off.
As has been the case for some time, BDC prices remain in purgatory.
Certainty
We have no doubt that if should a recession bring on much higher credit losses in 2023 than has been the case in 2022 many investors will bolt and prices could crash, even before the extent of any damage is measured.
That's the way things have always been and always will be.
Also Very Likely
Yet, if whatever outcome we get is more favorable, we also have no doubt that BDC prices will rally as rarely before, given those huge increases in earnings and dividends that are being left un-captured at the moment.
2023 is going to be a very interesting year. We just don't know in which way.
Final Note
Happy Holidays to all our readers !
Already a Member? Log In
Register for the BDC Reporter
The BDC Reporter has been writing about the changing Business Development Company landscape for a decade. We've become the leading publication on the BDC industry, with several thousand readers every month. We offer a broad range of free articles like this one, brought to you by an industry veteran and professional investor with 30 years of leveraged finance experience. All you have to do is register, so we can learn a little more about you and your interests. Registration will take only a few seconds.