BDC COMMON STOCKS
Week 52
We've Arrived
The long, arduous journey of BDC common stocks in 2022 has come to an end.
On Week 52, a day before New Year's Eve, we closed the books on a year to forget from an investor's perspective.
BDCZ – the UBS-sponsored exchange-traded note which owns most BDC stocks and which we use as a sector price guide – closed the year at $16.72.
That was (0.71%) down for the week and – more importantly – off (16.7%) for the whole year.
The S&P BDC Index – calculated on a "total return" basis – fell (0.58%) on the week and (9.39%) on the year.
Compare & Contrast
Everything is relative, so we'll show that the S&P 500 dropped (20.3%) in 2022 – just over the border into "bear territory".
You could argue that BDC investors – at least by that comparison – should be relatively pleased, outperforming the most famous index of all both in price and total return terms.
In fact, if you held your BDC stocks all year and collected their still high distributions, the loss did not even reach "correction" territory.
Cold Comforting
Nevertheless, you'd find very few cheery BDC investors as 2022 ended.
There was no "Santa Claus" rally as hoped for a few weeks ago, but just a continuation of a downward slide that began on November 26, 2022.
Since the BDC sector – surprisingly – peaked back in April, there have been three steps down – including the one that began around Thanksgiving.
Bumpity Bump
Here's the 2022 chart that offers up a thousand words: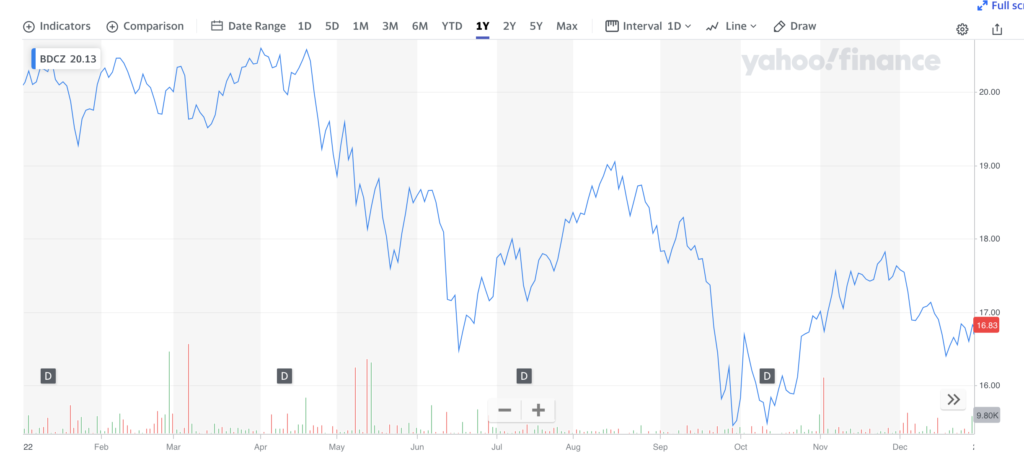 More Dismal Facts From Our Database
In the year, only 3 BDCs are up in price and 40 are down.
As of December 30, 2022, only 6 BDCs traded at or above net book value per share.
In fact, according to our calculations, the non-weighted average price to net asset value per share was just 83.4%.
Just in the last week of the year, 2 BDCs reached new 52-week lows: Goldman Sachs BDC (GSBD) and PhenixFin (PFX).
Zero BDCs traded within 5% of its 52-week high and only 1 (Portman Ridge – PTMN) between 5%-10%.
Down in the BDC price basement, though, there were 9 names trading within 5% of their 52-week lows and 5 5%-10% from their nadirs.
That's a third of the BDCs we track pretty close to their lower levels – most of which were set in September.
Not Impossible
Going by the general mood, the chances of the BDC sector re-testing its autumn lows seem pretty high.
Roughly speaking, BDCZ will need to drop a little over (8%) for new sector lows to be reached in 2023.
That's not an inconceivable scenario.
Remember that in Week 38, BDCZ dropped (7.2%) in just 5 trading days…
Out Of Control
BDC investors are now – as is often the case – in the hands of larger forces, including bets by investors on the impact of higher rates on the economy and the creditworthiness of thousands of leveraged borrowers.
Update
If you were wondering if anything of much import happened in the BDC sector in the past week, the answer is no.
A number of 8-Ks were filed but aside from the $100mn unsecured note financing touted by Main Street Capital (MAIN) on December 28, 2022, there were no material developments.
Not Right Away
Nor do we expect anything very important to come to light till IVQ 2022 BDC earnings season, due in February.
(However, we will be getting Saratoga Investment's – SAR – results through November 2022 on January 10, 2023, with a conference call the next day).
Even when all the IVQ 2022 results come out, we expect much mystery to remain.
Same Or Better
Judging by what we were hearing from BDC managers as recently as November – when reviewing their IIIQ 2022 performance – there has been no great shift in the valuation of BDC loan assets or any great credit deterioration.
Earnings – judging by the wink and the nod from the BDCs themselves and the analyst projections – should be hale and hearty.
In most cases, expect to see BDC Net Investment Income Per Share increase in the last quarter of the year over all the prior three quarters.
Distributions, too, will likely remain high even if some BDCs may be more conservative than usual in hiding away taxable income for the rainy day that most everyone assumes is coming.
Dig In. Get Comfortable.
Investors looking for the sign of the credit apocalypse and any drop in earnings and distributions may have to wait till the spring or summer.
If BDCs are really going to be hit by a wave of credit losses brought on by an implacable Fed, the bulk of the impact won't show up till the second half of 2023.
At the earliest.
We're sorry to say that BDC investors hoping to get out from under the cloud of uncertainty about the economy; credit conditions and BDC fundamental performance may have to wait a considerably longer time.
Old Reliable
Whatever happens, the BDC Reporter will be there to chronicle the sector's ever-changing fortunes and the markets' sometimes strange – but mostly rational – response.
Keep Your Eyes Peeled
As we've said before, the huge uncertainties of recent months allied with the sharp improvement in BDC economics promise outsized returns to those investors who get their calls right.
At the same time, with the prospect of a recession of some sort ahead – which is not priced into current BDC prices – the potential downside is also huge.
Will the Fed cause BDCs to absorb unusually high permanent losses of capital, only to follow up by dropping interest rates sharply and decimating earnings as well?
We can make a case for either scenario, but we'll stick to keeping our readers apprised as to what is happening in the here and now in this weekly column.
Already a Member? Log In
Register for the BDC Reporter
The BDC Reporter has been writing about the changing Business Development Company landscape for a decade. We've become the leading publication on the BDC industry, with several thousand readers every month. We offer a broad range of free articles like this one, brought to you by an industry veteran and professional investor with 30 years of leveraged finance experience. All you have to do is register, so we can learn a little more about you and your interests. Registration will take only a few seconds.