Implications
NEWS
Going by the BDC Reporter's database, 5 BDCs reached new 52-week lows intra-day on Monday, March 13, 2023.
The BDCs involved are the following:
| | | |
| --- | --- | --- |
| TICKER | BDC NAME | NEW LOW |
| HTGC | Hercules Capital | $10.94 |
| BBDC | Barings BDC | $7.45 |
| TCPC | BlackRock TCP Capital | $10.25 |
| GSBD | Goldman Sachs BDC | $13.28 |
| PNNT | PennantPark Investment | $5.14 |
BDC Reporter Prepared Table – BDC Stocks At New 52-Week Low Intra-day March 13, 2023
---
ANALYSIS
Ticks That Box
We prefer to write an article only when there's "market moving", notable news to report.
Any BDC reaching a new 52-week low is newsworthy enough.
5 BDCs on the same day shortly after the largest bank failure since the Great Recession is even more so.
Funny Peculiar
We note that only one of the five venture-debt BDCs – HTGC – is amongst today's casualties.
The other four are a mixed group of mid-sized BDCs, each with different strategies and none with exposure to Silicon Valley Bank or the venture-debt market.
GSBD – as we reported in the BDC Daily News Feed on March 7, 2023 – has just issued new shares at $15.25, which have already dropped (13%) in value – depressing for those investors who signed up for the secondary.
HTGC – long an investor favorite – has seen its stock price drop (29%) since a high on February 17, 2023, and (24%) just since the close on March 8, 2023.
A Business Update from HTGC at the crack of dawn – covered here – did not help.
---
VIEWS
No Relief
Investors might reasonably have expected a relief rally on the weekend news that the government is rescuing the depositors of Silicon Valley Bank (SVB).
When first announced, the futures jumped up joyfully but by the open that was over.
At the close on Monday, the Van Eck BDC exchange-traded fund with the ticker BIZD was down (0.6%).
As this chart shows, we are "re-testing" the lowest lows reached in 2022: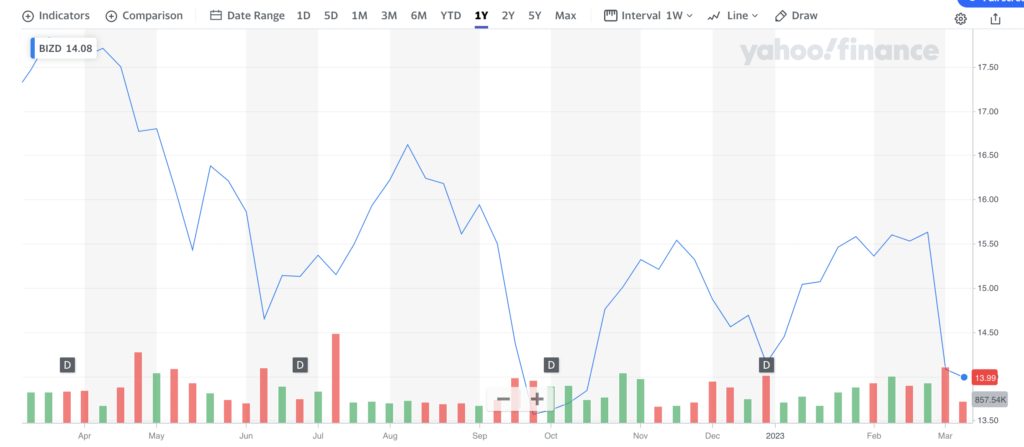 Gloom
As mentioned, most of the BDCs doing so poorly are not in the venture-debt space, suggesting a change in the zeitgeist has occurred.
This might be a temporary phenomenon, but the number of players involved and the continuing failure of the authorities to address in a comprehensive way the safety of deposits over $250,000 suggests this is no passing cloud.
Bad Memories
There is one thing all the BDCs hate most of all and it's any doubts about the viability of the U.S. financial system.
Today, the major indices were not paying any attention to anything so drastic but if we get more bank failures even in the face of the new government financing programs everyone will be paddling in the same direction.
Sorry, Not Sorry
We apologize for sounding so pessimistic, but when you see some of the best BDCs out there valued at 6x earnings and losing so much value so quickly we cannot help but worry.
Already a Member? Log In
Register for the BDC Reporter
The BDC Reporter has been writing about the changing Business Development Company landscape for a decade. We've become the leading publication on the BDC industry, with several thousand readers every month. We offer a broad range of free articles like this one, brought to you by an industry veteran and professional investor with 30 years of leveraged finance experience. All you have to do is register, so we can learn a little more about you and your interests. Registration will take only a few seconds.