A Little Better
BDC COMMON STOCKS
Week 15
Down. Then Up
BDC investors cannot decide.
In the 4-day Good Friday week, prices were down. This week, they're up.
Using the S&P BDC Index on a price basis only, the sector is up 1.7%, after being down (1.3%) last week.
(We are not using BDCZ – the UBS-sponsored exchange-traded note which owns most BDC stocks – because this was a dividend-paying week, which messes with the results).
Mostly Up
Of the 42 stocks we track, 34 were up in price and 8 were down.
Underscoring that this was a relatively robust week for BDC prices, 12 were up 3.0% or more and only 1 was down by (3.0%) plus.
Number One
The biggest winner this week was Trinity Capital (TRIN), which increased by over 8%.
Investors in the venture-debt BDC have been jerking its stock up and down of late.
Between March 27 and April 5, TRIN fell nearly (20%) in price but has since increased by 15%, including this week's move.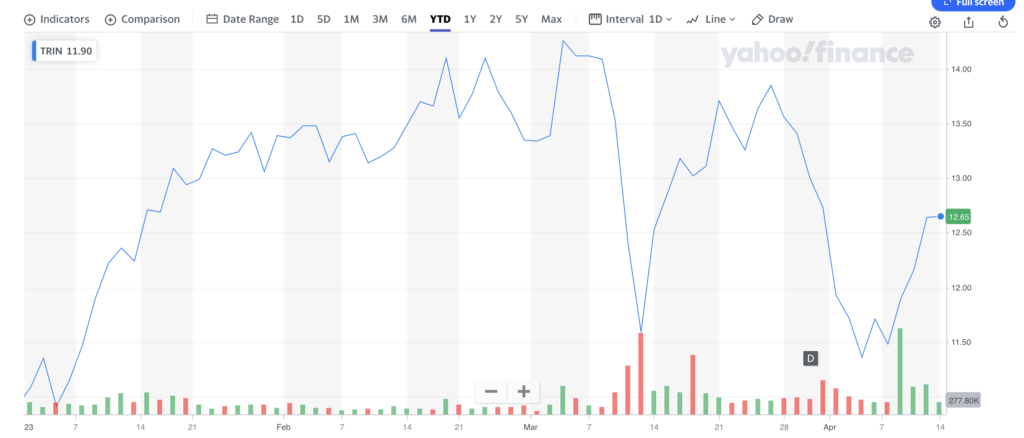 Let's not forget the BDC also paid a $0.4700 dividend back at the end of March.
After all this fuss and fury, TRIN is up 15.7% in 2023, so go figure!
Number Forty Two
Down at the other end of the table was Great Elm Capital (GECC), down over (8%).
Unlike TRIN, GECC began dropping in price in late February 2023 and has not been able to stop – down (18%) and off (3%) YTD.
Overall, the BDC sector remains much closer to its 52-week lows (off 8%) than its April 2022 highs.
Year To Date
For the year – and largely thanks to this latest week – the sector is 2.55% in the black, according to the BDC S&P Index.
Seeking Alpha indicates 22 BDCs are up or flat in price in 2023 and 20 in the red.
The performance metrics we tend to look at weekly have improved, with 9 BDCs now trading above net book value per share (up from 6 last week) but still well below the peak of the mini-rally the sector enjoyed before Silicon Valley Bank's failure ruined the vibe.
Still, no BDC is trading within 10% of their 52-week high, and 10 are still within (10%) of their lows, down from 14 last week.
One Step Forward. One Step Back.
In a nutshell, BDC sector prices are improving but have a long way to go even to get back to the heights achieved in the December 20, 2022, to March 6, 2023 rally.
Looking a little further back, the BDC sector – using BDCZ data – is just short of (20%) below last year's high point in late March, which is roughly confirmed by the S&P BDC Index data even though their high point was in April 2022. Over a 1 year period – according to Seeking Alpha's records, only 1 BDC – Stellus Capital (SCM ) – can boast an increase in its price.
In fact 36 BDCs are down more than (10%), including 5 down greater than (30%) and 12 between (20%) and (30%).
Sad
This week's price increases in the BDC sector might have brought a little sunshine to investors but the gloom that has been hanging around for the past year remains.
This all the more frustrating for anyone invested in the sector given that BDC earnings and distributions have reached record breaking levels.
We had a reminder of this favorable environment with excellent dividend announcements this week out of Gladstone Capital (GLAD) and Gladstone Investment (GAIN); a preview of calendar IQ 2023 results at Capital Southwest (CSWC) which suggested earnings, distributions and even Net Asset Asset Value Per Share will be headed higher and a slew of BDC press releases hinting at mostly good news in terms of investment activity in the most recent quarter.
See the BDC News Feed which covers all these topics and a lot more, including the less favorable developments on the credit front which we'll cover in our now-weekly Credit Recap.
Already a Member? Log In
Register for the BDC Reporter
The BDC Reporter has been writing about the changing Business Development Company landscape for a decade. We've become the leading publication on the BDC industry, with several thousand readers every month. We offer a broad range of free articles like this one, brought to you by an industry veteran and professional investor with 30 years of leveraged finance experience. All you have to do is register, so we can learn a little more about you and your interests. Registration will take only a few seconds.