BDC COMMON STOCKS
WEEK 19
---
SHORT TERM
A curious phenomenon occurred this month in the BDC metrics we track.
The sector as a whole – both measured by the price movement of BDCZ (the UBS Exchange Traded Note that owns most BDC stocks) and the S&P BDC index – barely shifted.
Both were up only 0.1%, from Friday close to Friday close.
That's the smallest percentage move we've seen either up or down in two months.
Busy Enough
The above notwithstanding there was a fair degree of price volatility amongst individual stocks.
8 BDCs increased by 3.0% or more over the week.
Here's the list of the material upward movers: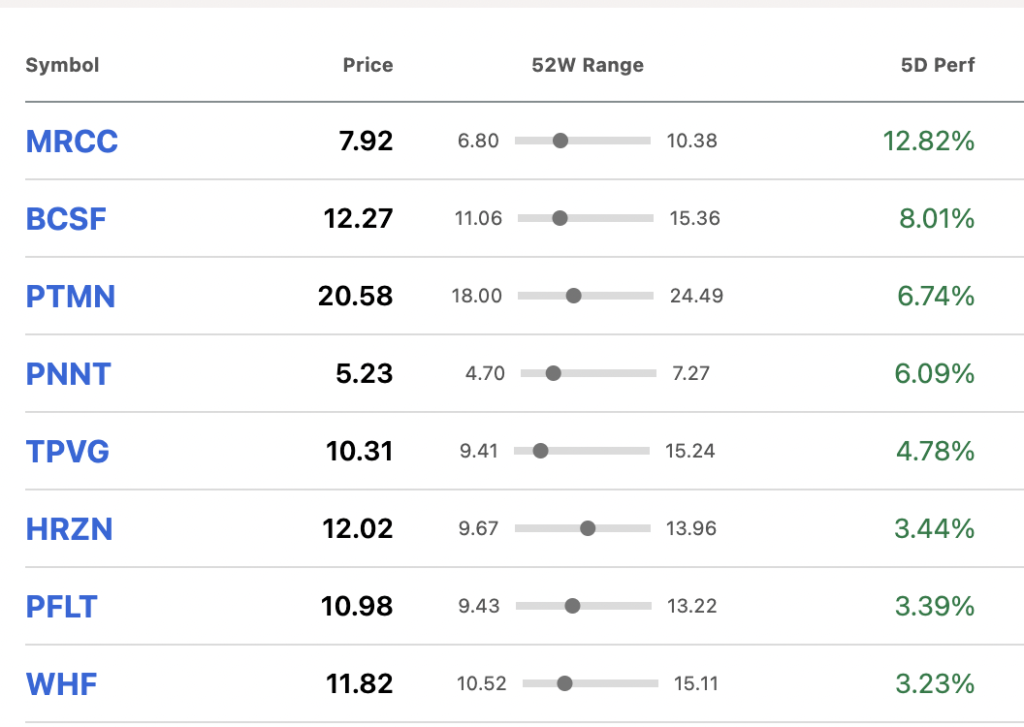 Re-Fixing
We can't help noticing that most of the tickers you see above are of BDCs that reported results this week.
Investors seem to be just re-adjusting prices after taking a cautious tack before the earnings release.
As to the BDCs dropping (3%) or more in price, the downward shifts were less dramatic and involved fewer names: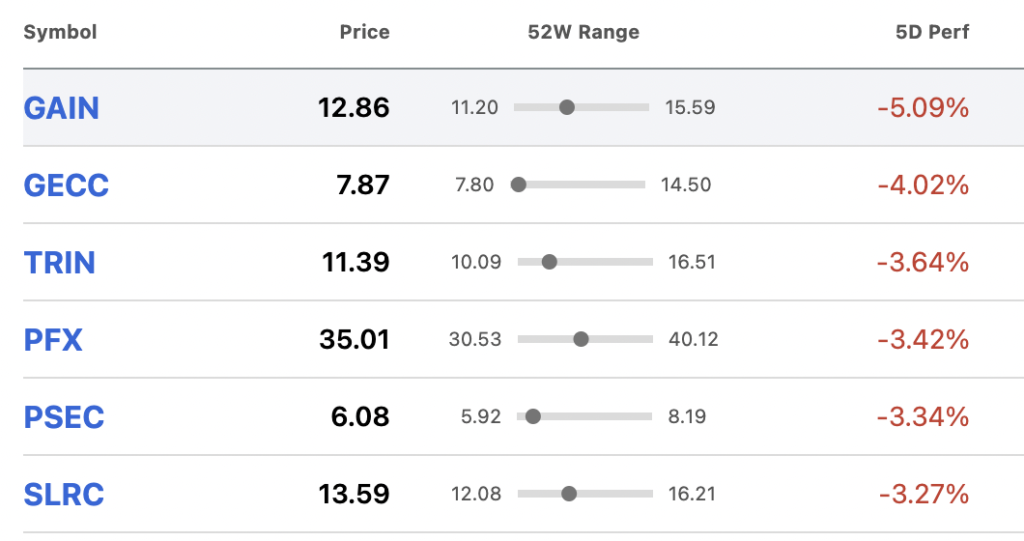 Unusual
We're a little surprised we didn't get more "action" amongst individual BDC prices and the sector overall.
After all, we had a third week of earnings season and a bevy of new information about where BDCs have been and are going.
As this price chart of BDCZ illustrates, the sector has essentially "traded flat" since March 13, 2023 – the lowest point after the Silicon Valley Bank (SVB) implosion.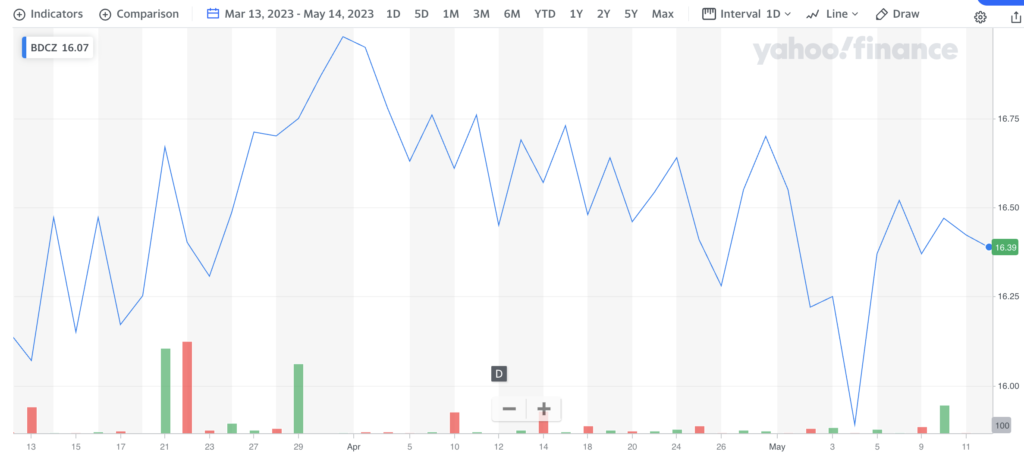 Effectively, the BDC sector – despite what might have been the best quarterly results ever – has fallen and can't get up.
We understand that much of the same phenomenon is happening in some broader markets.
---
YEAR-TO-DATE
No So Good
We are one-third of the way into 2023 and the picture from this distance also remains disappointing for the BDC bulls.
Of the 42 stocks we track only 13 are up, 1 is unchanged and 28 are down.
Big Difference
Before the SVB crisis, we were in a bona fide rally and 38 BDCs could boast a higher price in 2023.
The sector as a whole – going by BDCZ – is off (2%):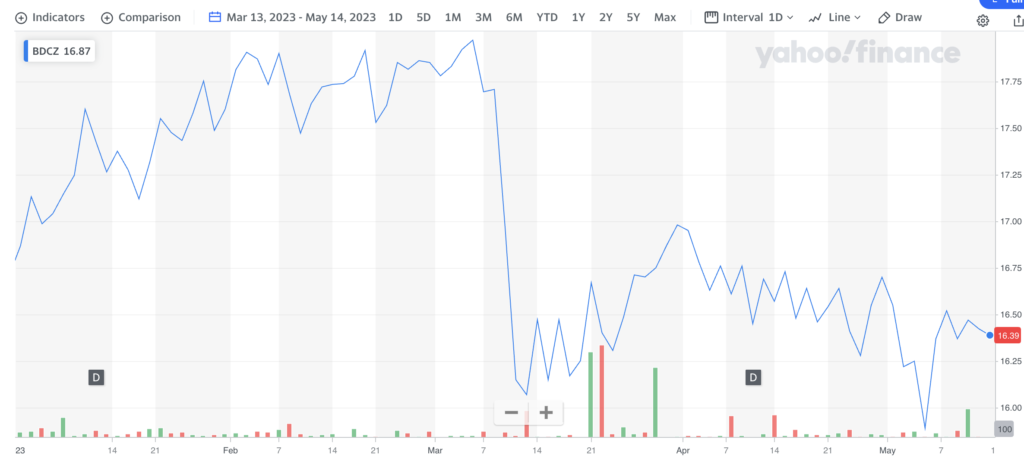 Played Out
The YTD chart above makes the year-to-date performance very clear: a strong rally through March 6, which saw BDCZ reach an intra-day high of $18.05 – 8% above the closing price at the end of 2022.
This was followed by the SVB fall – an (11%) drop) to a low of $16.07.
Since then, there's not been much change with BDCZ closing on Friday at $16.39, just 2% above that low point.
(In fact, during the week of May 5 we reached the actual lowest level of 2023, which was $15.85).
Following a difficult 2022 where BDCZ dropped (17%) in price, this is not the sort of 2023 BDC investors were hoping for.
The Case For Doing Nothing
However – and as we've noted before – if you had just "bought" the sector and collected your distributions – as reflected in the performance of the S&P BDC Index calculated on a "total return" basis – you'd be a decent 4.1% ahead.
Those record distribution levels have been going a long way to mitigate lower BDC prices.
---
FIVE-YEAR PRICE PERFORMANCE
To offset the gloom of the BDC sector's short-term and YTD performance, we thought we'd take a longer view back at price performance.
The lesson above about the advantages of a buy-and-hold strategy is even more evident over a half-decade.
If you owned BDCZ for that period, the price would be down (18%).
However, the S&P BDC Index on a total return has increased by 6.75% per annum or 33.75%.
That's the power of constantly receiving distributions in good times and bad as BDCs are required to pay out nearly all their earnings.

We also looked at individual BDC performance over this same period, using Seeking Alpha data.
Of the 36 BDC stocks that were in existence throughout this 5-year period, 30 generated a positive return.
4 BDCs were up 100% or more in this period, or 20% per annum plus.
The median return was about 8.5% per annum.
Hopeful
Those are very solid returns and a reminder to BDC investors stung by the sector's recent underperformance that it's possible to make a profit over the longer term.
The key ingredient, though, is having the patience to remain long BDC stocks through thick and thin – a very difficult proposition for many investors.
In fact, BDC Best Ideas – our sister publication – is projecting that between now and 2027, the BDC investor will report record returns – much above what has occurred in the past 5 years.
See the Expected Return Table at BDC Best Ideas for each individual BDC and the sector as a whole.
---
OUTLOOK
Short Term Angst
Despite those hopeful words above about the long-term outlook, in the here and now we remain pessimistic.
We just don't see where a price rally ( i.e. a gain of at least 5.0% in a short period) is going to come from
BDC earnings season failed to ignite a spark amongst investors, even with the oft-repeated promise of even higher earnings and distributions likely coming in the second quarter of 2023.
Long Macro List
Moreover, our concern about the government's failure to stem the crisis of confidence in America's regional bank continues to be a pall over sentiment.
Then there's the U.S. debt limit contentiousness which needs to be dealt with shortly.
A little further down the road, weaker economic performance and an inverted yield curve continue to suggest that a recession of some unknown severity could occur in the second half of 2023 or the first half of next year.
Reactive
The S&P BDC return chart above shows that every time in the last 5 years when worries have arisen – credible or otherwise – about the outlook for the U.S. economy (viz in 2028, 2020, and – most recently – in the spring of 2022) sector market values have dropped.
Has the market – already on its heels – "baked" all those risks into the currently underwhelming price level?
We'd say probably not and if we get any further bad news out of the banks, Washington, or the economy, BDC prices could suffer more.
Who Knows?
However, the markets – and the economy – have surprised us before.
Maybe in a few weeks, we'll be talking about the great BDC spring rally…
Already a Member? Log In
Register for the BDC Reporter
The BDC Reporter has been writing about the changing Business Development Company landscape for a decade. We've become the leading publication on the BDC industry, with several thousand readers every month. We offer a broad range of free articles like this one, brought to you by an industry veteran and professional investor with 30 years of leveraged finance experience. All you have to do is register, so we can learn a little more about you and your interests. Registration will take only a few seconds.