Off The Dime
BDC COMMON STOCKS
Week 18
Decision Time
For the last two weeks in these weekly updates, the BDC Reporter has been characterizing BDC investors as being in a "wait and see" mode.
This week many BDC investors finally seemed to make up their minds – right in the middle of earnings season – and pushed the sell button.
The principal trigger was – probably – the same macro concerns that affected all the major indices.
Despite a robust gain on Friday "the Dow and the S&P 500 logged their worst week since March. The 30-stock Dow lost 1.24%, while the S&P 500 dropped 0.8%. The Nasdaq eked out a small weekly gain of 0.07%", according to CNBC.
Off
Anyway, BDCZ – our perennial choice for measuring BDC price changes – dropped (2.0%) – its worst percentage price drop in 5 weeks.
The S&P BDC Index – calculated on a total return basis – fell (2.0%) as well.
37 BDCs were in the red and only 5 in the black.
Only 1 BDC managed to increase in price by 3.0% or more. That was BlackRock TCP Capital (TCPC) with a 3.1% gain on better-than-expected IQ 2023 results.
In The Red
However, that's much eclipsed by the 17 BDCs that dropped by (3.0%) or more this week.
Here's the list, copied from Seeking Alpha's excellent data:
Comprehensive
You'll notice that the list above includes players that operate in every segment of the market and both those which have reported IQ 2023 results and those which have not.
This seems to be evidence of a broad-based pullback by investors.
---
Stand Out
Far and away, the Biggest Loser this week was TriplePoint Venture Growth (TPVG), down (17.1%).
The venture-debt BDC was the target of a negative article by a publication called "The Bear Cave", which had some unpleasant remarks to make about the quality of the BDC's underwriting.
Then some analysts piled in and lowered their price expectations.
This was all topped off by TPVG's own IQ 2023 earnings release and conference call that failed to reassure anyone.
For example, the number of companies on non-accrual at the BDC increased from 1 to 1 in a 3-month period, and the cost of those investments increased from $30mn to $77mn at cost.
Nothing New
To be fair, though, the air has been coming out of the TPVG balloon – long before the Bear Cave and the analysts jumped on the bandwagon.
As this TPVG chart shows, the stock has been dropping for 18 months at a far faster pace than BDCZ, representing the BDC sector's performance.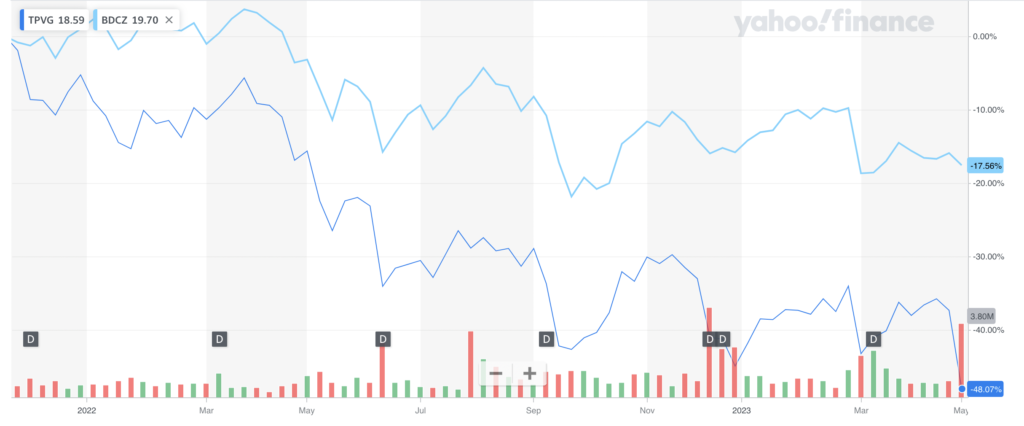 Currently, TPVG is trading at only 5.2x its projected 2023 earnings. By comparison, BDC Best Ideas calculates the sector average is 7.2x, and the leading venture-debt BDC – Hercules Capital or HTGC – is at a 6.9x multiple.
Fair Enough?
Is all this negativity about TPVG – which has traded as high as $18.720 not so long ago and has increased its regular quarterly distribution to $0.40 from $0.36 since 2021 – justified ?
We'll be undertaking a full-fledged review – which will include taking a peek at all the BDC's portfolio companies – just as soon as BDC earning season passes by.
If our analysis shows the stock is oversold, look to BDC Best Ideas for our thoughts on TPVG as an investment opportunity.
---
Year-To-Date
What began as a very promising year for BDC investors – after a discouraging result in 2022 – has turned sour ever since the Silicon Valley Bank (SVB) implosion.
With this week's downdraft, BDCZ is off (2.1%) compared with the end of 2022, compared with the 7.5% gain reached just before we all heard about trouble at SVB.
Earnings season has not resulted in the boost one might have hoped for, even though most of the BDCs that have reported results to date have met or exceeded analyst expectations and EPS has been typically higher than in the IVQ 2022.
See the BDC News Feed.
Furthermore, several BDCs have reported an increase in NAV Per Share (NAVPS) or only a very slight decline despite multi-year record bankruptcies and defaults in the first 3 months of 2023.
See the BDC NAV Change Table.
Scraping
Nonetheless – and as this BDCZ chart for the last 12 months demonstrates – the sector is much. much closer to reaching the 52-week low point set in September 2022 than returning to the high of April 2022.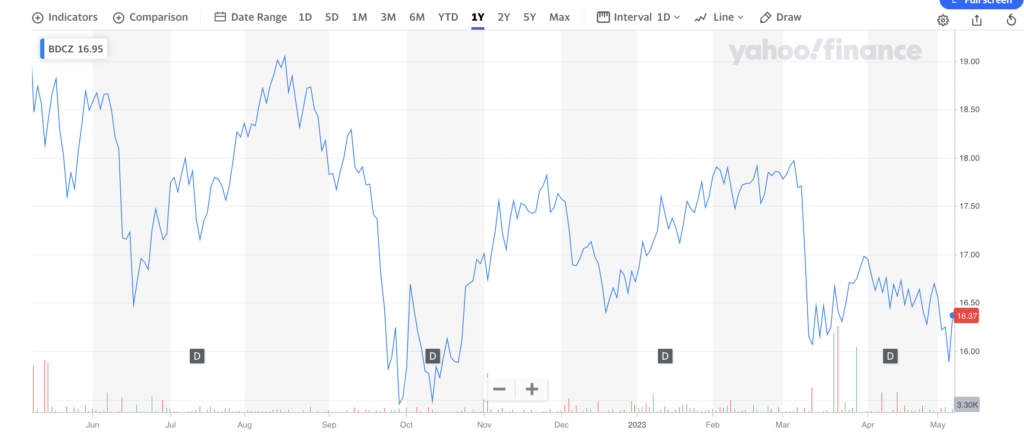 At this point in 2023, two-thirds of BDC stocks are in the red price-wise and only one-third in the black.
The overall price to book for the 42 BDCs we track is only 84%.
Ray Of Sunshine
However – as we noted last week – have and hold BDC investors are up 4.0% in 2023 thanks to the very high distributions being paid and the impetus of the earlier rally.
Or so says the S&P BDC Index as of May 5, 2023.
---
Outlook
Fretting
Ever since SVB spoiled the recovery party, the BDC Reporter has been greatly worried about the suddenly-apparent fragility of the banking system.
We were not convinced by the FDIC-engineered rescues of Signature Bank and SVB that the danger had passed.
This week's news that First Republic Bank needed to be rescued by JP Morgan also did not engender any confidence – despite the reassuring words from the government and the banks themselves – all of whom have much to lose if the crisis continues. That's essentially "talking your book" and did little to help the several more regional banks still in harm's way this week.
When America's favorite grandfather and uber-capitalist Warren Buffett describes himself as worried about the banking system – as he did on Saturday – we can't help but pay attention.
Dem Bones
None of this directly impacts BDCs but in the same way as "The toe bone's connected to the foot bone,
The foot bone's connected to the ankle bone" etc. so is the financial system.
We don't know how this will all end but a variant of the situation in 2008-2009 remains plausible.
(We won't even get into that other black swan: the raising of the debt limit imbroglio).
No Cavalry In Sight
We know that investors are famous for climbing over these walls of worry and BDC stock prices – as we've seen – already reflect much uncertainty.
Nonetheless, the macro risks – including the prospect of that ever-promised U.S. recession – could yet cause more damage and bring the sector to new lows.
With so much POTENTIAL downside, it's hard to envisage a rip-roaring return to a BDC rally mode in the weeks ahead as earnings season marches on.
---
Already a Member? Log In
Register for the BDC Reporter
The BDC Reporter has been writing about the changing Business Development Company landscape for a decade. We've become the leading publication on the BDC industry, with several thousand readers every month. We offer a broad range of free articles like this one, brought to you by an industry veteran and professional investor with 30 years of leveraged finance experience. All you have to do is register, so we can learn a little more about you and your interests. Registration will take only a few seconds.