BDC COMMON STOCKS

Week 29

Unrelenting

The rally in the BDC sector – which resumed on May 5, 2023, after being diverted by the failure of Silicon Valley Bank (SVB) – marched on for yet another week.

BDCZ – the UBS-sponsored exchanged traded note which owns most BDC stocks and thus serves as an effective reflection of the sector's progress – was up 1.4%.

BDCZ closed Friday at $17.94 – an impressive price increase over the $16.37 price on May 5 – just under a 10% increase.

More Metrics

36 BDCs out of the 42 we track were up in price – or unchanged.

Only 6 BDCs were in the red.

Never Before

We don't know what it means – if anything – but no BDC increased or decreased by 3.0% or more this week.

Higher

There is now only 1 BDC trading within 10% of its 52-week low.

On the other hand, there are 26 BDCs with a price within 10% of their 52-week high, including 8 between 0%-5% out.

This week, 5 BDCs reached new 52-week highs – always a signal that a strong rally is underway.

The tickers of the high-flying BDCs are BXSL, CSWC, HTGC, OBDC, and TSLX.

[Coincidentally or not, CSWC this week reported strong preliminary results for the IIQ 2023, which we discussed in detail in a BDC Reporter article].

Pot Pourri

Those 5 highest flyers represent an eclectic mix of BDC sizes and strategies including lending to large-cap borrowers; middle-market; lower middle market and venture debt.

Apparently, none of the five different segments into which we've pigeonholed BDCs is getting all of the attention or getting left behind.

So Much For SVB

We're most surprised/impressed with how well the 5 venture-debt BDCs we track have performed given the undeniable strains in that corner of the world.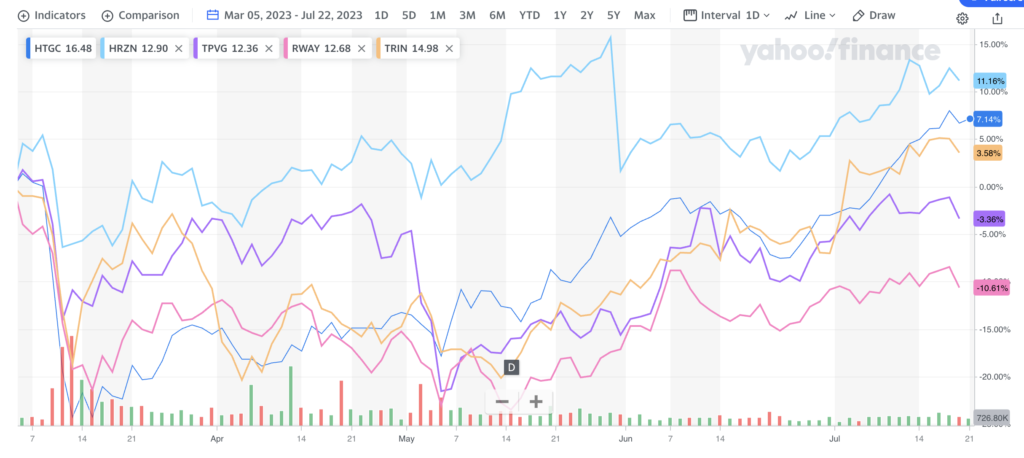 Here is a messy chart that shows the price performance of the Famous Five in the weeks since the SVB debacle.
All have moved up sharply in price – albeit to varying degrees – since SVB failed, with HTGC taking the cake by reaching a new 52-week high.
Undeterred
Note, though, that HRZN is only 8% off its own high point despite seeming to have 5 portfolio companies non-performing, including a business called AeroFarms which filed Chapter 11 in June.
Likewise, TPVG is recovering in price even though we believe the BDC has 7 portfolio companies in a bankruptcy process either in the United States or Europe.
Recently, e-bike manufacturer VanMoof Global Holdings sought protection under Dutch law to re-organize itself – depriving TPVG of any interest income for a while and raising the prospect of a loss coming up.
Pause Button
Our sister publication – BDC Best Ideas – based on research undertaken by BDC Credit Reporter– has placed both HRZN and TPVG on a temporary hold based on concerns that IQ 2023 valuations might be overstated and losses could ultimately reach beyond previously expected levels.
One of the key question marks for all venture-debt investments is whether the BDC managers involved are properly booking unrealized losses for troubled companies or are delaying write-downs until the final outcome is known.
That's not how the system is supposed to work as valuations should reflect weaknesses and provide shareholders with a heads up of potential losses in value.
It's not unusual to see venture investments valued exactly at par across an entire portfolio, something you'll never see in traditional leveraged-loan-focused BDCs.
We'll be very interested to see how the venture-debt BDCs have marked failing companies this quarter; what realized losses might have been booked and what new underperforming names might have popped up since March 2023.
The market, though, is not waiting around and seems to be assuming all will be well.
---
Where We Are
This re-rally is long in the tooth. We've just completed 11 weeks almost continuously moving to the upside.
If we count back from December 19, 2022 – when the rallying began before SVB temporarily ruined the party – the BDC sector has been moving upward for 31 weeks…
As this two-year chart for BDCZ shows, the sector is now trading over the pre-SVB failure March high – an important landmark.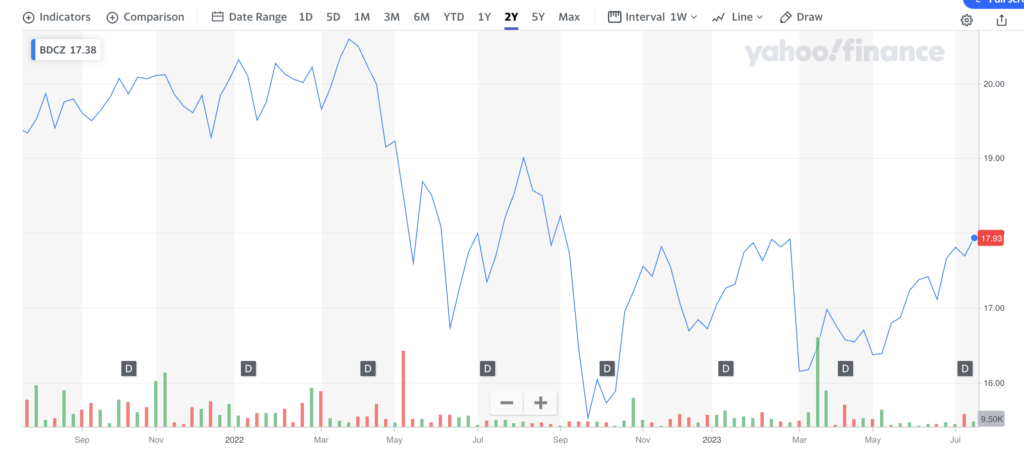 Now BDC bulls are wondering if BDCZ can wipe out all the price losses of this recession that never was and return to its spring of 2022 high.
That's still another 15% away…
Why Not?
As long as we're talking records, we're wondering if BDCZ – around since 2015 – can reach its all-time high of just over $24 a share reached in 2017?
That will require a 33% increase in price, but the data shows the ETN's current distribution level is only (5%) below what was being paid out six years ago.
Here We Go
Much will depend on how the BDC sector performs in the quarters ahead.
We get a first look starting this coming week as the IIQ 2023 earnings season begins.
Check out the BDC Earnings Calendar in the Subscriber Tools section for earnings and conference call date and times.
Looking Good
The BDC Reporter is expecting that earnings and distributions will exceed the IQ 2023 and 2022 levels, while net book values and underperforming assets should remain largely unchanged.
Even better is expected in the second half of the year, but let's not get ahead of ourselves.
After all, there are still many voices calling for a recession in early 2024; the likelihood of record corporate bankruptcies even if the economy holds firm, and the still uncharted consequences on borrowers of those punitively high interest rates.
---
Already a Member? Log In
Register for the BDC Reporter
The BDC Reporter has been writing about the changing Business Development Company landscape for a decade. We've become the leading publication on the BDC industry, with several thousand readers every month. We offer a broad range of free articles like this one, brought to you by an industry veteran and professional investor with 30 years of leveraged finance experience. All you have to do is register, so we can learn a little more about you and your interests. Registration will take only a few seconds.