Moving On
Week 27
Chugging Along
The first week of July – and of the third quarter and the second half of the year – saw the BDC sector price rally extended.
BDCZ – the UBS-sponsored exchange-traded note which owns most of the publicly-traded BDC stocks and serves as our price guide – moved up 0.8% to close at $17.81.
Out Of Sync
BDCZ was swimming against the trend amongst the major indices this week:
The Dow Jones dropped 1.9% – its largest weekly decline since March – the S&P 500 fell 1.2% and the Nasdaq Composite was off 0.9%.
In The Headlines
Apparently, BDC investors were not deterred by this week's news that the economy created "only" 209,000 jobs in June, which was below expectations and the smallest increase since the end of 2020.
This was one of those data releases that could be read any number of ways.
Job growth slowed – which suggests a weakening economy – but remains in the sort of territory that suggests GDP growth will continue in the short term.
The higher wages reported imply to some that the Fed has not yet caused labor to bend the knee, setting the stage for further rate increases.
The bond markets moved both ways, with the 2-year yield dropping slightly and the 10-year moving up to close over 4.0%.
For the second time this year, the 10-year yield has returned to that psychologically important level.
BDC Impact
The week's news suggests BDC earnings are likely to get a boost from the projected higher rates, and for some time to come.
Just a few months ago, the markets were looking to the second half of 2023 for the beginning of rate cuts.
Instead, there is a strong possibility we may close the year with the Fed Funds rate at 5.5%.
However, "higher for longer" also means the debt service strain on leveraged borrowers – and the challenge of refinancing debt coming due – increases.
For the moment BDC investors are not fretting about those credit consequences possibly lurking down the road.
---
Metrics
This week 32 BDCs saw their price increase or remain unchanged and just 10 were in the red.
6 BDCs reported price increases of 3.0% or more and none dropped by a corresponding (3.0%) or higher margin.
The number of BDCs with a price equal to or above their net book value per share remained unchanged at 12.
However, there are fewer and fewer BDCs in the price basement – trading either 0%-5% above their 52-week low or 5%-10% above, 1 and 3 respectively.
As you might expect, given this rally that is now 2 months long and has seen BDCZ increase by 12%, are more and more BDCs climbing up toward their 52-week highs.
We count 17, 3 within 0%-5%, and 14 between 5%-10% out.
Year-To-Date
Through these first 27 weeks, BDCZ is up a solid 6.5%, and on a total return basis – going by the S&P BDC Index – the sector has registered a 13.4% gain.
However, this rising tide has not lifted all boats in 2023.
That's unusual for the BDC sector which tends to move in lock-step.
As this chart from Seeking Alpha shows there are 13 BDCs whose stock price is still in the red in 2023: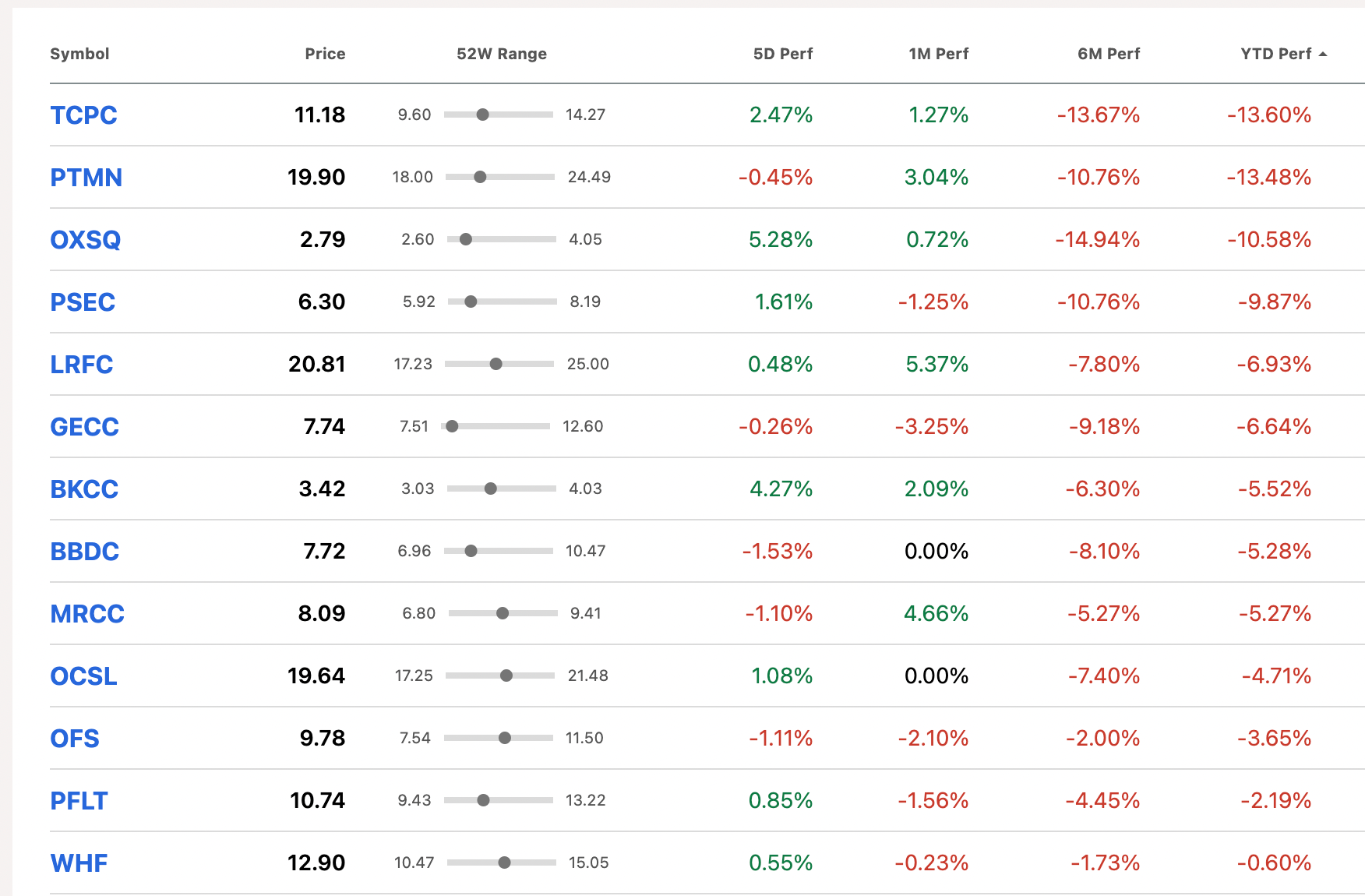 The BDCs left behind come in all shapes, sizes, and strategies.
A few are facing some mix of earnings, credit, and liquidity challenges, but most are not.
We'll be interested to see if BDC investors start rummaging around in this discount bin if the current rally marches on.
Sign Posts Ahead
The next price milestone for BDCZ is a price of $17.97, less than 1% higher than Friday's close.
That would match the ETN's closing price on March 5, 2023 – just before the bad news at Silicon Valley Bank caused jumpy BDC investors to temporarily abandon ship.
Thereafter, if BDCZ gets to $19.01 – a 6.7% increase – the BDC sector will be back to its level last summer.
At the time that was the highest level reached since BDC prices began to slide in March-April 2022.
A full-price "recovery" would bring BDCZ to $20.60, a 16% increase from here.
Anything is possible, but it's hard to imagine with all the challenges ahead that BDCZ gets back to that particular summit in an uninterrupted fashion.
---
Already a Member? Log In
Register for the BDC Reporter
The BDC Reporter has been writing about the changing Business Development Company landscape for a decade. We've become the leading publication on the BDC industry, with several thousand readers every month. We offer a broad range of free articles like this one, brought to you by an industry veteran and professional investor with 30 years of leveraged finance experience. All you have to do is register, so we can learn a little more about you and your interests. Registration will take only a few seconds.