BDC Common Stocks
Week 26
Impressive
The second quarter of 2023 ended strongly for the BDC sector where price is concerned.
BDCZ – the Exchange Traded Note which owns most BDC public stocks and our more utilized price guide – jumped 3.2% week over week.
All but one individual BDC increased in price – the most that we've seen since mid-January.
27 BDC increased by 3.0% or more in price, also the best record since mid-January of this year.
A Theory
This week's price surge – following on a (1.8%) decline the week before – may have had something to do with investor portfolio positioning at the end of a quarter.
We checked back to the last quarter end and that showed BDCZ up by an above-average 3.0%.
Coincidence?
Looking Good
Anyway, the BDC sector is perking up at mid-year.
BDCZ is up 5.6% in 2023, although 57% of that gain came just this week.
The favorite measuring stick of the long-term BDC investor – the S&P BDC "total return" Index – is up 12.5%.
In the past month – which has consisted of 3 up weeks and last week's only down week – 33 BDCs have gained in price.
This week, Blackstone Secured Lending Fund (BXSL) once again reached a new 52-week high.
There are now 3 BDCs within 5% of their 52-week highest price, and another 10 in the peloton behind 5%-10% from their highs.
Another favorite metric – the number of BDCs trading at a price equal to or above net book value per share (NAVPS) – is back up to 12 – the best performance since the end of March.
Six Months Gone
This is a good time to take a step back and consider YTD performance.
The chart for BDCZ tells the story: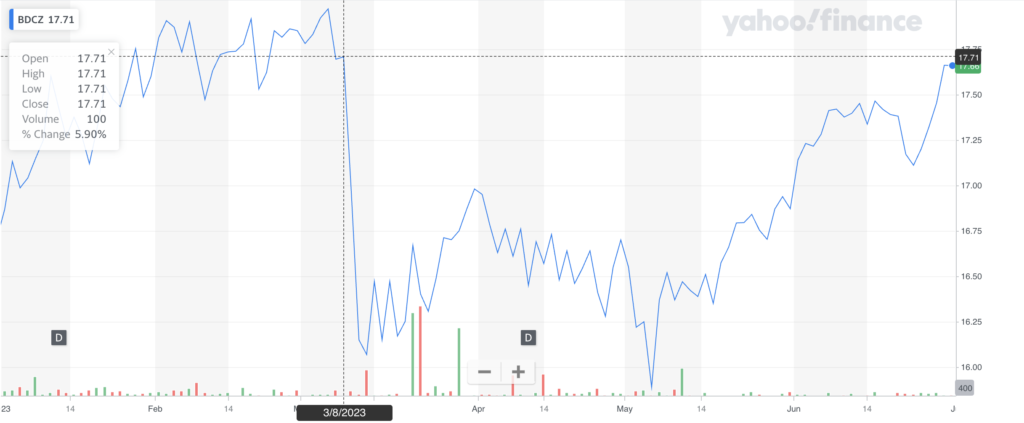 There are three clear stages to BDC price performance in the first half of 2023:
From the beginning of the year through March 6, BDCZ was in a rally that had begun on December 20, 2022.
Then everything fell apart with news of the Silicon Valley Bank (SVB) fiasco.
Within a week, the ETN dropped about (11%) in price and to the more dramatic souls amongst us seemed poised to "re-test" the lowest lows of September 2022.
Instead, we got a period of indecision which ended with BDCZ reaching a new 2023 low of $15.85 on May 4, (12%) below the highest point set less than two months before.
What a palaver!
The third – and current stage began on May 5 and has seen a pretty steady upward climb – with the exception of week 25 – of 11% by BDCZ.
Most Boats
In this 6-month period, 29 BDCs are up in price but a still considerable 13 are in the red.
Here are the BDCs up 10% or more in 2023, drawn from Seeking Alpha's excellent data: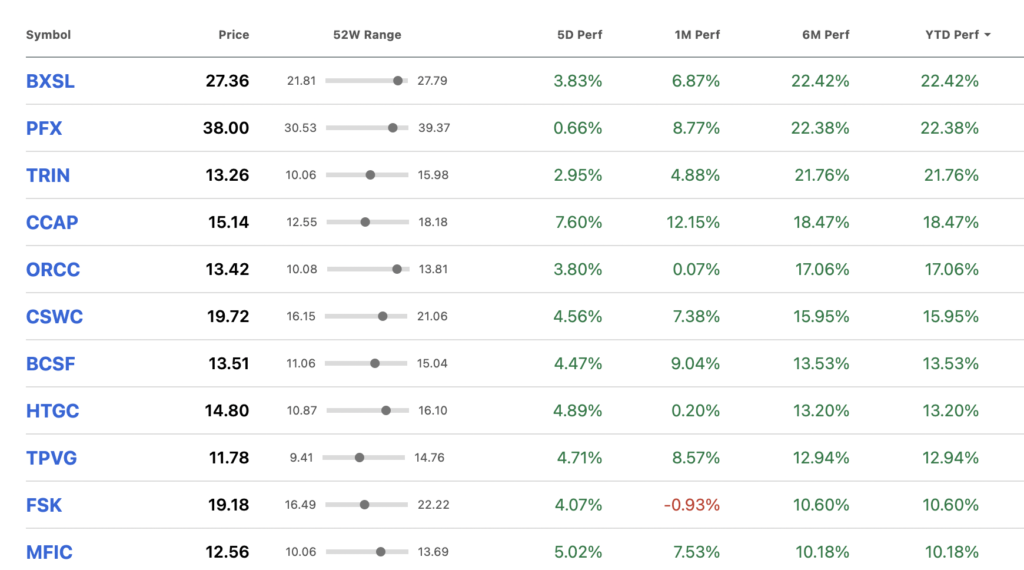 It's an interesting list because BDCs from all the different sector segments are on there, and of all sizes.
One can't help but notice the presence of 3 venture-debt BDCs on the list at a time when its own market segment is facing its biggest "crisis" in twenty years.
Pitchbook reminded us this week that "deal values [are] down roughly two-thirds on a quarterly basis from past highs".
We notice that there is only one lower middle-market (LMM) focused bDC on the above list – Capital Southwest (CSWC).
LMM-focused BDCs like Fidus Investment (FDUS); Gladstone Investment (GAIN) and Saratoga Investment (SAR) have generated some of the best "total returns" in recent years, but appear to be currently out of favor.
Left Out
To be fair and balanced, here are the BDCs that have fallen by more than (10%) in price this year:

Probably much to the frustration of management, BlackRock TCP Capital (TCPC) is the worst price performer in 2023.
The BDC actually eked out an increase in its Net Asset Value Per Share in IQ 2023 – mostly on the reversal of its realized loss on AutoAlert, which was drastically restructured:
For the three months ended March 31, 2023 and 2022, the change in net unrealized appreciation (depreciation) was $28.0 million and $(7.2) million, respectively. The change in net unrealized appreciation (depreciation) for the three months ended March 31, 2023 primarily reflects a $36.2 million reversal of previously recognized unrealized losses from the reorganization of our investment in Autoalert, partially offset by a $3.2 million unrealized loss on our investment in Astra Acquisition and a $2.9 million unrealized loss in Aventiv

TCPC – IQ 2023 10-Q
Recurring earnings were up 10% over the prior period and TCPC's dividend payout was increased.
Currently, TCPC trades at just 6.4x projected 2023 Net Investment Income Per Share and at a (16%) discount to NAVPS…
One By One
Oxford Square's (OXSQ) problems are more serious, as the BDC was unable to raise as much capital as it hoped from its recent Rights Offering and has been making repeated 52-week low records.
Portman Ridge (PTMN) has seen its NAV Per Share drop for five quarters in a row, which might explain the (13.1%) in its stock price.
Prospect Capital (PSEC) has several borrowers in credit trouble and has very noticeably not increased its monthly distribution or offered any "specials", which probably accounts for the (11.3%) retreat.
---
Looking Forward
As you might imagine, we're going to refrain from offering a projection as to where the BDC sector will trade to in the rest of 2023.
Just a few weeks ago, we were musing that we could see no catalyst to the upside just before this current price revival began…
Promising
We can point out, though, that there is still plenty of price upside for the sector as a whole and for many individual BDCs.
BDCZ needs to increase by 17% just to return to the level of March 2022 when this cycle began and 2% to the pre-SVB fiasco level.
Old-fashioned tools like price-to-earnings (PE) multiples show the sector at "only" 7.4x, going by 2023's likely NIIPS.
The 42 BDCs we track trade at 89% of net book value.
As we've noted, 12 BDCs are trading at or above NAVPS but in the past, that number has been almost twice as high.
Even if BDC prices do not increase from their June 30 2023 level, just the high distributions likely to be received in the rest of the year will ensure a total return of about 20%.
On The Other Hand…
We'd be remiss, though, if we didn't point out the potential downside that remains.
The last time that BDC investors believed a great big recession was headed our way, they brought the price of BDCZ down to $9.060.
That was not so long ago and far away – in March 2020.
If something like that happens again the result would be a (50%) drop from BDCZ's current level.
2023 could still go either way.
---
Already a Member? Log In
Register for the BDC Reporter
The BDC Reporter has been writing about the changing Business Development Company landscape for a decade. We've become the leading publication on the BDC industry, with several thousand readers every month. We offer a broad range of free articles like this one, brought to you by an industry veteran and professional investor with 30 years of leveraged finance experience. All you have to do is register, so we can learn a little more about you and your interests. Registration will take only a few seconds.