BDC COMMON STOCKS
Week 33
Doubt
After weeks – even months – of exhibiting great confidence, the markets are having second thoughts.
Soft landing, hard landing, no landing?
Or fast economic growth, slow growth, or recession delayed but not avoided?
Rates even higher, or unchanged for longer or soon to be cut?
Investors are undecided and the S&P 500 is down for the third week in a row; the NASDAQ is off (7%) in August and the Dow Jones index is in the red as well this month.
Following Suit
With earnings season all but complete and the downward pressure from the re-think going on in the broader markets, it's no great surprise that the BDC sector is down for a second week.
BDCZ – the UBS-sponsored exchange-traded note which owns most of the public BDC stocks and which serves as a price gauge – was off (1.2%).
With the prior week's more modest (0.8%) decline, the total loss comes to (2.0%).
That's much less than the (4.7%) the S&P 500 has dropped.
The BDC rally is not yet done – we look for at least a (5%) drop from the high before that can be said to have happened.
Not Nice
However, the week's metrics were not pretty for the bulls with 31 BDCs down in price and only 11 in the black.
The number of BDCs (3.0%) or more down in price was three times more than those that achieved a 3.0% or greater gain: 9 vs 3.
Worst
Here are the largest losers of the week – a motley bunch: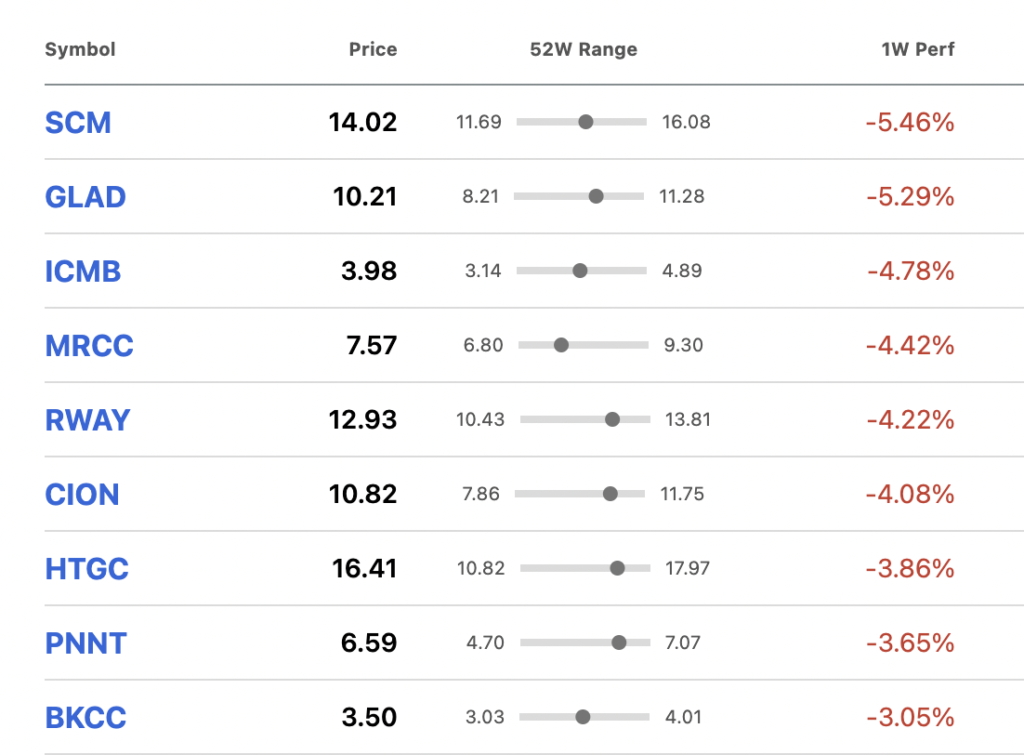 Down. But Not Much
Nonetheless, the BDC sector remains in pretty good shape after weeks and weeks of rallying, as this year-to-date chart of BDCZ demonstrates: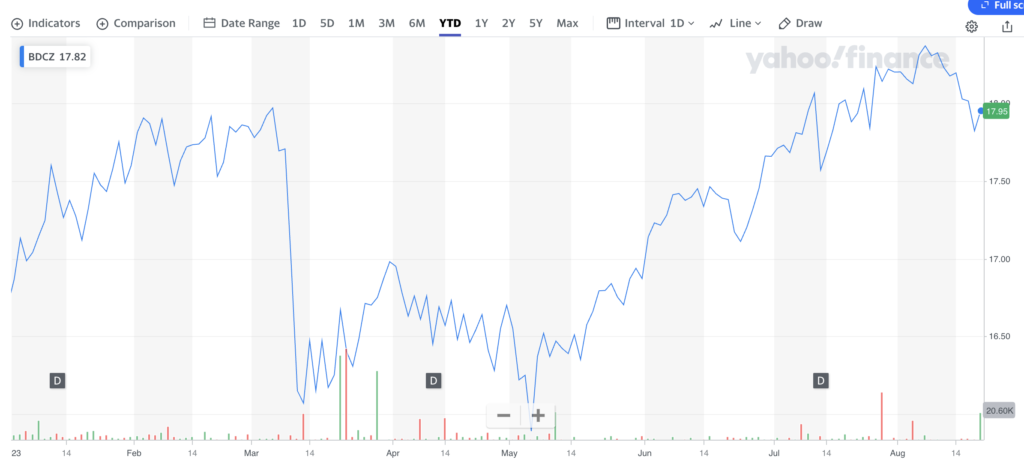 Like the two weeks before, 14 BDCs are trading above their net book value per share.
Moreover, 38 BDCs' stock prices on August 18, 2023, are higher than at the year-end 2022.
BDCZ remains 7.4% up after peaking up 9.9% a few weeks ago.
The S&P BDC Index – calculated on a "total return" basis to include distributions received – is up 17.2% in 2023, a pretty good going by any market standard. At its best, this index was up 20% on August 20, 2023.
Another interesting perspective: 6 BDCs are trading within 5% of their 52-week highs and another 16 are within a 5%-10% range.
By contrast – and suggesting that the sun shines for almost every market participant – there is only 1 BDC trading within (5%) of its 52-week low and none in the (5%-10%) range.
Exceptional
Completely out of favor, this year is Prospect Capital (PSEC), whose stock price has dropped the most YTD: off (12%).
This YTD stock price chart illustrates how dismal the large-cap BDC's performance has been, especially when contrasted with that of BDCZ: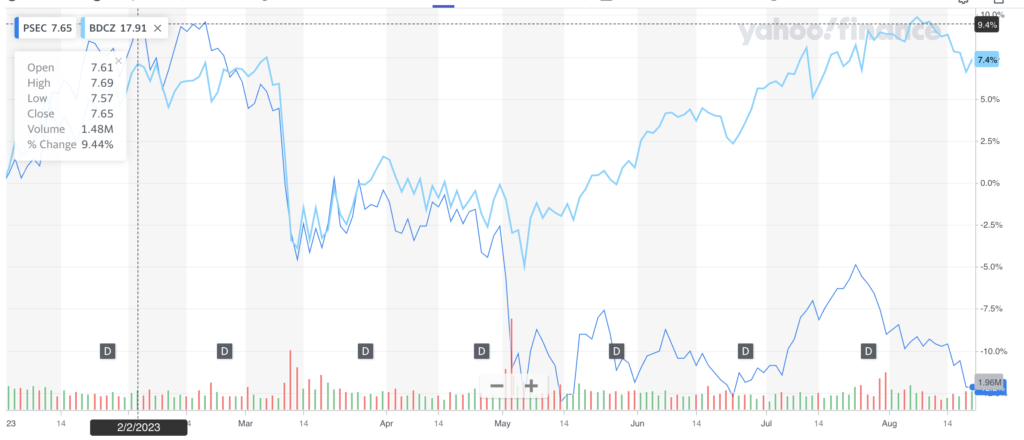 We're guessing that investors are disappointed that PSEC – despite myriad interest rate increases – has not found a way to increase its monthly distribution.
There may also be concerns that there are credit problems to be found under the hood which may show up when the BDC releases its fiscal results shortly.
Left Out
Going by this year's price performance, we'd say there are only three BDCs that have not been invited to the BDC party: PSEC, Monroe Capital (MRCC), and Portman Ridge Financial (PTMN). All have seen their stock price drop by (10%) or more when the vast majority of their peers have seen their prices soar.
The BDC Reporter – and our sister publications, the BDC Credit Reporter and BDC Best Ideas – will be getting around to an in-depth evaluation of all these names in the weeks ahead, hoping to make clear why the market is disenchanted
---
Looking Forward
We can't tell you if the rally will resume or whether the downward shift will continue in the days and weeks ahead.
The short-term enthusiasms of the market are – as ever – a mystery.
Shot In The Arm
We will say, though, that the current assumption in many investors' minds that the Fed might push up rates even further and keep them there longer – supported by a strong economy – is a strong positive for the BDC sector – and not the negative that some seem to be assuming.
Yes, a handful of BDC-financed companies might see their debt service metrics strained by their high debt service bills.
In most cases – if the business is sound – that can be solved with some mix of support from the companies' sponsors and their lenders. Both are ready and willing to lend a hand.
Any strain will be much offset by the higher interest income that the sector will harvest and for a longer period than both the analysts and the BDCs themselves may have been expecting.
Not There Yet
On the most recent conference calls, we received the impression that analysts have been presuming the BDC sector has reached "peak earnings", or are very close.
That's partly reflected in the analysts' earnings projections for 2024, most of which are for lower results than in 2023.
We don't think that's likely to be the case, as we've been saying for some time.
The latest Fed minutes and the strong GDP numbers are adding to our confidence that the BDC sector's "peak earnings" may not show up for a year or more.
More controversially – and a frequent subject of internal debate at BDC Best Ideas when casting out our projections for several years – we don't expect BDC earnings/distributions – to drop back to the level of 2021 when the effective base rate was about 1%.
Even in 2027-2028, BDC earnings are likely to be 20%, or more, higher than back in the days of "easy money", ensuring higher BDC ROEs over the long term than we've seen in a generation.
Our Humble Proposition
Unless credit conditions sharply deteriorate, the BDC sector both in the short-term and long-term is settling in for a long period of superior returns across almost all its players and in every segment of the market.
If markets are as rational as we've heard that should keep BDC stock prices from dropping too much in the weeks ahead.
---
Already a Member? Log In
Register for the BDC Reporter
The BDC Reporter has been writing about the changing Business Development Company landscape for a decade. We've become the leading publication on the BDC industry, with several thousand readers every month. We offer a broad range of free articles like this one, brought to you by an industry veteran and professional investor with 30 years of leveraged finance experience. All you have to do is register, so we can learn a little more about you and your interests. Registration will take only a few seconds.