BDC COMMON STOCKS
Week 31
Divergence
This was one of those unusual weeks where BDC sector prices went one way and the major indices another.
Let's begin with the latter.
Since last Friday, the S&P 500 index is down (2.3%), and the Dow & NASDAQ also followed suit.
By contrast, BDCZ – the exchange-traded note which owns most BDC stocks and which serves as one of our sector price proxies – continued its rallying ways – up 0.5%.
Also up 0.5% was that less of-mentioned BDC ETF with the ticker BIZD.
The S&P BDC Index – calculated on a total return basis and with a slightly different weighting and calculation methodology than the ETN and ETF – was up 0.3%.
Regular Metrics
Overall, 24 BDCs were up in price, or flat, and 8 were down.
Of the BDCs in the black, 5 increased in price by 3.0% or more, but 4 others also decreased by (3.0%) or more.
Interestingly – and this might be only because we've made a mistake somewhere – the number of BDCs trading over net book value per share decreased to 14 from 16 last week.
Moving Along
Otherwise, the data support the picture of a BDC sector still in full rally mode.
5 BDCs reached new 52-week highs this week.
Out of 42 BDCs in total that we track, 13 are now priced within 5% of their 52-week high and another 12 are at the doorstep – 5%-10% off.
No BDC whatsoever is trading within 5% of its 52-week low and only 1 in the 5%-10% range from its nadir.
Abandoned
By the way: that solitary, out-of-favor BDC happens to be Prospect Capital (PSEC) which is trading well below its net book value and (23%) off its 52-week-high.
PSEC has not even reported IIQ 2023 results yet.
However, investors have been abandoning ship at the once-highly popular BDC for some time now.
Popular
By way of contrast, Great Elm Capital (GECC) – once in deep financial trouble and the subject of multiple Rights Offerings and fresh starts in recent years – is back on the radar of investors.
That's mostly because the tiny BDC – with its own "hybrid" investment strategy – reported unexpectedly strong results this week – one of 15 BDCs publishing their IIQ 2023 earnings.
GECC jumped 16% in price this week, to reach a price of $9.55.
As this price chart clearly illustrates, GECC has not been at this high a level since March 2023: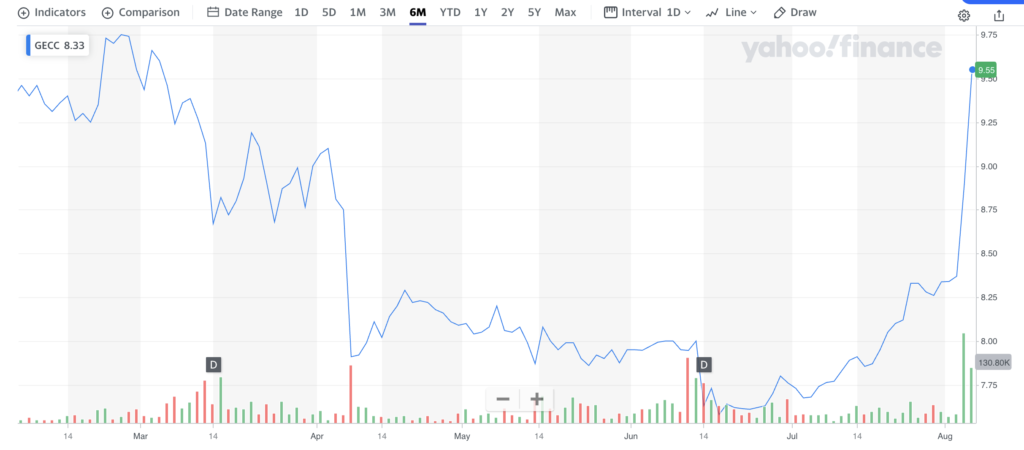 ---
Busy, Busy
Not that we're complaining, but this was an unusually busy week for the BDC sector, and we're still in the process of separating the wheat from the chaff.
First, there were those 15 BDCs of all sizes reporting IIQ 2023 results and holding their earnings conference calls.
More on that in a minute.
Growth Capital
In addition, venture debt BDC Trinity Capital (TRIN) took the opportunity to undertake a secondary stock offering and raise $75mn in new capital – as discussed on these pages.
That's an impressive move considering all the bad press of late about what's happening and might yet be to come in the world of venture-backed companies.
BDC investors do not seem much swayed by the post-Silicon Valley Bank headlines, as reflected in Hercules Capital (HTGC) reaching a new 52-week high this week and TRIN bulking up.
It's Complicated
With that said, the BDC Reporter's first look at Horizon Technology Finance's (HRZN) and TriplePoint Venture Growth's (TPVG) credit performance – which was divulged this week – was not confidence-building.
TPVG's stock price dropped the most of any BDC – (8%) – followed by HRZN at (5%).
In fact, the 4 worst price performers in the BDC sector were all venture-debt BDCs.
Both Sides Now
This is a complicated segment of the market, rife with both risk and opportunity.
The BDC sector has the chance for a huge market share grab thanks to the failure of SVB and the absence so far of any would-be replacements.
There's a great need for capital, and a willingness to pay up for the monies – venture-loan yields are the highest of any borrower segment in which BDCs are involved.
However, the venture-debt BDCs will first have to overcome the slump in VC activity that preceded and then accelerated SVB's demise.
We'd expect that all the BDC players will survive whatever is thrown at them but there could be a wide variation in performance once all is said and done – which could yet be years away.
By Their Own Account
Even HTGC conceded in the most recent valuation of its debt portfolio that 50 out of 120 companies and over 40% of assets were underperforming to varying degrees.
The underperforming assets have more than doubled over the past twenty-four months, as a glance at the BDC Credit Table shows.
The bulls – who are clearly in charge at the moment – would point out that the vast bulk of those underperforming assets is in category 3 on HTGC's 5-point scale.
The $64,000 question is how many will tip over into Category 4 and Category 5, and with what result?
Whatever else, there's no doubt that whatever credit deterioration is underway in the venture eco-sphere is far from over, and much uncertainty still lies ahead.
Predictable
The above notwithstanding, we've got to say that BDC earnings season – although rife with interesting developments – is playing out pretty much as expected.
In fact, we've been tracking every BDC that has reported results against the expectations of the analysts and BDC Best Ideas – our investment advisory publication.
We compare actual results against what we were counting on where EPS, net book value per share; credit performance, and dividend payouts are concerned for every BDC.
All of this is summarized in a table that we'll be publishing for Premium subscribers in the days ahead and which will eventually contain all 42 BDCs.
Nada
What has become abundantly clear is that there is no recession – whether "rolling" or otherwise – yet materially impacting the BDC sector and its portfolio companies.
Generally speaking, portfolio companies are reporting higher EBITDA and acceptable debt service metrics in every segment of the market.
There are exceptions but their combined impact is well within "manageable" bounds.
As a result, both net book value and earnings are – in nine-tenths of cases – performing in just the way the BDC managers and their shareholders would want to see.
Most BDCs are doing so well that they're able to squirrel away a good deal of earnings for a future day, which means BDC distribution levels are likely to remain stable or even grow from their current already record levels.
Best Of Times?
Liquidity is abundant; banks are supportive and new investments are still being made on highly attractive terms, leading one BDC manager to dub this the "Golden Age Of Credit".
For our part, we like to see how the movie ends before deciding ourselves, but it's true that most everything is lining up for continued success for most BDCs.
---
Jinx
Of course, that's just when we worry the most because of the danger that both the BDC players and the markets – caught up in their animal spirits – might miss the signals of something going wrong.
However, we'd be hard-pressed to point to any major cracks showing up as yet.
Possible Scenario
Down the road, though, we might get worried if the Fed surprises everyone and continues to materially increase its base rate to 6.0% or more.
Even maintaining the base rate at or close to the current level for a long time – one year plus – could leave borrowers fragile and susceptible to even a "mild recession" – i.e. a drop in EBITDA levels of (0%-20%).
Happy Days
In the here and now, though, the BDC party goes on, with BDCZ up 10% in price in 2023 and up 20% on a total return basis.
It's an "everyone is invited" party: 36 out of 42 BDCs are up in price in 2023.
BDCZ has only to increase by about 12% to return to its price heights of early 2022 and before the pandemic…
---
Already a Member? Log In
Register for the BDC Reporter
The BDC Reporter has been writing about the changing Business Development Company landscape for a decade. We've become the leading publication on the BDC industry, with several thousand readers every month. We offer a broad range of free articles like this one, brought to you by an industry veteran and professional investor with 30 years of leveraged finance experience. All you have to do is register, so we can learn a little more about you and your interests. Registration will take only a few seconds.