BDC COMMON STOCKS
Week 37
Ever Higher
Let's not bury the lede here: going by BDCZ – the UBS exchange-traded note that owns most BDC stocks – the BDC sector reached a 2023 price high point this week.
At the close on Friday, BDCZ reached $18.42 – a new record – and 1.9% higher than the week before.
Here's the 2023 price chart to illustrate: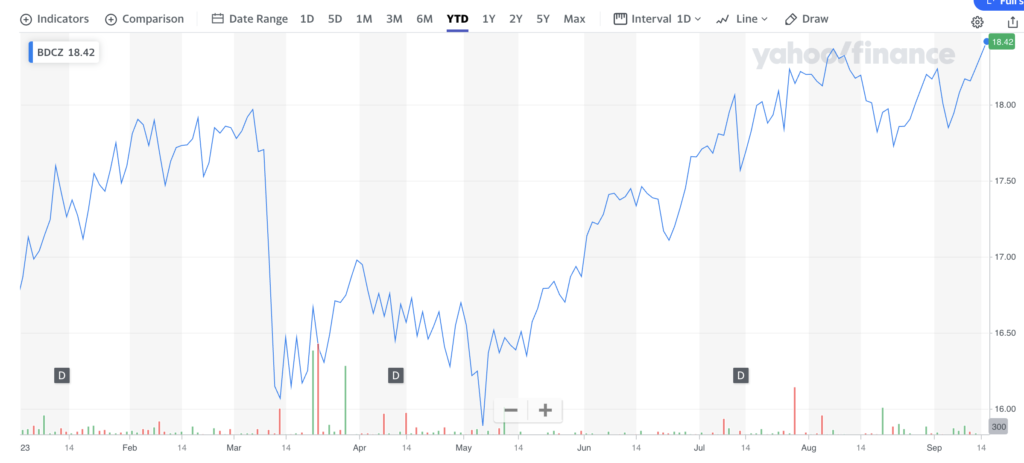 Just Below
On a "total return" basis – using the S&P BDC Index – the BDC sector was up 1.8% this week and reached 349.38.
That's just below the YTD high of 348.93 set on August 7, 2023.
The August peak is also the all-time high for the S&P BDC Index, whose data goes back ten years.

We Rest Our Case
This is all inconvertible evidence that the BDC rally that began in early May 2023 rolls on, with no high-to-low reversal of more than a few percentage points.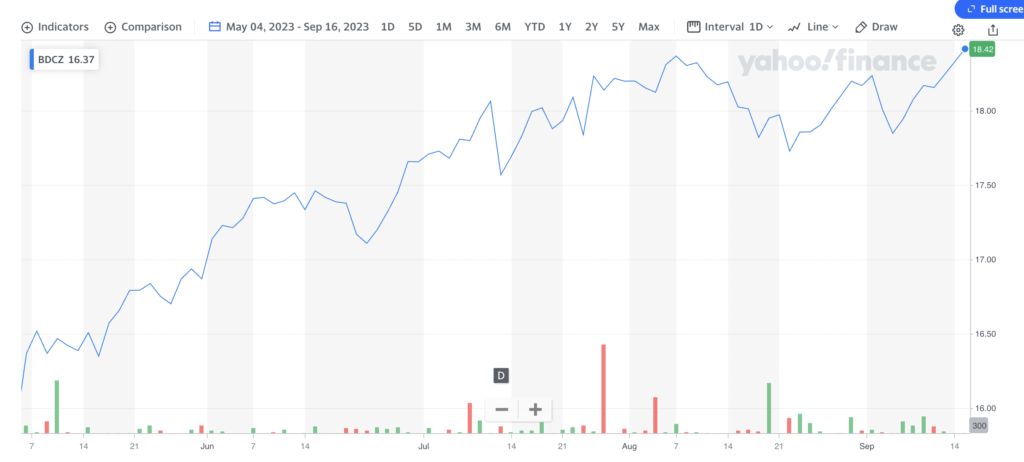 Boom Times
In the 18 weeks of this rally, BDCZ has increased in price by 16%.
If we roll back to the lowest intra-day price of 2022, which was $15.52 – set in October – BDCZ has increased by 19%.
At this point, 35 BDCs have increased in price during this recovery year and 15 are trading at or above net book value per share.
Naming Names
As this Seeking Alpha chart shows, of the 7 BDCs left behind in this rally, there are only 3 whose percentage price loss is in double digits:

Reason Why
We don't want to paint with a broad brush, but the out-of-favor BDCs (PTMN, MRCC, and PSEC) all have above-average credit challenges which probably accounts for their presence on this list.
Still, if prices hold at this level once all dividends are paid out in 2023, only Portman Ridge Finance (PTMN) – whose market capitalization is 0.3% of the public BDCs we track – might not be in the black on a "total return" basis.
Bizarro World
After a terrible, horrible, no good, very bad 2022, the BDC sector is on track for just the opposite in 2023, and (just about) everyone is invited.
Seeking Alpha indicates 19 BDCs are up 10% or more in price alone in 2023, including 4 boasting percentage price increases of 30% or more.
For a moment there we understood how the analysts covering Apple (up 34% this year) must feel when discussing their price antics.
Always Looking Forward
With all that said, investors – whether those long the sector or sitting on the sidelines – must be asking themselves how much further this might go.
Thankfully, we don't have to answer that $64,000 question, which is more appropriate for our sister publication BDC Best Ideas.
The good news there is that Best Ideas believes there's a long way for BDC prices to go. The bad news is that a 5-year time frame is involved.
Milestones
What we can offer is the knowledge that BDCZ can increase another 12% to match its high price of April 2022, and the pre-pandemic high set in early 2020.
For BDCZ – which has been around since 2015 – to reach its all-time price high, prices will have to increase by nearly 30%, matching the spring of 2017.
Impossible Dream?
Is that so out of the question? We calculate that in the last 4 quarters, BDCZ's dividend payout was less than (5%) below the amount being received at the price peak.
Moreover, the BDC Reporter's suggests – despite comments to the contrary by some analysts – that the BDC sector has reached neither peak earnings or distributions in this cycle.
Further To Go
There's even speculation in the financial zeitgeist that the Fed may raise rates another 0.25% in November to bring down inflation.
Certainly, short-term bond yields have yet to retreat and the mantra of "higher for longer" that the Fed has been promoting seems to be coming true.
For the BDC sector that would keep earnings and distributions at record levels through 2024.
Not Forgotten
We concede that there are also plenty of voices predicting that we are on the edge of an economic precipice that will bring about a recession in early 2024 and a cascade of rate decreases.
If so, BDC prices are more likely to swoon than to boom.
That leaves investors seeking to duck in or out of this market with the unenviable task of making the macro call that has confounded most everyone – including the Fed – throughout this cycle.
---
Already a Member? Log In
Register for the BDC Reporter
The BDC Reporter has been writing about the changing Business Development Company landscape for a decade. We've become the leading publication on the BDC industry, with several thousand readers every month. We offer a broad range of free articles like this one, brought to you by an industry veteran and professional investor with 30 years of leveraged finance experience. All you have to do is register, so we can learn a little more about you and your interests. Registration will take only a few seconds.