BDC COMMON STOCKS
Week 35
Rebound
BDC sector prices rebounded after three consecutive weeks in the red.
BDCZ – the exchange-traded note that owns most public BDC stocks and serves as our sometimes price guide – ended the week at $18.24.
That's 1.8% higher than the previous week and recovered 82% of BDCZ's price losses of the past 21 days.
With this upward move – as this 2023 YTD price chart for BDCZ – the sector is close to its highest high again.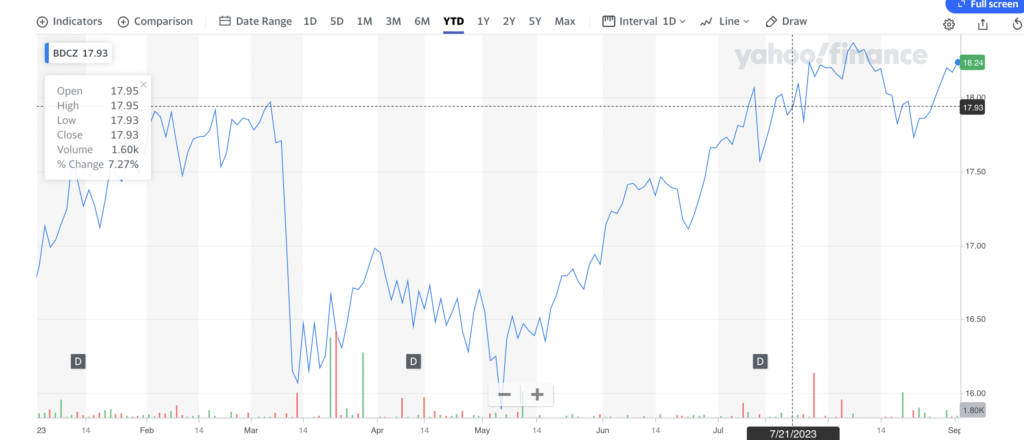 Another Perspective
If we use the BDC S&P Index – calculated on a "total return" basis – the sector was up 2.0% this week.
In fact, all the major indices were up this week and the S&P 500 and NASDAQ were in the black for the month of August.
Metrics
Getting into the week's nitty gritty, and reflecting the good feelings in the market, 33 BDCs were up in price – or flat – and only 9 were in the red.
Amongst the BDCs up in price, 9 were up 3% or more, but amongst the small group in the reds, none fell more than (2.6%).
Reported
This rebound occurred in an end-of-summer slow news week for the BDC sector, except for the fiscal year earnings release by Prospect Capital (PSEC).
Even that was a half-baked affair with the BDC still unable to file its 10-K as yet.
Investors had to do with an earnings press release and a conference call, leaving some questions as to why the delay is occurring and what we might learn from the eventual filing.
Inaction has consequences and PSEC's stock is trading close to its 52-week low, continuing a slump that has seen the BDC down (13%) in 2023 and (18%) in the past 12 months.
In these periods, PSEC is the second worst and worst performer, respectively.
Winning Ways
On a happier note – and with no obvious catalyst that we can see – Bain Capital Specialty Finance (BCSF) reached a new 52-week high of $15.93 on Friday – its highest level since the pandemic when the price was just below $16 a share
Still, the BDC's stock price remains (8%) below its most recent NAV Per Share (NAVPS).
---
Where Do We Go From Here?
With three-quarters of the year gone, BDC investors might just want to close the books, and leave maters where they are.
In price terms – going by BDCZ – the sector is up 9.1%.
Switching to a "total return" – using the S&P BDC Index – we are up 19.2%.
Just About Everyone
34 of 42 individual BDCs are up in price this year and – by our count – 39 are in the black on a "total return" basis, using Seeking Alpha data.
Only 3 BDCs have had a difficult 2023: PSEC, Portman Ridge Financial (PTMN) and Monroe Capital (MRCC).
That means 39 are on the spectrum from puttering along to posting substantial returns.
Best Of The Best
Speaking of the latter, there 4 BDCs that can boat price increases of 30% plus.
Top of the list is BCSF – having a remarkable year- and closely followed by Trinity Capital (TRIN) – left for dead not very long ago.
Then there's Crescent Capital (CCAP) and Capital Southwest (CSWC) very close behind.
If this stock price performance holds and when you add the record distributions being paid, these BDCs will be able to boast "total returns" of nearly 40% by the time this year ends.
Waterfront
It's not just a chosen few.
We calculate that if prices hold for the rest of the year at their September 1, 2023 level, 34 or 35 BDCs will post full year total returns in excess of 10%.
Already a Member? Log In
Register for the BDC Reporter
The BDC Reporter has been writing about the changing Business Development Company landscape for a decade. We've become the leading publication on the BDC industry, with several thousand readers every month. We offer a broad range of free articles like this one, brought to you by an industry veteran and professional investor with 30 years of leveraged finance experience. All you have to do is register, so we can learn a little more about you and your interests. Registration will take only a few seconds.