BDC COMMON STOCKS
Week 44
Confusing
It's a week like the one we've just experienced that confuses and annoys stock market investors.
After 3 months of relentlessly heading southward, the major indices – and the BDC sector – turned on the proverbial dime and shot up.
The S&P 500 – by way of example – moved up 5.9% this week after dropping (5.9%) in the two preceding weeks.
BDCZ – the exchange-traded note that owns most BDC common stocks – was also up 5.9% this week.
That's the biggest weekly percentage price increase by BDCZ since May 2022.
In The Black
40 of the 42 BDCs we track moved up in price.
Of the BDCs in the black, 34 increased by 3.0% or more.
That was the most BDCs by this metric in a year.
There were even 3 BDCs that saw their stock price grow by more than 10% – in a week…
---

Special
We're all accustomed to BDC price volatility, but a 10% movement is notable by any standard.
Each of the three BDCs involved increased so famously for a different reason.
GAIN – or Gladstone Investment – reached a new 52-week high and closed at $14.86 following the BDC's announcement of a huge – and unexpected – $0.88 per share "special dividend" from the sale of portfolio company Counsel Press.
GECC – Great Elm Capital – only managed to maintain its quarterly dividend this quarter and its recurring earnings dropped. However, investors were impressed – we believe – by the 5.5% increase in net asset value per share, after years of decline in this key metric.
Finally, TPVG – or TriplePoint Venture Growth – rallied on investor hopes that the BDC's well-known credit troubles are a thing of the past – even though this quarter saw more credit deterioration.
Where We Stand
At this point, the sector – going by the price only S&P BDC Index – is only (3.4%) below its 2023 high price and has made up all the losses incurred since October 16, 2023.
On a year-to-date basis for 2023, 30 BDCs – nearly three-quarters – are up in price this year.
That's not the highest number we've seen all year but it's a huge turnaround from the situation a week before.
Furthermore, 13 BDCs closed at prices above net book value per share – way above the 9 of the week before and not far off the biggest number we've recorded all year.
The BDC S&P Index – calculated on a "total return" basis – is now only (0.3%) off its highest level of 2023, up 20.5%.
The week before – when all was dark and dreary for BDC investors – that index had fallen to a "total return" of 13.3%.
Playing with the numbers another way, the BDC sector's bounce back this week increased its 2023 performance by 54%.
This must be one of the most extreme changes of fortunes we've seen in recent memory.
With this move, the BDC sector is back in "rally" mode after just recently being on the edge of a correction as recently as October 27, going by the stock chart price of BDCZ: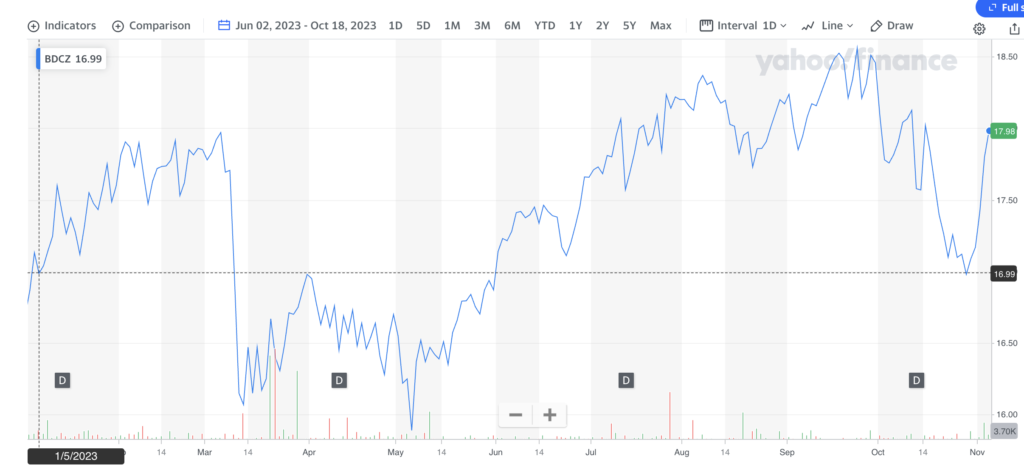 Next (Potential)Stops
For BDCZ to match its highest price of 2023 – set in late September – the exchange-traded note will have to increase by 3.2%.
To get to a new 1 year high, BDCZ will need to climb 7.2% and jump by 14.6% to beat the 2022 peak, set in March before rates went haywire.
At the moment, 24 BDCs – more than half our coverage universe – are already trading within 10% of their 52-week highs (11 are within 0%-5% and 13% are 5%-10% off).
Left Out
In fact, there are only 3 BDCs in the doldrums: Monroe Capital (MRCC), Portman Ridge (PTMN), and Prospect Capital (PSEC).
Each is very different from the other but all have in common outsized credit challenges at a time when most of the sector is performing normally in this category.
Both MRCC and PSEC have not raised their regular distribution in the past two years while everybody else has been hiking.
Undecided
Whether the BDC sector goes higher from here or not in 2023 – with only 8 weeks to go – is unknowable.
The swings of the last few weeks – especially this week's rebound – illustrate that investors are confused and unsure of themselves.
Also clear is that BDC fundamentals – which have been getting updated all week as IIIQ 2023 results flow in – play a secondary role in setting prices.
Big Picture
Investors have their attention focused on possible major macro changes in the market.
This week's high drama – with the benefit of hindsight – might be when the markets became convinced that the Fed will no longer raise interest rates.
The "turn" is here – the argument goes – and the end of a process that began in the spring of 2022 and which has resulted in the most drastic rate increases in a generation.
Yes, But
That may be true but more intriguing will be the market reaction when the Fed actually reduces its base rate.
Some investors – depending on whatever economic data is prevalent at the time – might see a reduction as a signal that the Fed is worried about a recession and is taking its foot off the gas.
The hysteria that would follow could well result in the sort of price movement we saw this week but in a downward direction.
Ending On A Positive Thought
The BDC Reporter takes comfort, though, in the knowledge that BDC balance sheets and financial prospects are about as strong as they've ever been (and we've been covering the subject for twenty years).
A recession of some sort should not bring more than modest changes to the sector's earnings and distributions, even if stock prices fluctuate all over the place.
---
Already a Member? Log In
Register for the BDC Reporter
The BDC Reporter has been writing about the changing Business Development Company landscape for a decade. We've become the leading publication on the BDC industry, with several thousand readers every month. We offer a broad range of free articles like this one, brought to you by an industry veteran and professional investor with 30 years of leveraged finance experience. All you have to do is register, so we can learn a little more about you and your interests. Registration will take only a few seconds.