NEWS
The UBS Exchange Traded Note with the ticker BDCS has dropped to its lowest point of 2018 intraday: $18.55.
The BDC Reporter traditionally utilizes the price of BDCS as a measuring stick for BDC sector price performance.
The prior closing low was $18.71.
The $18.55 print also represents a 52 week low.
Also, the Wells Fargo BDC Index – which provides a "total return", that includes dividends received, dropped into the red for 2018 intra-day.
---
ANALYSIS
New Low
BDCS is now at its lowest point since February 2016.
The next notable level is the February 8, 2018 level when BDCS reached its all-time low – since the launch of the ETN in early 2011- of $17.31.
Below is the lifetime chart for BDCS. Note, though, that the system has not fully adjusted for today's price drop: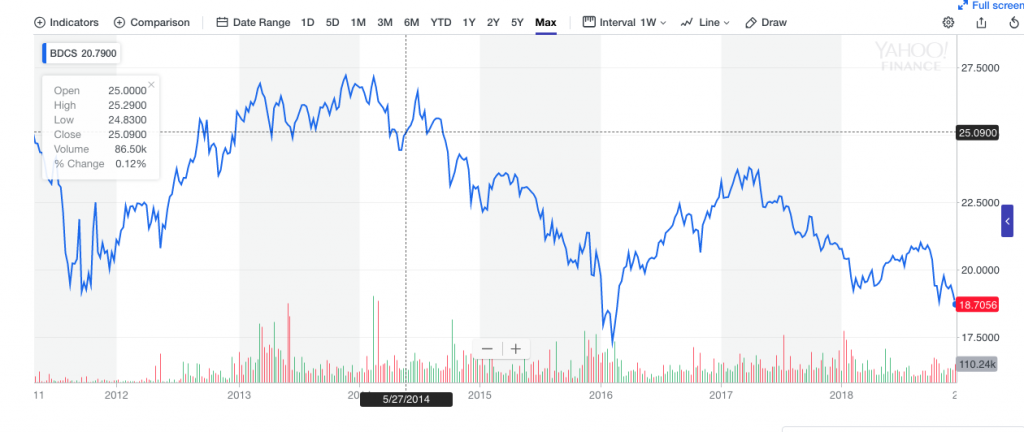 With the latest price drop – which includes 12 BDCs hitting new 52 week lows – BDCS is off 11.8% from its 2018 August 30 highest point: "Correction" territory.
Until now, the BDC sector was eking out a small total return gain but now appears to have slipped into the red – along with most other asset categories – for the year.
We will have more analysis in the Market Recap report over the week-end.
In the interim, check out the BDC Reporter's Twitter feed, where we're covering developments in real time.
---
VIEWS
Getting The Broom Out
We've seen this before: a year end "clean out" by some shareholders of their BDC positions.
The fact that more than a quarter of the BDC universe we track hit new lows on a day without any major economic or credit oriented news suggests either year end housekeeping or accelerating anxiety about credit investments.
Based on the still relatively strong prices of the better performing BDCs, we lean more to the former.
However, this is an evolving situation and the downward direction could continue in 2019 if concerns about a U.S. and global recession persist.
Or bargain hunters could push prices up.
Signs, Signs, Everywhere Signs
Our best guess: We won't be at a bottom  – even for the short term – till investors start throwing out all BDC stocks.
That might result in another 10%-20% decrease in the level of BDCS even in the absence of a recession.
Welcome To Our World
This is a highly volatile sector, and all the price movements we've seen of late have occurred in prior episodes of market concern.
That does not make them any less painful for existing investors in BDC stocks – and to a lesser degree- Fixed Income holders.
Less Painful
The median price for Baby Bonds is down approximately 0.6% this week over last Friday's level and 2.2% over the year.
On a total return basis, BDC Fixed Income is still in the green for 2018. We estimate a net gain of 3.8%.
More – as they say on NPR – when we do the numbers.
---
Pitch: We're making this brief update available to all readers to encourage you to subscribe to the BDC Reporter if you haven't already. In the weeks and months ahead, much could happen – for good or ill – and the BDC Reporter is the only source for up to date, actionable news, analysis and straight talk from a wizened market participant with thirty five years experience in leveraged finance and twelve years with BDCs. If you've got any material  interest in what happens to BDCs, this is the time to get all the facts and have the BDC Reporter by your side.
To subscribe – and everyone gets a 2 week free trial – just click here.
Already a Member? Log In
Register for the BDC Reporter
The BDC Reporter has been writing about the changing Business Development Company landscape for a decade. We've become the leading publication on the BDC industry, with several thousand readers every month. We offer a broad range of free articles like this one, brought to you by an industry veteran and professional investor with 30 years of leveraged finance experience. All you have to do is register, so we can learn a little more about you and your interests. Registration will take only a few seconds.