BDC COMMON STOCKS
Week 1
Record Breaking
The first year of 2022 has begun in style for the BDC sector – although not for the S&P 500.
One of the two indicators that we use to measure sector price changes – the performance of the UBS Exchange Traded Note with the ticker BDCZ – reached a new 52 week high on Wednesday January 5, 2022.
Intra-day BDCZ reached $20.55, eclipsing the June 2021 record of $20.29, and the $20.35 reached the day before.
(In our Daily Updates, we've been favoring the Van Eck sponsored exchange traded fund which owns most of the same BDCs and which topped this week at $17.35, still slightly beneath the $17.74 highest point).
The S&P 500, which often sets the tone, was down (1.9%), and is about (3%) away from its own 52 week high.
More Records
Also at a new 52 week AND all-time high is the Wilshire BDC Index, which we use to measure "total return".
The closing level of $358.500 is the highest ever recorded, and up 1.34% over the prior week.
All in all – as far as indices are concerned – a good start for the BDC sector to 2022.
Back Story
The strength of the BDC sector did not come out of nowhere.
After omicron suddenly arrived on the scene around Thanksgiving , investors had a period of doubt, with BDCZ down in 3 out of 4 weeks.
(Even before everybody was eating turkey and reading the pandemic headlines, BDC prices were headed lower).
The lowest level reached by BDCZ was $18.91 on December 20, 2021, down from a prior high of $20.26 – a (6.7%) drop.
Omicron was to blame but so was outsized concern about Fed policies and year-end profit taking.
Anyway, from that low to Wednesday's high, BDCZ went up 8.7%.
BDCZ has been in the black for three weeks in a row.
Rest Of The Metrics
In any case, this week 29 individual BDCs were up in price and 16 were down.
Reflecting the upward bias, there were 11 BDCs up 3.0% or more, tying a level not seen since mid- October 2021.
We should note that there were 2 BDCs down by (3.0%) plus.
Incredible
Most notably – and much covered in many of our BDC Daily Updates – Blackstone Secured Lending Fund (BXSL) was off (9.24%).
Even in a sector infamous for individual stock price volatility, this is noteworthy and all the more so because the newly public mega-cap BDC (our new term for any player with AUM over $5bn) was at new heights not long ago and is performing very well as far as fundamentals are concerned.
Regular readers know that the drop in price appears to be related to previously private shareholders taking the opportunity of BXSL going public to sell out while the going is good.
This stock chart illustrates the BXSL rise and fall since coming public: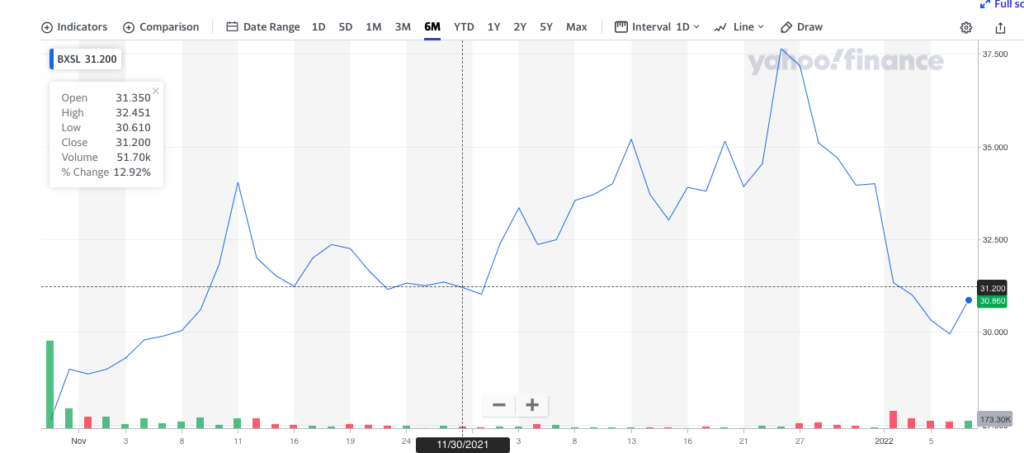 From the highest high on December 23 of last year to the lowest low on January 6, BXSL dropped (22%).
We can understand how newer investors in the BDC space could be astounded by these shenanigans, but that's occasionally part of the sector's landscape.
"What are you going to do", as Tony Soprano might have said.
Back To The Main Story
As the BDC NAV Change Table shows, 18 BDCs are trading at or above book value, but that's no different than the week before.
12 BDCs are trading within 5% of their 5 week highs and another 18 are 5%-10% off.
Those are far from the best metrics we've seen in this category and could signal that there's room yet for many players to move upward.
This week at least, though, only Trinity Capital (TRIN) found its way to a 52 week price record.
This other newer BDC – one of four who've joined the public BDC universe in 2021 – has seen its price gradually increase since coming public and without the drama surrounding BXSL.

Looking Forward
The beginning of a new year is a natural time to look forward and wonder where prices are going.
Since BDCZ last peaked in mid 2021, the BDC Reporter – with varying degrees of enthusiasm – has been predicting the sector was likely to find its way to higher levels.
A little late in the day that's occurred but only begs the question of what comes next.
We're of the belief that BDCZ/BIZD – and many individual BDCs – still have gas in the tank to move further up.
At the same time, we're aware that many "market strategists" are preaching impending doom.
As always in these situations we look at BDC fundamentals which are good for most players in every category: NAV Per Share trends, earnings, dividend outlook, balance sheet construction and credit issues.
The exceptions to the rule – and we count half a dozen names – are typically small cap BDCs whose AUM and market capitalization is a tiny fraction of the BDC market.
Furthermore, BDC price multiples remain grounded in reality and have not strayed away from historical levels, despite going on one of the longest rallies the sector has experienced since March 2020.
BDC stocks are not "cheap", but they're not "crazy" either and the sector still offers yields higher than virtually any other segment of the markets we can think of, as well as ever improving liquidity as the bigger BDCs increasingly dominate.
We're guessing that either just in advance of BDC earnings season or as the IVQ 2021 results start coming out, we might see another upward move.
That's not very long to wait to see (with earnings season slated to begin in February) if the BDC Reporter is right or wrong.
Check back in to our Daily Updates for the up to the minute status reports of where the BDC sector is headed, as well as analysis and commentary on the latest market moving news.
For anybody who's not a Premium subscriber this would be a good time – beginning of the year and with earnings season right ahead – to sign up !
Already a Member? Log In
Register for the BDC Reporter
The BDC Reporter has been writing about the changing Business Development Company landscape for a decade. We've become the leading publication on the BDC industry, with several thousand readers every month. We offer a broad range of free articles like this one, brought to you by an industry veteran and professional investor with 30 years of leveraged finance experience. All you have to do is register, so we can learn a little more about you and your interests. Registration will take only a few seconds.