BDC COMMON STOCKS
Week 10
Guess What We're Going To Lead With
Within 48 hours Silicon Valley Bank took a major loss; tried and failed to raise new capital and was taken over by the bank regulators.
You don't need to know much more from us as this uber-fast bank failure is all over the media.
Consequences
Let's look instead at the market reaction, as we do every week in these Recaps:
All the major indices took a tumble.
The S&P 500 dropped (1.4%) to "cap its worst week since September". The Dow Jones Industrial Average fell 345 points, or (1.1%), while the Nasdaq sank (1.8%) – none of which is terribly surprising.
Not Taking It Well
That was nothing compared to what happened to BDC stock prices.
BDCZ – the UBS Sponsored exchange-traded note which holds most public BDC stocks and serves as a useful reflection of the overall sector – dropped (9.9%).
We checked our records and confirmed our suspicions that this was the worst single-week price percentage loss since the darkest days of the pandemic in March 2020.
Every single BDC we track – now down to 42 with the disappearance of First Eagle Alternative Credit into Crescent Capital (CAP) this week – was in the red.
Even more telling: 34 of those stocks headed downward fell (3.0%) or more – the worst performance since September 2022.
We don't track this metric every week, but 9 of the 34 fell a whopping (10%) or more.
Flip
In a remarkable reversal of fortunes – even by BDC standards – the number of BDCs trading at a premium to net book value per share went from 15 to 5.
This popular metric has not been so low since the week ended October 21, 2022.
Furthermore – 3 BDCs set new 52-week price lows.
(Fun Fact: Not one was in the venture-debt business).
Here And Now
Let's put all this into a broader perspective:
BDCZ is now down (3.4%) in 2023.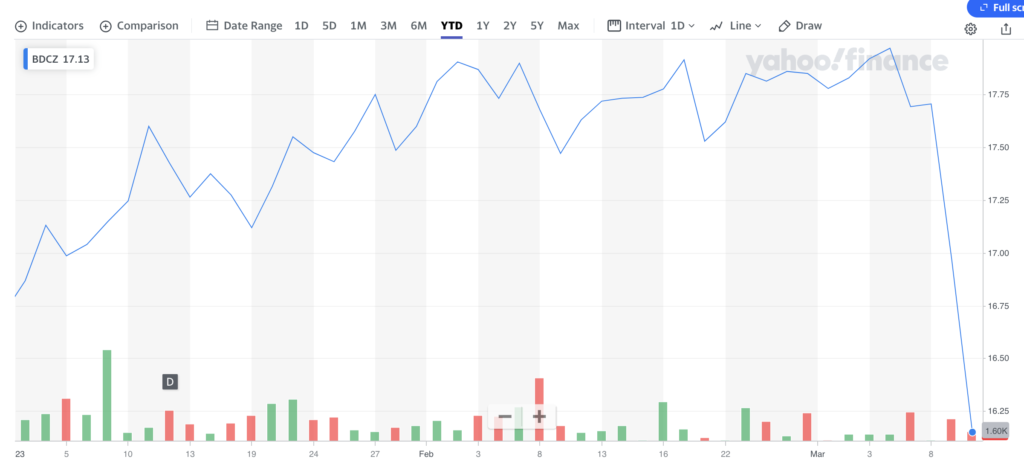 As this next chart shows, since the BDC sector peaked in April 2022, BDCZ has dropped 4 times (and rallied 3).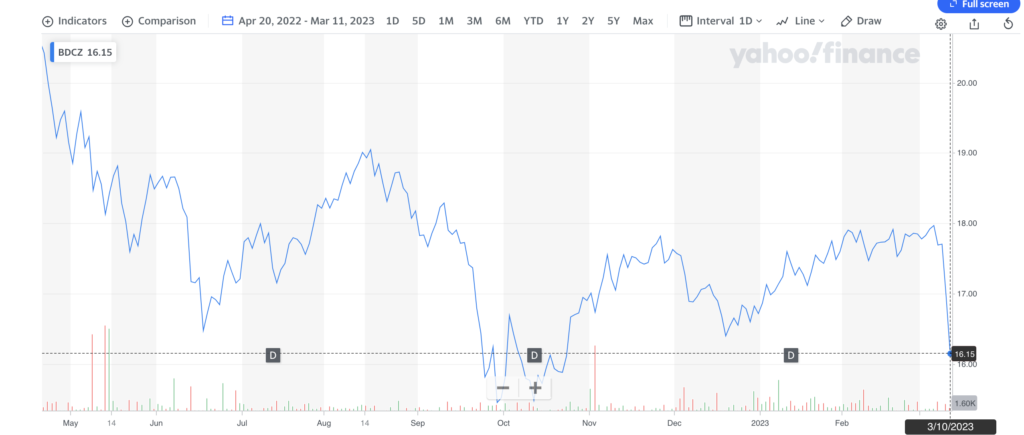 Slip And Fall
In the twinkle of an eye, BDCZ has dropped back into the price abyss of the fall of 2022.
We calculate that the sector is trading only 5% above its lowest level of last year.
Just Being Realistic
Given the ginormous price moves the BDC sector is capable of – as investors tend to sell first and reconsider later – a new multi-year low is not inconceivable as early as next week.
So Much For Fundamentals
What an irony for a BDC sector which has (almost) completed reporting record earnings and distributions and is set to do so again in the IQ 2023 – and maybe beyond.
History Lesson
On the other hand, BDC prices are not yet at truly disastrous levels, those that occur when the market consensus is that a full-blown recession is in the cards.
Thankfully, there have been very few of those instances since the grandaddy of recessions in 2008-2009 – the GFC.
There was the European financial crisis of 2011 and heightened worries in 2013, 2016 and 2018, but those all dissipated quickly.
Most Instructive Of All
Worst of all in the past 15+ years was the price drop in March 2020 when everybody – very reasonably considering the conditions of the time – expected the Mother Of All Recessions.
BDCZ fell in price by over (50%) in the space of 6 weeks, before famously recovering thanks to the very same Federal Reserve at the root of the current miasma.
Our records show 4 weekly declines greater than this week's (9.90%), peaking at (28%).
Sorry Virginia
There's no point in saying that couldn't happen again because it could.
BDC investors – both individuals and institutions – are "market timers", anxious to be sitting on the sidelines when the actual big credit losses occur.
What It Takes
Just a few negative headlines could tip the sector's prices into the red zone, especially if related to any sort of systemic breakdown of the leveraged finance eco-sphere.
That means a sudden drop in secondary loan values; lenders generally pulling back from making new loans or reneging on prior commitments; BDC managers making public remarks about being more conservative or changing expected payouts.
We can't list all the signals here – or even begin to guess what they might be this time round – but like Judge Potter Stewart – you'll know it when you see it.
Our Thoughts – Briefly
Our best bet is that the Fed – in an ironic case of being both arsonist and fireman – will "save the day" in some way, and/or a large institution will step in to acquire the remains of Silicon Valley Bank very quickly, which will get billions of dollars of deposits stuck in purgatory flowing again.
That's all speculation and you'll be hearing plenty of that from every Tom, Dick, and Harriet on Wall Street, so we'll just have to wait and see.
One For The Books
Undoubtedly, though, Week 10 was a pivotal one for the BDC sector.
In 48 hours we've been plunged back into that environment of angst and hyper-sensitivity to the news that we've experienced only a few times in the twenty years we've been involved with the sector.
There might well be a bounce back next week, but that was also the case early in the pandemic crisis. Twice BDCZ posted a price gain after a big percentage loss only for prices to drop even more the following week.
A Long Way To Go In Either Direction
For market timers, this is going to be a very difficult period.
Yes, there's a 12% price increase on offer if we return to the pre-SVB price level (way back on March 6, 2023) and a nearly 30% gain if we return to the April 2020 heights.
At the same time, BDCZ remains 66% above the low point of March 2020.
Last time investors were saved because no recession occurred. What are the odds of that happening again?
---
Already a Member? Log In
Register for the BDC Reporter
The BDC Reporter has been writing about the changing Business Development Company landscape for a decade. We've become the leading publication on the BDC industry, with several thousand readers every month. We offer a broad range of free articles like this one, brought to you by an industry veteran and professional investor with 30 years of leveraged finance experience. All you have to do is register, so we can learn a little more about you and your interests. Registration will take only a few seconds.